It seems like just a year ago there wasn't a pizza place in sight from the IBJ office windows. Now, though, there are three.

Coal Pizza (36 E. Washington St., 685-2625) is certainly the most ambitious of the trio, firing its Neapolitan artisan creations in a 900-degree coal oven. The coal firing adds a smoky quality to both crust and cheese, with topping, for the most part, accenting rather than dominating. Symmetry is not an issue with Coal's pies. Irregularity is an esthetic and culinary choice, making the pizzas more interesting than many Hoosier landscapes.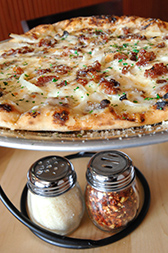 Coal Pizza Company fires its signature pies in a 900-degree oven for crisp-crust goodness. (IBJ Photo/ Perry Reichanadter)
Early favorites from the gourmet pizza list were the Tarte Flambe ($14) with smoked bacon (somewhere between a bit and a chunk) adding a nice, salty meat flavor to gruyere and onion, and Duck Confit ($16) which, even with goat cheese and fig in the mix, didn't cross the line into gimmicky.

You don't have to get all fancy about your pizza, though. A Neapolitan pie that should feed two unless you want leftovers is $12 with a choice of $2 (tomato, olive, etc.) or $3 (pepperoni, meatball, et al.) toppings. We topped ours with very satisfying fennel sausage.

There are pastas and other entrees, too, as well as a trio of calzones. The Carne ($12) version of the latter wraps that same coal-fired pizza crust around big chunks of sausage augmented with pepperoni, capicola (or what the menu calls capricola), and prosciutto (menu version: proscuitto). Who needs to spell when you can cook?

I'm a little baffled as to why, on one visit, Mangia Rolls ($6) weren't available. But the Breadsticks ($5) we chose to replace them were hearty, densely doughy, and I'd order them again if they came in a smaller batch than six. Calamari Fritto Misto ($9) looked promising, but the julienne vegetables that were mixed with them didn't command enough attention, instead just hinting at the appetizer that could have been.

While Giorgio's still gets our slice business, it's nice to have another choice in the neighborhood for creative pies. Now to send a memo to my boss about refreshments for the next staff meeting.•

—Lou Harry

__________

First in a month-long series of reviews of Italian-themed restaurants.