In late February, Eric Rowland and his partners at Rowland Design did something they hadn't done in four years: offer someone a job.

It was for a temporary contract position at the Indianapolis-based architecture and interior design firm. But even so, it's a sign that confidence is coming back to Hoosier businesses.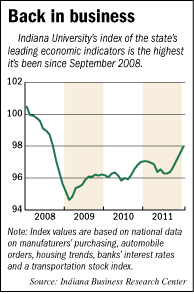 Such signs are proliferating around the state, painting a sunny picture for the Indiana economy.

Banks are increasing lending, real estate developers are pulling the trigger on long-shelved projects, manufacturers are expanding, and consumers are even buying big-ticket items, including automobiles, which are key to Indiana's economy.

"The phone is ringing more. And we have gotten more RFPs," said Rowland, using the acronym for requests for proposal, which is how the construction industry solicits bids for new projects.

There continue to be, however, several dark clouds hovering on the horizon that could stall the recovery—as happened in mid-2011.

Gas prices have surged along with talk of a showdown between Israel and Iran over nuclear weapons. The European sovereign debt crisis has been contained, but not solved, leaving demand from that key market in doubt.

Closer to home, the Federal Reserve has pumped so much money into the U.S. economy since 2008 that some fear a recovery will unleash a wave of inflation—which could bring an abrupt halt to consumer spending and confidence.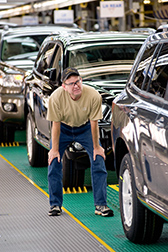 Stronger auto sales prompted Toyota Motor Manufacturing Indiana Inc. in Princeton to hire 170 permanent workers last year, with similar growth expected in 2012. (Photo Courtesy Toyota Motor Manufacturing Indiana Inc.)
Those concerns, as well as several false starts since a historically slow recovery began in mid-2009, continue to make businesses cautious about hiring. That's a big reason why, in spite of strengthening growth, unemployment remains stubbornly high in Indiana, at 8.7 percent.

"Because it's been tentative for so long, I was a little reluctant to make a permanent commitment," Rowland said of his recent hiring decision.

Still, the trend lines are positive. Indiana University's index of leading economic indicators in January rose to its highest level since Sept. 1, 2008—right before the collapse of Lehman Brothers triggered a financial panic.

The index measures national activity in manufacturing, especially auto manufacturing, housing, transportation and banking—industries that are especially key to Indiana's economy.

Overall employment in Indiana hit 2.81 million in December, its highest level since March 2009.

Bob Jones, CEO of Evansville-based Old National Bank, sees rising confidence among Hoosier businesses. In response, his company has started advertising its loan services and even launched an in-house competition for its commercial loan officers this year—the first time it has done so since 2008.

Other banks operating in the Indianapolis area have followed suit, setting lending goals for the first time in four years.

"You've begun to get in year-end financial statements that show that the financial quality of borrowers is better," Jones said. "Clients, they're beginning to talk about inventory increases, growing capacity and hiring people."

Access to capital is critical for businesses to expand, and the loosening of lending has prompted several manufacturing firms to do just that, said Steve Beck, the Indiana point man for Chicago-based Geneva Capital Group, which helps businesses arrange financing.

"Those guys are always thinking six to nine months in advance," Beck said. "You don't do that unless you expect things to pick up."

Growth among manufactures and distribution companies has picked up so much steam that it has now far outstripped available industrial space in the Indianapolis area, said Tom Theobald, senior vice president and regional partner for Chicago-based real estate developer Verus Partners.

"There's actually a big shortage of supply right now," Theobald said, caused by a complete halt in new development during 2010 and 2011. Vacancy for the type of space Verus is developing—modern bulk distribution—is about 3 percent right now, "a record low," Theobald said.

Those dynamics recently prompted Verus to pull the trigger on a 771,000-square-foot industrial development in Plainfield—shelved since 2007—even though it has no tenants signed up yet. In the past six weeks, Verus has received three requests for proposals from companies interested in occupying the space.

Other businesses are spending money because they put it off for so long. Rowland said his firm has received recent requests from Indianapolis-based mall manager Simon Property Group Inc. for interior refurbishments that it simply had not done the last few years.

Automakers and auto dealers are seeing a similar pattern. Car sales nationally posted a brisk annual pace of 14.2 million in January—higher than analysts expected. That's a sign of consumer confidence, but it also reflects the fact that vehicles on the road hit a record average age of 11 years at the end of last year.

Stronger car buying has helped Toyota Motor Manufacturing in Princeton, which hired 170 workers permanently last year and expects similar growth this year.

And Toyota rolled out those plans before it announced it would consolidate production of its Highlander hybrid SUVs in Princeton, which should add an additional 400 jobs by 2013.

"We're just seeing this steady rebound," said Norm Bafunno, president of the Toyota plant, which employs 4,800. He warned, however, that he does not see car buying quickly returning to pre-recession paces.

Rising gas prices may cause even further problems.

"The cloud is really fuel price. If it spikes, buyer behavior we know will change at some point," Bafunno said.

Indeed, spiking energy prices were the most frequent concern mentioned by Hoosier executives and economists. The price of crude oil rose 8 percent in the first two months of the year, to $107 a barrel. Prices at Indiana gas pumps ended February at $3.82 per gallon, according to AAA, a 12-percent spike in just the last month.

Because Indiana's economy is so dependent on transportation industries—automobiles, manufacturing, logistics—higher gas prices can have an immediate impact here, according to studies by Ball State University economist Mike Hicks.

Hicks predicts that if gas prices hit $4 by early summer and stick there—as many predict they will—it will reduce Hoosiers' income growth this year nearly 60 percent.

But if Indiana and the nation can get through some of the uncertainties, the growth on the other side could be significant, Hicks predicted.

"There are lot of businesses that are out there that are poised to expand," he said. "They've been through the market analysis, they have everything ready to go, and as soon as they feel confident, the growth could really explode."•