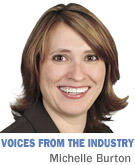 If you work in health care, you likely have heard the term accountable care organization, or ACO, and probably have a general idea how one operates.
The question, though, is whether ACOs have what it takes to be successful. With so many different deadlines around the Health Information Technology for Economic and Clinical Health Act and its guidelines, do ACOs even have a chance or are they a great concept that may be slightly before their time?
It is really all about the data.
So many computer systems are used in health care, and each area—registration, billing, pharmacy, patient care—requires a system. It's a never-ending list. To add to that, each physician, hospital and specialist uses a different system. The kicker: Many of these systems have a difficult time talking to one another.
Has your primary care physician ever ordered tests and then referred you to a specialist only to have that specialist order the exact same tests? Many times, physicians have access only to the data housed in their system, making treatment difficult and frustrating for both the patients and the providers.
Technically speaking, an ACO is a group of doctors, hospitals and other health care providers who come together voluntarily to coordinate high-quality care to their Medicare patients. Currently, participation in an ACO is voluntary. But the law states that by July 2012 doctors and hospitals are encouraged to legally form groups, covering at least 5,000 patients each, that will be "accountable" for cost, quality and overall care.
Look at an ACO the way you would look at buying a car. As the consumer, you don't want to track down and purchase each piece of the car separately. You want to buy the car in one piece, ready to drive off the lot. This is how an ACO should operate. It is designed to be a one-stop shop for the patient.
In other words, an ACO is a single organization, like an integrated medical group, that is accountable for patients and complete coordination of their treatment and care.
If the premise of the ACO is to be a one-stop shop accountable for patient care, we should start by making patient data accessible by everyone. Many of the pieces for meaningful use need to be in place before the model can be successful and sustainable.
Initial focus needs to be on sharing information. Sharing data not only between physicians, but also across multiple physician systems is key to the overall concept of the ACO.
With so much work to be done around the sharing of patient data, we can't expect the ACO model to succeed when we are all still trying to figure out how to get access to the information.
And the even bigger question: What happens if we implement an ACO without a solid framework for accessing the data? In a nutshell, frustration.
Have you ever worked for a company rolling out a new system or process, with the promise that "this will fix our problems?" If you have, you know what happens when everyone experiences the exact same problems with the new system—frustration, confusion and disappointment.
So what happens if an ACO goes live without resolving the underlying data access and connectivity issues?
There will be expectations, by providers and patients, that their care and treatment plans will be improved. Expectations that physicians are talking to one another and sharing patient information. Expectations that patients won't need to have the exact same test run three different times, by three different physicians.
These expectations will likely be let down, and in place of these expectations you will find frustration, confusions and disappointment caused by failed promises.
Ultimately, I believe ACOs can be successful. Just imagine what a beautiful world it would be if physicians worked as a team to treat their patients—talking, communicating with and understanding one another.
Unfortunately, as a health care technology professional and a longtime project manager, I'm afraid it seems unlikely that we will see the benefits of an ACO in 2012. ACOs will exist, but they will likely not be the silver bullet patients and health care providers are hoping for.
We need access to our data. Clean, useful, easy-to-access data. Once we find a way to truly solve this problem—everything else is about developing processes to work with that data.•
__________
Burton owns CoreTech Revolution LLC, a health care technology consulting firm in Indianapolis. Views expressed here are the writer's.
Please enable JavaScript to view this content.