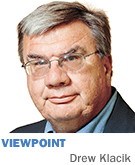 There has been a lot of chatter around the notion of capturing the energy, confidence, and enthusiasm of our super moment and converting it into projects that are important and sustainable. Much of that chatter focuses on the what we should do.
I'm less concerned about what we do and more concerned about how we go about it.
We could try to focus on a single issue such as mass transit, improving K-12 education, or creating new economic opportunity, or focus on a particular neighborhood, set of neighborhoods, or cities and towns and try to improve the overall quality of life. There's probably room for improvement, no matter which topic or place we choose, so we can't go wrong.
But if we go about directing the energy and confidence gained during our super moment into an effort downsized by fear of failure, and constrained by limited resources, hampered by political partisanship, and burdened by intra-regional rivalries, and what-is-in-it-for-me agendas, then we will not fully realize the potential of this super moment. Certainly we will not honor the small group of people who dared to dream of the time when there'd be hundreds of thousands of people from all parts of our region, nation and even the world celebrating in downtown Indianapolis.
I don't pretend to know what to do, but I do believe that looking back at the path a small group of civic leaders took to bring us from Indiana-no-place to a super city will help us learn about going forward.
Perhaps the most important thing we can learn from looking back at this small group of visionaries was that they were committed to thinking beyond their self-interests, doing the right thing for the region, and were unafraid to think big and long term, while accepting the risks that accompanied aspiring to a vision that seemed beyond our reach.
They weren't constrained by the price tag or Midwestern self-doubt. Rather, they chose to believe that the degree of risk dictated the level of reward and were determined to try to leap ahead of places like Detroit, Cleveland and Cincinnati rather than merely attempting to catch up.
And leap ahead we did, committing to the notion that a healthy region requires a vital core.
Mayors Lugar and Hudnut focused on investing in downtown, building Market Square Arena to bring the Pacers downtown while other cities saw their teams move to suburban stadiums. Then they built the Hoosier Dome without having a football team as a tenant.
Would we dare do this today, and if we had not taken these bold steps would we have had our super moment?
These leaders and those who followed realized that sports was only part of the downtown equation and entered into public, private and not-for-profit partnerships to build a sustainable downtown with shopping, arts, entertainment, restaurants, conventions, hotels, office buildings and even a canal.
Without this focused commitment there would have been no Circle Theater to host Jimmy Fallon, no media center at the J.W. Marriott, no Indianapolis Colts, no stadium and no Indianapolis Super Bowl.
Let's once again commit to thinking big and long-term and aspire to remain ahead of the pack by committing to the notion that central Indiana's vital downtown core must be surrounded by diverse, vibrant and authentic urban neighborhoods, with abundant educational options and economic opportunities. It won't be easy and there is risk, but as we've learned, the reward is super.
It's time for this generation to pay it forward.•
__________
Klacik is a policy analyst at the Indiana University Public Policy Institute at IUPUI. Send comments on this column to ibjedit@ibj.com.
Please enable JavaScript to view this content.