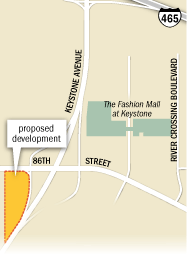 It's been five years since now-defunct Premier Properties USA Inc. began relocating tenants of the Woodfield Centre shopping plaza to make way for its $750 million Venu development.
The well-located shopping center, vacant since Venu and the company that proposed it fizzled, has turned into an eyesore at the southwest corner of East 86th Street and Keystone Avenue, just a short walk from some of the state's most valuable real estate.
But the overgrown bank-owned property with a leaky roof may finally be poised for redevelopment: A Wisconsin firm has the 6.4 acres under contract and is putting together plans for a retail strip, a couple of restaurants and possibly a hotel.
The plans for the site are strikingly modest compared with the ambitions of Premier's Christopher P. White, who had proposed a 24-story office tower, 20-story hotel, two 10-story residential towers, a 5,000-seat theater, a dozen restaurants and a retail center with four anchors including Whole Foods and Barnes & Noble.
White's plan called for a 2.3-million-square-foot development at Woodfield Centre and adjacent property. Hendricks Commercial Properties of Beloit, Wis., is considering multiple development scenarios, the smallest of which would total just 32,000 square feet.
The smaller plan for the Woodfield Centre site shows that, even as the market for commercial real estate development improves, the size and ambition of projects is nowhere near the euphoric market peak.
That's just a market reality, says Bill French, a senior vice president of retail in the local office of Cassidy Turley.
French figures restaurants eager to open near The Fashion Mall at Keystone are the most likely suitors for the project; newer ones nearby, including Seasons 52 and Harry & Izzy's, have been particularly well received.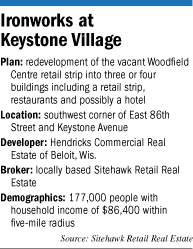 "Removal of the existing structure will be a good thing for the neighborhood overall," French said. "After being dormant a number of years, it's really encouraging to see some activity there."
The difficult-to-configure site likely will include a 14,000-square-foot retail strip and pads for two restaurants between 7,500 and 10,000 square feet, said Mark Perlstein, a principal with locally based Sitehawk Retail Real Estate, which is handling leasing for Hendricks. An earlier version of the plans called for a hotel on the southern portion of the site, and that's still a possibility.
Hendricks principals did not return phone messages from IBJ. The company is calling the development Ironworks at Keystone Village in an apparent reference to the firm's signature redevelopment of a vacant factory in its hometown into an office and industrial campus called Ironworks.
It was not clear how much the firm plans to invest in its redevelopment of Woodfield Centre.
Hendricks this year put the 6.4-acre property under contract with Jacksonville, Fla.-based Everbank, which took control of the property in 2008 after Premier defaulted on a loan.
Everbank first offered the parcel for sale with an asking price of $6.75 million in 2008, but the price was well above what anyone was willing to pay, so the bank opted to wait. The local office of real estate brokerage Lee & Associates began marketing the property for the bank in 2011 with an asking price of $5.5 million.
The developers already have met with members of the neighborhood and the reception was positive.
"We're encouraged with the concept of having that redeveloped and certainly want commercial on the south side of 86th Street to be successful," said Ruth Hayes, president of the Nora-Northside Community Council.
Back before the recession, the group had agreed to support the much more ambitious plan for Venu after the developers adjusted the plans to address their traffic concerns. Premier had agreed to consolidate two curb cuts into one main entrance, alleviating potential traffic backups. They're looking for Hendricks to take similar action.
While new development remains slow for most of the city, several projects are under way or in the works in the Keystone at the Crossing Area.
Across 86th Street from the Ironworks site, locally based Keystone Group is working on plans for a $40 million development with 240 high-end apartments, a small retail building and retail outlets on 12.6 acres it acquired in July 2011.
The company bought the property for about $3 million from the Federal Deposit Insurance Corp., which wound up owning it after Columbus, Ind.-based Irwin Union Bank failed in 2009. Keystone figured the site was perfectly located and decided to buy it before putting together specific development plans, CEO Ersal Ozdemir told IBJ for a story last August.
A failed plan from another developer a few years ago had envisioned a Whole Foods Market and town homes for the mostly wooded site.
Nora-Northside Community Council plans to aggressively challenge the development, arguing that commercial development is inappropriate north of 86th Street. They don't want to see so many trees removed and argue there's no feasible plan to handle an influx of traffic from a commercial use.
On the other side of Keystone Avenue, locally based PK Partners is redeveloping an office building in front of the Fashion Mall to accommodate the upscale Ocean Prime restaurant and recently completed a stand-alone location for Distinctive Diamonds.
The owners of the Sheraton Indianapolis, which is attached by skywalk to the mall, just finished a conversion of the hotel's south tower into luxury apartments.
And Simon Property Group has begun construction on a renovation of The Fashion Mall at Keystone, building new shop space in what had been a food court.•
Please enable JavaScript to view this content.