Key parts of Tony Bennett's education reforms will be put under a miscroscope this summer by a special commission of state legislators.
The state schools chief, along with his staff and members of the State Board of Education, will be called before the 23-member commission over the course of five meetings to explain the new rules they have set for grading schools and teachers, and the processes they used to set them.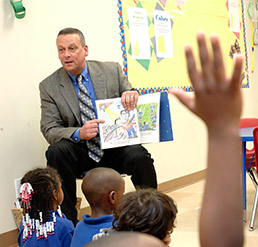 Indiana Superintendent of Public Instruction Tony Bennett has pushed schools and teachers to improve by grading them on their students' performance. (IBJ file photo)
The idea for the commission came from Republican leaders in the House and Senate late in the 2012 legislative session after numerous complaints—not only from those who have steadfastly opposed Bennett's reforms, but even from some of his erstwhile allies, such as the Indiana Chamber of Commerce.
Sen. Luke Kenley, R-Noblesville, said the commission is designed to make sure the biggest changes to education in 40 years are done right.
"We're just trying to use this as a forum to check signals," said Kenley, who was a co-sponsor of the legislation that created the commission, House Bill 1376.
It will place all members of the House and Senate education committees, which includes Kenley, on the special education commission, a highly unusual makeup for a summer legislative committee. It is also unusual for such committees to review legislation that is already enacted.
Whether the commission turns out to be aggressive or more benign is unclear. It will issue a final report in December.
"I don't think it will be as confrontational as some of these Supreme Court hearings we've all seen on TV," said Sen. Randy Head, R-Logansport, who received many complaints from educators about the rules adopted by the State Board of Education. But, he added, "I think some of the questions are going to be very direct."
Bennett's spokeswoman, Stephanie Sample, said the two bodies he leads—the Indiana Department of Education and the State Board of Education—welcome the opportunity to explain what they've been doing and why. It's especially important since the wave of education reforms passed in 2011 gave the department a mandate to make vast changes on a broad scale—making it difficult for legislators and the public to easily keep track of reforms.
"We don't see it as an interrogation. We don't feel like we're going to walk into a dark room and have a bright light shone on us," she said. Instead, she added, "We think it has the potential to be a positive thing."
Still, the creation of the commission marks a definite change in response from Republican legislators, who were nearly unanimous in their support in 2011 for a series of sweeping changes to Indiana's public schools pushed by Bennett and Gov. Mitch Daniels, both of whom are also Republicans.
Those reforms limited collective bargaining rights for teachers, mandated annual performance evaluations of teachers based at least partly on student test scores, created a new authority for launching more charter schools, and OK'd taxpayer-funded vouchers for low-income students to attend private schools.
Alongside those efforts, the State Board of Education and Department of Education took advantage of a 1999 law to take control of five public schools that had posted persistently poor performance for six straight years. They also moved to change the grading system those takeovers were based on to assign A through F labels to each school.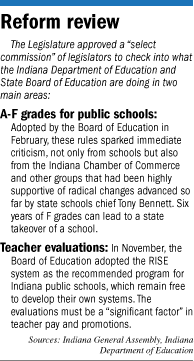 Derek Redelman, a lobbyist for the Indiana chamber, eagerly supported all those efforts—even in the face of significant opposition from teachers' unions and some school administrator groups.
But Redelman said he grew frustrated over the past year because the Department of Education never "came to the table" to hash out concerns over the rules it developed for determining annual A-F grades for all public schools. In his view, those rules place too much emphasis on schools' pass-fail rates on standardized tests and too little emphasis on the year-to-year improvement in students' test scores.
The State Board of Education heard lots of testimony on the rules in January, then made no significant changes to the rules before adopting them in February. The rules were panned by nearly all groups connected to public schools.
Because he so disagreed with the methods used to figure the A-F grades, Redelman began speaking out against other parts of Bennett's 2012 legislative agenda, such as an effort to allow the State Board of Education to take over schools sooner, after only four years of F-level performance. That legislation ultimately failed.
"They have got to see the writing on the wall that there are concerns about this," Redelman said of the Department of Education. "If DOE doesn't come to the table prior to those hearings starting, I think it's going to be pretty rough on them."
Gail Zeheralis, a lobbyist for the Indiana State Teachers Association, welcomed the hearings as an opportunity to further discuss the reforms. She, too, dislikes the methodology behind the A-F grades.
On top of that, many teachers have concerns about the guidelines developed by the Department of Education for annual evaluation of teachers and a new round of teacher licensing rules. Those policies were adopted by the State Board of Education in November and February, respectively.
"I think a message is being sent. At the very least is being sent," Zeheralis said. "A healthy core of legislators—and in a bipartisan fashion, in both caucuses—have grown weary of hearing stories. This is a really good way to address that fatigue factor. At the end of the day, speed is not always the best policy."•
Please enable JavaScript to view this content.