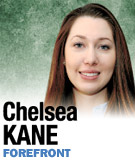 The Indiana General Assembly called sine die and now we can direct our full attention to the race that has been on every Hoosier's mind since early last year: Sen. Richard Lugar versus Treasurer Richard Mourdock for U.S. Senate.
I am an avid political junkie and pride myself on my awareness of current political issues, but I have to be honest and tell you that, when it comes to this race, I could not be more confused. I appreciate both candidates but have yet to see a real effort from either campaign to focus this race.
I like Mourdock's go-get-'em style. I respect Lugar's tenure and service to the state. But neither of these qualities or distinctions makes me want to vote for either of them.
Mourdock brings a freshness and energy to a race that is otherwise, well, not a race. Lugar has been unopposed in primary elections in this office for 35 years. He is running for his seventh term.
Mourdock is the first Republican challenger to bring a legitimate fight to Lugar. The last polling numbers suggest Mourdock is within six percentage points of the senator. Right or wrong, Mourdock's presence and relative success speaks to the current political climate and readiness for, dare I say it? Change.
Mourdock could have quickly been relegated to Lugar's shadow after his announcement, but he has held his own and really turned up the heat on the senior senator.
Questions remain regarding Mourdock's suitability for this office. In particular, the recent questioning of his committee meeting attendance has caused him some grief. These kinds of talking points stick with voters and have the potential to do great damage.
One of the biggest hurdles for Mourdock politically is that his boss and friend, Gov. Daniels, is not behind him. Daniels, who holds significant sway with Indiana voters, has stated publicly more than once, and on national television, "I'm for Dick Lugar." That can't feel good.
But Mourdock has excellent support from key conservative groups. Just last week, Indiana Right to Life threw its weight behind the two-term treasurer. This kind of backing is invaluable to a new candidate, particularly as the Mourdock campaign is attempting to paint Lugar as a pandering, closet liberal sympathizer rather than the cooperative, bipartisan legislator he presents himself as.
Lugar is a well-respected politician, although the ads run by the Mourdock camp describe him a little differently. Lugar is a Republican powerhouse in the Senate and has bridged the partisan divide many times during his tenure. He is respected by Republicans and Democrats for his willingness to compromise. Some call this wishy-washy; others call it brave and thoughtful.
In this race, the Mourdock camp is working hard to present Lugar as a Republican in Name Only. He is, indeed, "Obama's favorite Republican." This moniker is certainly not helping his re-election bid. His support for Obama's Supreme Court nominees also does not help his case. Other recent issues, including the residency dispute, have distracted the campaign's focus and left the team running defense.
Lugar is doing a poor job presenting his issue stances and records. Up until days ago, his website tab on the "Issues" hardly addressed his issue stances, opting rather to point out a handful of endorsements. His updated page is now much more thorough, but he must capitalize on opportunities to clarify his vision and record during the April 11 debate.
The ads are getting nasty. The news is churning. The primary is on the horizon. The mud-slinging is in full force.
Both of these Republican candidates have a fight ahead of them and both have legitimate positions in this race. Congratulations to Democratic U.S. Rep. Joe Donnelly, who might be the best positioned of all, just waiting for the dust to settle.
In the words of Albert Einstein, "You have to learn the rules of the game. And then you have to play better than anyone else."
Politics is the ultimate game. I am curious to see who comes out on top, because, currently, neither candidate is playing well.•
__________
Kane is a doctoral student in clinical psychology at the University of Indianapolis and a past president of the College Republicans at Indiana University. Send comments on this column to ibjedit@ibj.com.
Please enable JavaScript to view this content.