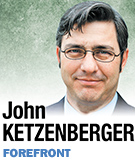 There are thousands of Super Bowl stories out there. I've got one, too, and I like what it says about us and our aspirations.
My story starts with Madonna. On a whim in December, I applied to be among the grunts who pushed her halftime-show stage onto the field and put the pieces together like a puzzle in less than eight minutes.
On Super Bowl Sunday, the 500 of us in dark blue sweatshirts put two weeks of practice to good use and assembled the stage in less than six minutes. I spent a couple of days marveling at the experience and then moved on.
But a video that surfaced on YouTube the other day got me thinking again about that show. A father, his son and the boy's buddy are in the stands as the stage pieces flow out of the southwest tunnel at Lucas Oil Stadium. They're amazed by what they see, the organized chaos of all those stage pieces, and they're awestruck as the mammoth thing takes shape. Check it out for yourself at www.youtube.com/watch?v=DTwGra5TGCw&feature=youtu.be.
It's pretty cool to see it from their perspective, both visually and figuratively, but about halfway through the video, the dad says this: "Look at that stage and how much they've put together in less than two minutes. Unbelievable."
Yeah, about this time I was strapping Cart 16, a thousand-pound set of 54 LED screens on six golf-cart-size wheels, onto Cart 15. The stage's right ramp was started.
Seconds later, as I dodged the cart carrying the keyboards, the dad exclaims, "I'm in the special events business and this is the most amazing thing I've ever seen in my life."
Now that's what I'm talking about. We're blowing the socks off some guy from Philly before Madonna strikes her first pose. And to think just two weeks before this, I was sitting in the second row of the inflatable football dome at the University of Indianapolis, eating a peanut butter sandwich and yakking with a medical-device saleswoman who, like me, wondered what we were about to get into.
Pretty soon, the man in charge, an Army vet with leggings and a cap that said, "Cap," counted 11 down our row and told us to report to the scruffy dude holding a sign with "16" printed on it. Bruce, a veteran professional stagehand, looked over his charges: eight women and three men from across central Indiana.
None of us had any stage experience. The closest I'd gotten to roadies was years ago at an REO Speedwagon concert when my buddy Mike and I busted into the front row. It wasn't until the huge fireball erupted before "Riding the Storm Out" that I understood the roadie's smile when he put a wire into a pan filled with white powder just 10 feet from where we stood.
Before long, Bob, a retired Chrysler foundry employee, and I were on the back corners of Cart 16. Shelly, a super volunteer from Fishers, was ahead of me on the left side. Stef, an aspiring improv actor who works days at IUPUI, was ahead of Shelly. Next was Colleen, a University of Indianapolis student and then came Tisch, who'd just changed jobs to become a medical-device salesperson. Her former co-worker, Rhonda, was on the front-left corner, my side of the cart.
Over the course of seven rehearsals, we learned to maneuver our cart in coordination with the others using Cap's "slow is smooth, smooth is fast" method. Then we drilled enough to prove him right. Come game day, we were a confident bunch that loved the rush of rolling onto the field in front of 70,000 fans.
I see myself now in the video and it's still a little surreal. A bunch of strangers came together, worked hard toward a common purpose, and nailed it when the time came to perform.
It's good to remember, from time to time, that anything's possible.•
__________
Ketzenberger is president of the Indiana Fiscal Policy Institute, a not-for-profit dedicated to non-partisan research into the state's tax policies and budget practices. Send comments on this column to [email protected].
Please enable JavaScript to view this content.