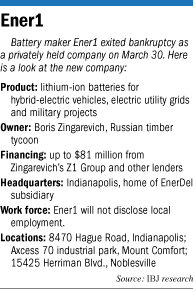 A Russian timber tycoon who poured millions into a battery maker with Hoosier roots is the new owner of Ener1 Inc.
Boris Zingarevich supplied $50 million for Ener1's March 30 exit from bankruptcy and added it to his portfolio under Moscow-based Z1 Investment Group. Ener1, which was headquartered in New York, is moving its management team to Indianapolis—already home to its core subsidiary, EnerDel.
"He certainly has a vision for new technology," said Tom Snyder, president of Ivy Tech Community College and a former automotive executive who served on Ener1's board of directors. Snyder accepted a board seat with the post-bankruptcy firm. "We're pleased that EnerDel is one of those that he looks at favorably."
Zingarevich co-founded one of Russia's largest timber companies, Ilim Pulp Enterprise, in 1992 with his brother Mikhail and soon joined the ranks of post-Soviet Russia's new super-wealthy class.
The Zingarevich brothers started their careers in the 1980s as "poorly paid mechanics" in Soviet-era pulp and paper mills, according to the "A-Z of Oligarchs" that The Independent, a British national newspaper, published in 2006.
Zingarevich began investing in Ener1 in 2002, two years before it formed EnerDel through a joint venture with Delphi Corp. Ener1 bought out Delphi's stake in 2008.
Ener1 has struggled to find commercial success for the lithium-ion technology developed by its Indianapolis engineering team, and it's not clear how that will change under Z1. Company officials declined to comment in the midst of the post-bankruptcy transition.
Financial projections filed with the bankruptcy court in New York show they expect revenue of $84 million this year and a net loss of just under $49 million.
By 2015, the projections show Ener1 turning quarterly profits of as much as $1.5 million. Most of about $68 million in revenue is expected to come from EnerDel, rather than a Korean subsidiary that produces battery cells.
Another Zingarevich entity, Bzinfin, which is based in the British Virgin Islands, was Ener1's largest shareholder. In 2010, he invested another $65 million to help the firm capitalize on an emerging market for electric vehicles.
But Ener1 never landed major automotive supply contracts. Meanwhile, the firm had invested heavily in its main customer, the Norwegian electric car maker Think. With Think also struggling, Ener1 wrote off $73 million in 2011 and later restated its earnings for all of 2010.
Facing shareholder lawsuits and delisted from the NASDAQ stock exchange, Ener1 sought Chapter 11 bankruptcy protection in New York on Jan. 26.
Ener1's court-approved bankruptcy plan canceled all outstanding shares and provides for up to $81 million in exit financing, including the $50 million from Z1.
"It's not a lot of money to him," Theodore O'Neill, senior analyst for alternative energy at Wunderlich Securities in Memphis, Tenn., said of Zingarevich. "Since he owned most of the company anyway, the question is, how long is he willing to hang out until a market appears?"
Zingarevich may have been attracted to Ener1 because it works with his other holdings. Although the company started out chasing vehicle-supply contracts, it has tried to diversify by selling batteries to electric utilities and smart-grid technology projects.
Z1, which Zingarevich started in 2010, concentrates on natural resource and infrastructure firms. The Z1 portfolio includes a Siberian gold mining firm and Ilim Timber, which is a major exporter to China. In transportation and infrastructure, Z1 has a highway-design firm and EnerZ, a Moscow electric-power engineering firm.
(Zingarevich also bought Think out of its Norwegian bankruptcy and, according to Z1's website, Think is working on an electric bicycle. Think's assembly plant in Elkhart has produced 200 of the all-electric City cars and employs two people, according to a recent National Public Radio report.)
Ener1 landed a $40 million deal with the Russian Federal Grid Co. in 2010, and EnerZ gave Ener1 a small supply contract in January.
Snyder said Ener1 sees energy-storage for electric grids as its primary market right now, but analysts said that market is no more mature than the one for hybrid and all-electric vehicles.
O'Neill thinks battery makers are simply waiting for the automakers to make a second push at producing electric cars, possibly in 2015 when stricter environmental regulations kick in.
"It isn't clear we'll need lithium-ion batteries even when we get to that point," he said.
Anissa Dehamna, a smart-energy analyst for Boulder, Colo.-based Pike Research, thinks there will be opportunities for batteries in the electric utility industry, but that will take time to play out.
"This market probably won't be saving anybody for the next five years or so," she said.
Clearly, Zingarevich isn't the only one who has sunk millions into Ener1. The company's accumulated deficit through the first quarter of this year was $645 million, according to the court filing.
In early 2010, Ener1 had a $118.5 million federal stimulus grant in hand to help it build out manufacturing capacity for batteries in Mount Comfort, and former CEO Charles Gassenheimer was predicting the firm would create 1,400 jobs over the next several years.
EnerDel drew down $57 million of the federal grant, which required a one-to-one company match, for manufacturing equipment in Mount Comfort, according to a bankruptcy court filing. Spokesman Brian Sinderson said EnerDel is in full compliance with the Department of Energy grant. He would not comment on whether Ener1 will continue to pursue tax incentives offered by Indiana and Hancock County, or an Energy Department loan.
EnerDel has three locations in the area—manufacturing space in Mount Comfort and Noblesville, and the headquarters on Hague Road in Indianapolis. A spokesman said Ener1 won't disclose employment figures for its headquarters or divisions now that it's privately held. Last fall, the company said it had about 250 local employees.•
Please enable JavaScript to view this content.