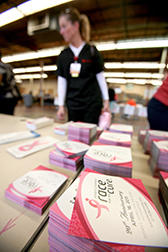 The local Komen affiliate spends nearly $2.2 million on local and national grants. (IBJ File Photo)
Local health care providers won't find an easy replacement for the grant money that's been so reliably supplied by Susan G. Komen for the Cure's pink ribbon marketing machine.
That money could be in jeopardy, as grass-roots Komen supporters appear to be sitting out of this year's Race for the Cure in response to a national controversy over grants to Planned Parenthood. The event, scheduled for April 21, raises about 80 percent of the money that Komen's central Indiana affiliate grants to health clinics, hospitals and other charities serving poor and under-insured women.
"Komen is the best-organized game in town," said Fred Duncan, CEO at the Indianapolis cancer agency Little Red Door. "No one can scale up and be as successful in the short term as Komen is."

The local Komen affiliate awarded $1.3 million to 15 clinics, hospitals and other not-for-profits early this year. The upcoming Race for the Cure will fund next year's grants. While a drop in participation won't pull the plug on current treatment programs, charity executives said they'll have to devote significant amounts of time and energy to finding new sources of money.
"I've tried not to focus on it because I have so much other stuff to do," said Heidi Kauffman, coordinator of the women's cancer program at YWCA of Greater Lafayette, which received more than $300,000. "Really I can't do anything about it."
Little Red Door received the largest grant, nearly $400,000, in the last round of funding from the Central Indiana Affiliate of Susan G. Komen for the Cure. Duncan said that money helps about 2,000 women a year navigate the path from initial exams to treatment.
Komen's fundraising prowess, built on grass-roots support, is the reason such comprehensive care is available for breast cancer patients but not for other types of cancer, Duncan said.
The grass roots are weakening, even in central Indiana where Race for the Cure draws 40,000 walkers and runners, making it the sixth-largest in the country. Advance registrations were off 29 percent as of April 3.
That worried Rebecca Seifert, executive director at Gennesaret Free Clinic, which receives about $50,000 for its breast health program.
"I better be thinking of backup plans," she said.
Gennesaret recruits many of its patients through its location in the Society of St. Vincent de Paul food pantry on East 30th Street. The Komen grant pays for a staff person who signs patients up for doctor's exams and mammograms in St. Vincent Hospital's mobile unit. That staff person then follows the women through diagnostics and treatment.
"Right now, we have three women fighting breast cancer," Seifert said. "They would not have been diagnosed if it weren't for us."
For now, Seifert said, she would urge the clinic's volunteers to participate in Race for the Cure. Over the next year, she'll turn to individual donors and grant makers in preventive health.
Some supporters turned against Komen after executives at the Dallas-based foundation decided in January that Planned Parenthood would be ineligible for breast-cancer screening grants.
The decision was quickly reversed, and policy chief Karen Handel resigned.
The national policy would not have affected Planned Parenthood of Indiana, which has not received a grant from Komen since 2004.
Nevertheless, Hoosiers are pulling their support for Komen.
Indianapolis resident Omar Habayeb said he began looking more closely at the Dallas-based foundation after the Planned Parenthood controversy cropped up.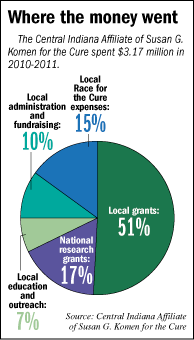 "The more I read about the Komen foundation at the national level, I'm like, 'They're raising money to raise money, and somewhere the whole "support breast cancer" kind of got lost,'" Habayeb said.
He said he won't give to Race for the Cure teams because, to him, the local and national organizations are one and the same.
Jim Walton, owner of the Indianapolis marketing firm Brand Acceleration, said it makes perfect sense that people would vent their frustration with Komen at the local level.
"That's the price you pay and risk you take when you hang your star on a national brand," Walton said.
Dana Curish, executive director of the central Indiana affiliate, has gone out of her way to distinguish between local and national operations. Yet she still hears from people who want an end to grants for Planned Parenthood because it also performs abortions, as well as people who are angry with Komen for wading into anti-abortion politics in the first place.
Walton thinks Komen's recovery will take many years because the organization has not resolved the root controversy.
"On the surface, it looks like they're trying to hide from their position," he said.
At the local level, Curish said, "Planned Parenthood and Komen have a great relationship. They have a team for the race."
Planned Parenthood of Indiana, where Curish was interim CEO eight years ago, hasn't received breast-cancer-related grants in recent years because Komen is focusing on programs that offer comprehensive care rather than only screening, she said.
Planned Parenthood has also opted not to apply for grants in some years, she said.
Other cities have seen a drop in turnout for Race for the Cure, and Harris Poll reported on March 27 that Susan G. Komen's "brand equity score" had fallen precipitously.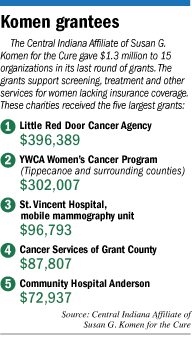 Komen had ranked either first or second among not-for-profits since 2008, but this year fell to 56th out of 79 not-for-profit brands in the EquiTrend survey, Harris reported.
Curish tried to address the fallout with past Race for the Cure participants in a March 29 e-mail, which pointed out that most of the money stays local.
In the fiscal year ended March 31, 2011, the local Komen affiliate spent 69 percent of its $3.17 million budget, or nearly $2.2 million, on local and national grants.
Three-quarters of the grant money went to local charities, and 25 percent went toward national research. Although the research money goes through the Dallas office, none of it goes for headquarters operations, Komen in central Indiana officials said.
Some of that research money makes its way back to Indiana. The Tissue Bank at Indiana University's Simon Cancer Center is supported by Komen.
Komen's past marketing efforts didn't emphasize details about local beneficiaries because pink ribbon solidarity was so effective, said Duncan of Little Red Door. "They had a very clean, very clear message that was clearly a winner for them."
Duncan thinks it will take time for Komen to execute a new strategy. "A path forward for them is to talk about local recipients and work that we do, but that's a more complicated message."•
Please enable JavaScript to view this content.