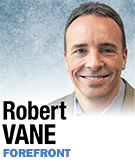 Within any debate over the enormous issues facing our city, the most interesting topics are the ones involving specific proposals and policies.
In no debate are the individual issues as varied and substantive as the ones in the long-overdue and much-needed education discussion taking root in Indianapolis.
As befitting a city with no peer when it comes to citizens and leaders working collaboratively to get things done (see Super Bowl XLVI), the education reform movement brings Republicans and Democrats together, along with community leaders and education think tanks.
The areas of agreement are many and are rooted in the belief that we simply must do better.
If there is one issue in the education debate that seems to fracture, but not break, the education reform movement coalition, however, it is the issue of vouchers.
Forgive me, but I am perplexed as to why this issue is so controversial.
Vouchers have come to the fore as an issue for many reasons, with the most proximate one being their inclusion as part of the education reform legislation trumpeted by Gov. Mitch Daniels and Superintendent of Public Instruction Tony Bennett and passed by the General Assembly in 2011.
Government isn't the only entity pushing for reform. Indianapolis is also fortunate to be the national headquarters of the indispensable Friedman Foundation for Educational Choice.
The Friedman Foundation, founded by Nobel laureate Milton Friedman and his wife, Rose, fights to make school choice available for all children. Headed by the respected Robert Enlow, the foundation has been in the thick of the recent education battles—always on the side of parents who want more options.
As anyone who has talked to me for more than five seconds knows, I am proud of my east-side roots and Indianapolis Public Schools education.
But please allow me to share a nerdy little secret with you—I really wish I had attended Cathedral or Roncalli or another Catholic high school.
Why didn't I? Simply put, my family couldn't afford it.
Upon separating from the military, I had $10,800 in G.I. Bill monies to spend on education. (Besides the pride of serving my country, joining the Army was a financial necessity if I wanted to go to college). I was allowed to spend that money at any institution I chose.
If using government funds for private university education isn't the end of the world, why has using government funds for primary and secondary education become the Apocalypse?
Why should your ZIP code be your educational Alcatraz? Or should we believe that poverty is destiny?
You can go to school only where you live, and you can go to only the school you can afford. No help, no options, no way out.
Not in Indiana, not anymore.
Indiana's initiative is the largest first-year voucher program ever. It serves families with incomes at or below 150 percent of the free and reduced lunch program, or $63,964 for a family of four.
The program's participants are mostly in urban areas.
For example, more than 600 IPS students received vouchers. This translates to hundreds of parents who, when given a choice and the financial means to make good on that choice, chose to send their children elsewhere.
What is so controversial about that? Because IPS loses funding? The bottom line for my alma mater should be academic performance, not its fiscal balance sheet.
Just imagine if you and your family could go only to the hospital in your neighborhood; no other options existed unless you had the financial means to go to any hospital you wanted.
Your neighborhood hospital, however, consistently provides substandard care.
Would anyone really argue that parents should be forced to keep taking their children there—risking their lives, imperiling their future?
Of course not, and this right—the right of parents to make the best choice for their children—is at the heart of the education reform movement.
Parents should be, as Milton Friedman would say, free to choose.•
• Vane, a U.S. Army veteran, has worked for elected Republican officials including Indianapolis Mayor Greg Ballard, and currently owns the public relations firm Veteran Strategies. Send comments on this column to [email protected].
Please enable JavaScript to view this content.