Fred Ramseur is ready to take another stab at entrepreneurship, but this time he hopes his business doesn't go up in flames.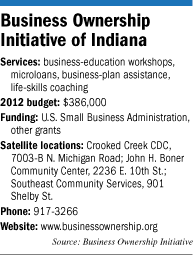 The 63-year-old landlord is determined to avoid his previous management pitfalls. First, there was a small fire at one of his rentals because he didn't keep up with inspections. Then, his inconsistent background-check policy led to struggles with unreliable tenants.
Now, Ramseur has an ambitious plan to open a neighborhood recovery center for ex-offenders and substance abusers who struggle to find employment.
"I had some issues," he said. "This time, I wanted to do it right."
A recovering addict himself, Ramseur is one of hundreds of Indianapolis residents now honing their entrepreneurial skills through workshops aimed at cultivating more neighborhood-based enterprises.
Participation at Business Ownership Initiative-led training sessions is up nearly 30 percent so far this year as more Hoosiers start businesses of their own.
The increase comes after BOI opened three satellite training centers across the city—the result of a partnership with Develop Indy. The city's chief economic development arm teamed up with the not-for-profit last fall to support home-grown businesses, specifically low-tech ventures like Ramseur's.

Grice
"It really lines up with the mayor's vision that a great Indy starts with great neighborhoods," said BOI Executive Director Julie Grice.
Indeed, the collaboration also means Mayor Greg Ballard can check off his 2011 campaign promise to ramp up support for small businesses.
The satellite locations opened in January at existing community centers. BOI counselors and volunteers lead weekly workshops and meet with clients at Southeast Community Services in Fountain Square, Crooked Creek Community Development Corp. in Pike Township, and the John H. Boner Center east of downtown. BOI also hosts workshops at other locations.
During the first quarter of 2012, the organization served more than 220 clients—at least 50 more than the previous three months.
"Being where folks are is where we want to be," Grice said.
Next up: opening satellites in Lawrence and Wayne townships.
First, Grice needs to find money to hire more consultants, who help clients flesh out and execute their ideas. Although funding is a challenge, Grice said the Develop Indy partnership has made BOI more attractive to grant-makers.
BOI is operating this year on a $386,000 budget, funded through private donations and U.S. Small Business Administration support. It does not receive money from Develop Indy or the city.
Grice said she also has reached out to the corporate community for financial assistance. To date, BOI has applied for about $160,000 in grants. Last month, it received a $35,000 gift from PNC Bank.
Another challenge is finding qualified consultants. Right now, for example, Grice needs someone fluent in French with small-business experience to cater to a growing French-speaking African community on the west side.
"They're entrepreneurial like crazy and extraordinarily high-energy," she said.
Grice said her organization is helping people who may never have considered entrepreneurship before the recession.
"In this economy, entrepreneurship is not singularly reserved for those who are hard-wired to be entrepreneurs," she said. "For a lot of folks, it's the best choice for their family."
While the Midwest generally lags in entrepreneurship, Indiana saw a tiny increase in activity in 2011 compared with the previous year, according to a March 2012 report from the Ewing Marion Kauffman Foundation.
BOI hopes to expand its lending abilities in light of lingering anxiety over the economy. The organization has $100,000 in its microloan pool, a gift from the Glick Fund at the Central Indiana Community Foundation. Loans typically range from $1,000 to $4,000.
Grice said counseling remains crucial.
"We could have a $1 billion loan pool and still struggle to find businesses that are well-suited and well prepared to pay back a loan," she said.
John O'Sullivan, a BOI workshop instructor, said the training also provides necessary support for budding business owners.
"We're not touching base with each other enough," O'Sullivan, a general manager at a local green-commerce company, said at an April 4 session. "Building a network is essential. This is your first network."•
__________
Greg Andrews' Behind the News column will return next week.
 
Please enable JavaScript to view this content.