As one of the most well-known participant sporting events in the Midwest, the OneAmerica 500 Festival Mini Marathon this year will send 35,000 people running, jogging and walking from downtown to the Indianapolis Motor Speedway May 5.

What is less well-known about the nation's largest half marathon is how big a television property it has become, with about 65,000 central Indiana households representing more than 115,000 viewers expected to tune in to the 3-1/2-hour WISH-TV Channel 8 broadcast.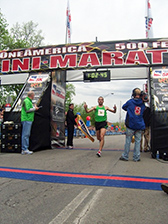 WISH-TV will use 18 cameras and 15 on-air personalities to broadcast this year's Mini Marathon. (Photo courtesy WISH-TV Channel 8)
The Mini's TV rating, generally between 5.5 and 6, isn't only projected to be the most viewed show in its Saturday morning time slot, it's also likely to be one of the top-rated shows of the entire weekend in this market, said officials for New York-based Nielsen Media Research, which measures TV audiences nationwide.

"That's a very high rating for a Saturday morning—really upper-crust," said longtime local media buyer Bill Perkins, president of Perkins Nichols Media. "If you look at last weekend's ratings, [WTHR-TV] Channel 13's morning news had a 4 rating and "Meet the Press" had a 1.7. So you can see the Mini compares favorably."

Larger national sporting events, such as The Masters or an NFL playoff game, typically have double that rating in this market.

Still, that type of local rating, Perkins said, is likely to attract a number of advertisers including financial services firms, utilities, health care companies and sports-related retailers.

WISH General Manager Jeff White said the advertising inventory—more than 30 spots during the 7 a.m. to 10:30 a.m. telecast—has sold out in recent years.

The biggest advertisers during WISH's 2012 Mini telecast will be Finish Line, Franciscan St. Francis Health, Relay Indiana, Godby Furniture and Indianapolis Power & Light Co.

Kirk Hendrix, president and CEO of the 500 Festival, which operates the Mini, isn't surprised by the high rating.

"With 35,000 people running the Mini, just about everyone in town knows someone in it, and a lot of people tune in hoping to catch a glimpse of someone they know," Hendrix said. "There are also a lot of people who have run it in the past that, for whatever reason, aren't running it this year and they'll tune in to check out how it's going. This event has such history here—it's such a part of the local landscape—that it has mass appeal."

Hendrix thinks more people watch than is reflected in the Nielsen rating.

"Lots of people who run the race, [record] it and watch it later," he said. Recorded and on-demand viewing are generally not a part of the Nielsen equation.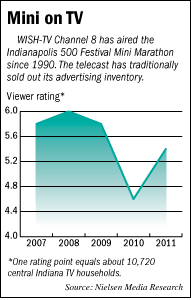 WISH's production is a big part of the growing popularity of the telecast, Hendrix said.

"WISH really knows how to make great television out of a distance running event that isn't typically thought of as compelling to the masses," he said. "When you watch those people cross the finish line, whether it's the first person in or the last, it's a very emotional moment, and WISH does a great job of covering that aspect of it."

Hendrix thinks WISH deserves part of the credit for the Mini's growth.

"The telecast has helped lift this event overall, no question," he said.

The Mini Marathon began in 1977 and became the 500 Festival Mini Marathon in 1979. Some of the world's greatest runners, including Bill Rodgers, Frank Shorter and a host of international distance stars, have won the event. Some of the city's best-known personalities also have run the 13.1-mile course, which includes a lap around the Speedway.

WISH began telecasting the race in 1990 at a time few other stations were interested in showing the entire event, said Perkins, who formerly served on the 500 Festival board.

"They wanted to be a part of this community event, and they really invested in it," he said.

Over the years, WISH officials increased the amount of resources they put into the telecast. WISH's White declined to divulge the station's broadcast budget, but industry sources pegged it at a low- to mid-five-figure sum.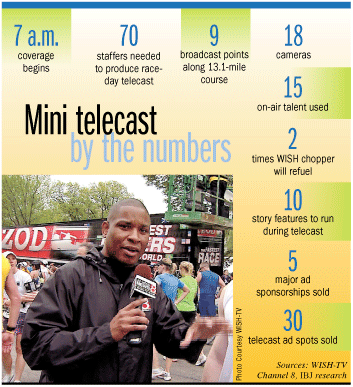 This year, WISH will use 18 cameras, 15 on-air broadcasters and 70 total staffers to produce the race telecast.

Before WISH got involved, Perkins said, stations that broadcast an event like the Mini or the 500 Festival typically used about three cameras.

WISH uses a variety of in-house on-air talent—from news and sports to weather—and brings in running experts, most recently Olympian and Indiana University graduate Bob Kennedy, for commentary.

Weekly production meetings and on-site inspections of the race course start months in advance each year.

"This is the biggest single-day event we do each year by far," said Becky Hardy, WISH production manager. "The only thing that would even come close to rivaling it this year would be the Super Bowl."

With about three weeks until the Mini, WISH's production meetings take on a more urgent tone. Eleven staffers gathered at the station April 10 to go over myriad details, including camera placement, how many times the station's helicopter will need to refuel during the telecast and when that should be done, how the latest technology will be deployed to track almost every runner of note, and how to present the 10 in-depth profiles to be featured during the telecast.

At one point, WISH staffers discussed how the planting of a half-dozen new trees along the course near IUPUI will affect their vantage point and how 35,000 runners traversing a bridge spanning White River early in the race will bounce the structure and affect footage.

"The timing and logistics of a production like this are absolutely critical," Hardy said. "We have a lot of moving parts."

WISH leaves no stone unturned in squeezing revenue from the event. When a WISH engineer mentioned that there's a new way to display temperature and wind speed and direction during the telecast, a WISH ad sales executive asked if a sponsor logo could be shown behind the weather information.

White declined to discuss the event's financial specifics, but said it is profitable. Industry insiders said WISH could easily generate a five-figure profit.

Predictably, other stations have become interested in televising the event recently, Hendrix said. Though he wouldn't discuss his organization's deal with WISH, he said it's a multiyear agreement.

Industry observers said it's likely WISH pays a licensing fee and a small percentage of the overall ad revenue to the 500 Festival. They speculate that the deal requires WISH to also broadcast the 500 Festival Parade, the Snake Pit Ball and a memorial service on Friday before the Indy 500. The parade is the only one of those that likely turns a profit.•