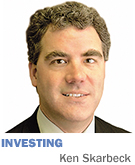 Recently, some interesting events in the sphere of corporate governance have merited attention.

Miracle of miracles, institutional investors finally found the backbone to vote against an executive compensation plan. At Citigroup's annual meeting this month, 55 percent of shareholders rejected the company's 2011 compensation plan in a non-binding "say-on-pay" proxy vote required by the federal Dodd-Frank legislation.

Shareholders rebuked CEO Vikram Pandit's $15 million 2011 pay, but governance at Citigroup has been a laughingstock for years. Talk about rewarding lousy performance: Since Pandit landed the top job, Citigroup stock has plummeted more than 90 percent. Pandit replaced the equally incompetent Chuck Prince in 2007, when the bank bought his underperforming hedge fund for $800 million; it folded in less than a year.

Citigroup's board has been about as un-shareholder-oriented as it gets, rubber-stamping years of substandard leadership. Back in the thick of the credit crisis, former CEO Prince uttered the now-infamous quote, "As long as the music is playing, you've got to get up and dance. We are still dancing." Prince was fired after forcing Citigroup into taxpayers' hands, but the board gave him $30 million in severance pay, anyway.

Perhaps now we will see more shareholders oppose excessive pay, putting more pressure on corporate boards to come up with reasonable compensation plans. The only head-scratcher here: What were the 45 percent of Citigroup shareholders who approved Pandit's millions thinking?

Speaking of trampling on shareholders, Google announced a convoluted 2-for-1 stock split and plans to issue a new class of stock that has no voting rights. As The New York Times put it, "The entire point of the stock split was to solidify the founders' control of the company by diminishing the future voting power of the shareholders."

Clearly, Google has grown into a successful business that has benefited all long-term shareholders. Going back to its initial public offering, the company has been upfront about its motives, admitting it established a structure "that will make it harder for outside parties to take over or influence Google." The stock split will help maintain that control.

Finally—from the pages of "you ain't seen nothin' yet"—next month, Wall Street will bow down and part the Hudson River for the mother of all IPOs: Facebook.

In the company's pre-offering filings, we learn Facebook has chosen to go public as a "controlled company." This designation exempts Facebook from key corporate-governance requirements such as a majority independent board, and an independent director to oversee compensation and director nominations.

In effect, shareholders are to check their rights at the door in favor of CEO Mark Zuckerberg.

And locally, the ownership saga at Emmis Communications Corp. bears watching. The rights of various groups within the firm's complex ownership structure will be decided in court and could alter the laws of shareholder rights in Indiana.•

__________

Skarbeck is managing partner of Indianapolis-based Aldebaran Capital LLC, a money management firm. His column appears every other week. Views expressed are his own. He can be reached at 818-7827 or ken@aldebarancapital.com.