The popular investor site Motley Fool has placed Angie's List on its "toxic" list of initial public stock offerings.

The Fool's Sean Williams has been questioning the quality of IPOs brought to market lately, saying many have been trading at "astronomical valuations" relative to more-established peers.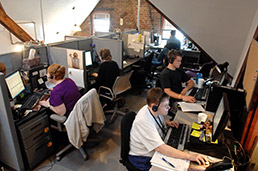 Angie's List lost $49 million last year on revenue of $90 million. (IBJ File Photo)
Traders, Williams complained, "were overlooking years of losses in the hopes of catching the next pop higher.

"Seriously, how else do you possibly explain Angie's List, trading higher after losing money for 16 consecutive years?"

That includes a $49 million loss last year on revenue of $90 million.

Angie's stock hit the market at $13 a share and surged 25 percent the first day, generating $114 million.

Lately, Angie's shares have been trading around $15.

Company officials politely declined to comment on the inclusion of Angie's on the Fool's inglorious toxic IPOs list.

Angie's List, which publishes online consumer reviews of contractors, has been using much of the proceeds in a national expansion and advertising blitz. It has 1.1 million paying members in 186 U.S. markets.

Employment has zoomed to more than 770, including at least 350 in Indianapolis.

Angie's List is scheduled to report first-quarter earnings April 26.