A youth movement of sorts is under way at the state's largest shopping mall. Among the changes:
H&M is expanding its presence in the mall's lifestyle section, taking over the former homes of Moochie and Co., Jule and Yuki. The renovated store, which is adding 4,300 square feet, is set to open in the fall.
Forever 21 is more than tripling its square footage at the north-side mall by taking the former Borders bookstore space, as IBJ first reported in February. The 25,500-square-foot store is scheduled to open in early summer.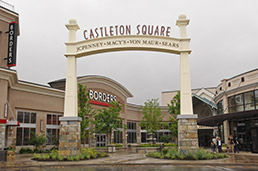 This former Borders bookstore space will be backfilled by Forever 21, as part of Castleton Square Mall's retail reshuffling. (IBJ File Photo)
Flip Flop Shops, an Atlanta-based chain, plans to open a casual footwear store this spring across from Macy's.
Love Culture, a California-based boutique aimed at young women, plans to open between Macy's and the food court in the fall. It will be the chain's first Indiana store.
The Finish Line is adding a Nike Track Club to its Castleton Square store. The new concept, which the locally based retailer tested at Greenwood Park Mall in 2010, is scheduled to open in May.
The Limited is moving to the former home of Fossil. The Ohio-based chain plans to open the new shop in May.
Off Broadway Shoes has opened in the mall's Sears wing, as IBJ first reported in January. The warehouse-style chain based in Georgia has taken 18,500 square feet.
Please enable JavaScript to view this content.