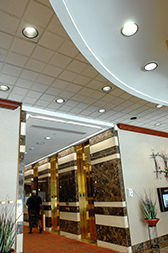 Market Square Center's owner is alight with complaints over electrical service. (IBJ Photo/ Perry Reichanadter)
The owner of Market Square Center is complaining to state utility regulators that Indianapolis Power & Light has failed to provide reliable service to the office building, better known as the Gold Building, at 151 N. Delaware St.
Santa Monica, Calif.-based Hertz Investment Group said the Gold Building has had a dozen power outages over 21 months, some lasting more than 24 hours.
From the beginning of 2010 through March of this year, there have been 15 power interruptions, or 6.7 a year, Hertz alleges.
Hertz's local property manager, Daniel Sweeney, started complaining to the Indiana Utility Regulatory Commission's consumer affairs division last fall, in what has now evolved into a formal complaint being reviewed by the commission.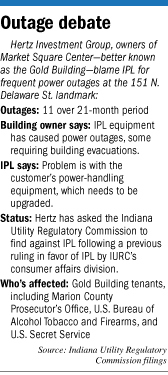 Sweeney alleges unexpected power outages forced it to evacuate tenants and visitors on six occasions.
"Evacuating the building at a moment's notice is an extreme disruption to our tenants' business day and a major inconvenience. … Some of our tenants have recently discussed relocating their offices elsewhere as a result of these issues," he said in a letter to the commission late last year.
Among Gold Building tenants: the Marion County Prosecutor's Office, the U.S. Secret Service, the Bureau of Alcohol Tobacco and Firearms, and law firms such as Thrasher Buschmann & Voelkel.
IPL, however, told the IURC that the problem is mostly with the transformers and circuits in the Gold Building—not with IPL's delivery of power.
"The service issues at the Gold Building are attributable to the design and condition of the customer-owned electric service facilities," IPL said last month in a response filed with the commission.
The utility asserts the 37-year-old building would not have had a power outage in 23 of 26 instances if switching devices owned by the customer would have operated properly.
IPL also points to a February 2010 fire involving the customer's own transformers, one that caused outages to other IPL customers.
"The interruptions at the Gold Building are the result of decisions made by property owners and are unrelated to the IPL underground network," said IPL spokeswoman Crystal Livers-Powers.
In January, the IURC's consumer affairs director ruled in favor of IPL, saying one option is for the building owner to replace its equipment at the Gold Building for an estimated $2.5 million.
Hertz in February asked the commission for a review of the January consumer affairs decision. It says IPL has shifted the commission's focus to the performance of the Gold Building's switching mechanism rather than the interruption in power from IPL to the devices.
"Simply by arguing the customer can do more on its side of the meter to mitigate the impact of poor utility service, a public utility like IPL cannot shift to its customer the responsibility to ensure continuity of reliable service," Todd Richardson, an attorney for Hertz, wrote in response.
Hertz said IPL has replaced some of its underground cable but that power failures have occurred at the same frequency.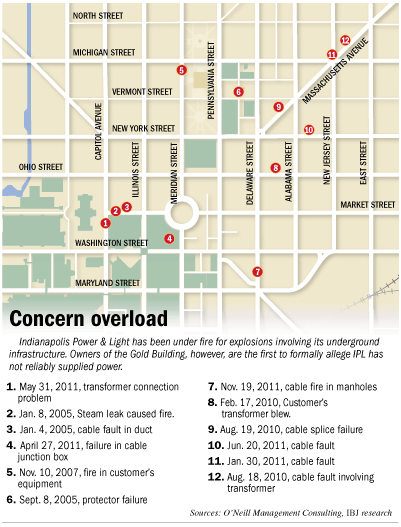 IPL's infrastructure downtown—a mile-square area consisting of 192 miles of primary and secondary cables and transformers—came under IURC scrutiny last year. The commission tapped Atlanta-based O'Neill Management Consulting to get at the root of 12 explosions in underground power vaults since 2005—most involving IPL-owned equipment.
Three events were blamed on customer equipment—including that at the Gold Building, the report said.
In 2005, former IPL executive Dwane Ingalls told IBJ that the utility was sending excess cash to its parent, Virginia-based AES Corp., at the expense of electric service reliability. AES bought IPL in 2001.
Ingalls, who also raised his allegation with the commission at the time, was fired two years earlier after complaining about the issue to AES' brass.
IPL's capital investment downtown dropped from $2.3 million in 2000 to a low of $798,000 in 2001 and $1 million in 2002. In 2004, IPL doubled its downtown infrastructure investment, and last year it spent $5.2 million downtown, according to O'Neill.
The O'Neill report released last December concluded that the downtown incidents were not due to a lack of resources, however, "but rather a failure to recognize the conditions that would lead to future failure."
"We got a sense that the [IPL] crews and their managers were more in the mode of corrective maintenance than preventative, that is, more focused on what was in imminent danger of failure rather than what might fail under different circumstances or over a longer period of time."
IPL insists its downtown power network is safe and reliable.
Among actions IPL has initiated in response to explosions is to work more closely with Citizens Thermal, which operates the underground steam pipe network downtown, to get a clearer picture of where steam and electric lines run in close proximity. Steam leaks have been blamed for electric cable deterioration in some locations.
IPL is also replacing certain failure-prone aluminum components that were installed during a copper shortage decades ago. It's retrofitting other parts and improving its inspection program—among dozens of steps being taken to improve the reliability of the downtown network.
Despite the problems at the Gold Building, and the high-profile explosions of recent years, "in the past five years we've only had one business complain regarding electric power outages with IPL, and it was filed by the owners of the Gold Building," said IURC spokeswoman Danielle McGrath.•
Please enable JavaScript to view this content.