The most controversial aspect of the Mind Trust plan to restructure Indianapolis Public Schools is its call for giving the Indianapolis mayor control over the district's school board.

But with Indianapolis Mayor Greg Ballard cool to the idea so far, some proponents of the plan are looking to advance its key principles the old-fashioned way: by electing pro-reform members to the IPS board.

The Indiana chapter of Democrats for Education Reform plans to identify candidates for the IPS board who explicitly endorse that group's key values—which also map closely to the plan crafted by The Mind Trust, an Indianapolis-based education reform group.

The plan called for turning IPS' 61 schools into a network of autonomous entities that would receive funding based only on their success at recruiting students each year. The Mind Trust plan calls for training highly capable school leaders, giving them responsibility for nearly all academic and administrative decisions, and slashing the control now held by the IPS central office.

"We don't feel like it has to be mayoral control to make these things happen," said Larry Grau, state director of Democrats for Education Reform.

On that point at least, Grau is in agreement with IPS Superintendent Eugene White, who gave a full-throated, two-hour defense of IPS' achievements on April 16 at a community forum. He called for making half of all IPS schools "semi-autonomous"—with control over their hiring and purchasing decisions—but otherwise rejected Mind Trust's call for radical changes to the district.

"Our district deserves to have [board members] elected, just like every other school district," White said to cheers from his 300-person audience. "If you want people out, you're going to have to vote them out."

Favorable timing?

For folks like Grau, the opportunity to do just that might be better this year than ever. The Mind Trust report has sparked more discussion of the IPS board than has occurred in years. And Ballard recently appointed a deputy mayor of education, whose main task is to organize community forums to discuss the best plan for the future of IPS.

In addition, the IPS school board elections have been moved from May to November, when voter turnout is typically higher. It's also a presidential election year, which tends to further improve voter turnout.

And the man at the top of the ticket, President Barack Obama, is the "education reformer-in-chief," Grau noted. Obama has decisively supported charter schools, merit pay for teachers, and other policies championed by reformers but previously opposed by teachers' unions or school administrators.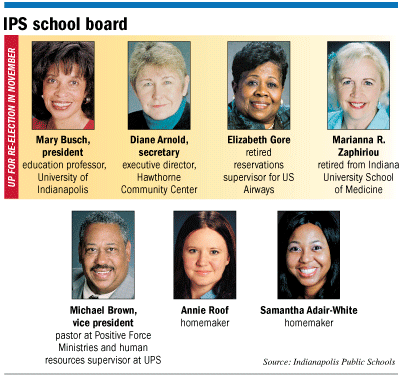 "We feel like it's an opportunity to push our agenda, literally, from the top down," said Grau, who was the top education policy adviser to the late Indiana Gov. Frank O'Bannon. And it may be the best chance for pushing change in IPS, he added, since it seems to him that Ballard "doesn't have a lot of interest in mayoral control."

Ballard's new deputy mayor for education, Jason Kloth, soon will convene a series of community conversations about the best way to improve student outcomes at IPS and report the recommendations before the November election—early enough that school board candidates will likely have to take a position on them.

"The community conversation needs to discuss the various models, the various plans, that we have as a city," said Ballard spokesman Marc Lotter. He added, "I don't think at this point you lock yourself into any single course of action when you haven't developed the plan, what you want it to look like."

The IPS election is certainly sparking more interest than usual from candidates and political groups. Other pro-reform groups, such as the Indiana chapter of Stand for Children and Leaders for Education Equity, the political arm of Teach for America, are working quietly to elect like-minded members to the IPS board.

That could mean more money flows into these races than in past elections, during which the Indiana Education Association teachers' union has typically been the only formal group raising money to support candidates.

Starting a conversation

Five people have already declared their candidacies via Facebook pages—even though the official filing deadline is still more than two months away. It is not clear, however, that those candidates would support the Mind Trust plan.

Four IPS school board members are up for re-election this year. Three of them have been on the board for many years, have been staunch supporters of White, and have been cold to the Mind Trust plan—especially to its call for mayoral control of the board.

Those three members are board President Mary Busch, an education professor at the University of Indianapolis; Elizabeth Gore, a past board president who is retired from US Airways; and Marianna Zaphiriou, also a former board president, who is retired from the Indiana University School of Medicine.

The fourth board member up for re-election is Diane Arnold, executive director of the Hawthorn Community Center and a frequent critic of White. None of the board members running for re-election responded to requests seeking comment for this story.

The strategy for the pro-reform groups is to unseat one or two of the pro-White board members and replace them with pro-reform board members. Then, the groups would have to hope the board members who have been critical of White—homemakers Samantha Adair-White and Annie Roof, along with Arnold—would be willing to consider some of the changes in the Mind Trust report.

Roof thinks such a scenario is plausible. So far, she said, the three critics of White have not been able to get the other four board members to agree to even formally discuss the Mind Trust plan.

"A few board members share the thought that it's worth discussion," Roof said, mentioning Arnold and Adair-White. "But we can't even call a meeting on it."

She noted that she does not agree with the Mind Trust's call for mayoral control of IPS and objects to some of its proposed changes to IPS' budget. But she likes the call for cutting back the power of the central office, giving autonomy to individual schools, and shifting spending to pay for universal preschool for all IPS students.

"I think that the Mind Trust plan is a great place to start a conversation," she said.

Change from within

But Louis Mahern, a former Democratic state senator from Indianapolis, said seeking change through school board elections is a long shot, at best.

"I suppose they might be able to get a couple people on there," Mahern said of attempts by pro-reform groups to elect IPS board members. But, he added, "The idea that you're going to get decent school board policy out of self-selected individuals that in many cases have private interests is just magical thinking."

White expressed a similar doubt about changes to the school board. He noted that Gayle Cosby, who is running against Mary Busch, is the wife of Brandon Cosby, whom White fired last year as principal of the Shortridge Magnet High School for Law & Public Policy, for "insubordination."

"They need to know why some of these people are running," White said. In some cases, he added, "It's people who have grudges."

Cosby did not return a phone call seeking comment.

School boards around Indiana and the country do not have a good record of leading and sustaining bold change, noted Mind Trust CEO David Harris. That is one reason The Mind Trust called for the IPS board to be shrunk from seven members to five, with three appointed by the Indianapolis mayor and two appointed by the City-County Council.

Harris emphasized that The Mind Trust is taking no part in efforts to identify or elect members to the IPS board. But he acknowledged that doing so is at least a possible way of putting into action the plan The Mind Trust created.

"There's nothing keeping the school district from moving on all of the substance of our recommendations today," said Harris, who was previously head of charter schools for Ballard's Democratic predecessor, Bart Peterson. He added, "It's clear that the current school board is not moving in this direction. But is it possible? Yes."

Grau, who is a member of the school board in Pike Township, acknowledged all these concerns about school boards—private agendas, poor records of leadership—but he still expressed hope for efforts to change the makeup of the IPS board.

"Too often, school boards get caught up in a lot of minutia. But it doesn't have to be that way," Grau said. "A school board can have a tremendous impact on education policy."•