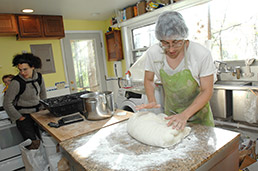 Eric Schedler uses this professional kitchen nowadays to make bread, under the watchful eye of wife Katie Zukof and daughter Leda Schedler. (IBJ Photo/ Perry Reichanadter)
Muddy Fork Farm & Bakery, a Bloomington-based company founded in January 2010 by husband-and-wife entrepreneurs Katie Zukof and Eric Schedler, cranks out everything from whole wheat sourdough loaves to butternut spice rolls. Though it brings in $1,300 to $1,500 each week, and the owners recently moved their operations to a new professional kitchen with a brick oven, it began on a shoestring. A shoestring so thin that, just a few years ago, Indiana law wouldn't have allowed it.

Muddy Fork—along with dozens of other food-based businesses around the state—owes its existence to an unglamorous-sounding addition to the Indiana Code called HEA 1309. Enacted with little fanfare in 2009, it (like similar laws already adopted in some two-dozen other states) allows home-based vendors—or HBVs—to sell certain types of foods at farmers' markets and their own roadside stands, with minimal state oversight.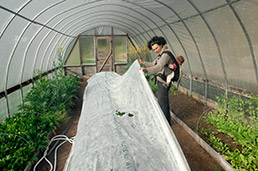 Muddy Fork Farm & Bakery in Monroe County has a greenhouse along with its kitchen. (IBJ Photo/ Perry Reichanadter)
It was a game-changer for Zukof and Schedler—and many other would-be food entrepreneurs long on ambition but short on startup funds.

"With minimal investment [about $1,700] and supplies, we just started baking and saw how it went," Schedler said. "I don't think there's any way we would have done this without knowing that we could be successful by first starting as a home-based vendor."

HEA 1309, like similar laws around the country, is designed to encourage local HBVs by easing regulation and oversight on a select list of foodstuffs that are nearly impossible to contaminate—even by people who prepare them in their home kitchens, as HEA 1309 allows. It's meant for everyone from gardening hobbyists who want to sell surplus produce, to those bootstrapping their way to something bigger.

"There are definitely those people who just really enjoy having a garden and want to sell their excess stuff rather than give it away," said Katie Clayton, extension outreach specialist in Purdue University's Department of Food Science. "But there are others who are using this as a gateway and a trial run into becoming a retailer or wholesaler."

The folks at Muddy Fork hit the jackpot with the law, which specifically targets baked goods—a category that's difficult to render unsafe, short of dropping a hand grenade in the batter. Other HBV-eligible items include most candies; uncut fruits and vegetables; jams and jellies made from high-acid fruits; fermented items such as sauerkraut; and nuts, legumes, honeys and syrups.



The home kitchens in which these goods are prepared aren't inspected, and the labeling rules are considerably less stringent than those required by the FDA for store-bought goods. The labels must contain the name of the item, an ingredients list, net weight and volume, the date on which it was created, and an all-purpose disclaimer reading, "This product is home produced and processed and the production area has not been inspected by the Health Department."

The new regulation has produced a stampede of sorts among farmers and small producers wishing to bring everything from backyard tomatoes to their grandmother's oatmeal cookie recipe to a wider audience. Purdue's Clayton offered Web-based seminars about how to become an HBV in late March and early April, the first of which attracted more than 300 participants. Some were county health officials wishing to learn more about the law, but most were small-scale entrepreneurs.

"I think it's becoming more and more common," Clayton said. "Indiana wasn't the first [to pass such a law] and I doubt we'll be the last."

But just because you make stuff at home doesn't guarantee it a slot at your local farmers' market. Some of them are quite picky and devote little booth space to non-veggie items. After all, their bread and butter is fresh produce—not bread and butter. Or cookies or candy.

"We pretty consistently have a waiting list," said Laura Henderson, founder and executive director of the Indy Winter Farmers Market. "Our goal is to provide people with access to fresh, healthy food. It's great to have those other, special-treat items, but there's a capacity on how much any individual market can support those products."

Henderson said if you want to win space at her roughly 45-vendor operation, show her something she hasn't seen before.

"There's all kinds of room to grow a whole new diversity of ethnic products, vegan products, low-sugar products, all kinds of things," she said.

And it wouldn't hurt, in her view, if home operations were regulated just a teeny, tiny bit more. Like they do in Tennessee, which allows preparation of food in home kitchens but also created a system to inspect those kitchens.

"We have no idea what people's kitchens look like," Henderson said. "I have a dog that does an awful lot of shedding. … You're not going to get sick if somebody's dog hair is in your cookies, but do you want it there?"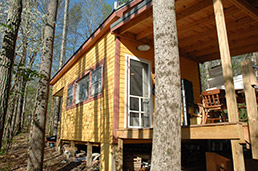 Eric Schedler and Katie Zukof built this kitchen on their Bloomington farm to make the bread they sell. (IBJ Photo/ Perry Reichanadter)
Nevertheless, piling on too many rules could destroy fledgling HBVs. Because when you start out on a shoestring, even a handful of tiny-but-onerous regulations can bring the enterprise to a screeching halt.

"Anything that increases overhead could make it prohibitive to the home cook," said Baylen Linnekin, director of Keep Food Legal, a not-for-profit dedicated to decreasing food regulation and increasing the availability of food from small-scale producers.

For instance, HBVs in New York state are hamstrung by regulations that for some reason prohibit them from creating websites to advertise their wares. Texas recently turned back an attempt to require home-based cooks to attach FDA-compliant labels to their products.

"They'd have to list all their ingredients in descending order of weight and describe the percent of daily nutrients, which flies in the face of the cottage food law itself," Linnekin said. "Luckily, that was defeated."

Not that others, like Henderson, don't see room for improvement. Take the story of Debbie and Jim Farmer, who plan to open a roadside stand on their tiny New Albany farm.

"We only have two acres, but almost everything on our property is edible," Debbie Farmer said.

Their tiny spread is working overtime to produce the items the couple plans to sell—and to comply with both the provisions of 1309 and the demands of the Floyd County health department. Their stand, called Farmers Finest, will sell veggies; eggs (not allowed by the HBV law, but possible because the Farmers have a separate license to sell them); dried, flavored pastas; and (among a great many other things) "novelty-type" jams and jellies. Debbie Farmer is even trying to work up a recipe for pickles. This is extremely tricky, because state law explicitly bans HBV sales of canned low-acid foods (green beans, etc.) and foods that are "acidified"—meaning with acids added to drop the pH level and inhibit bacterial growth.

Farmer is growing a naturally acidic tomato to use in her signature tomato jelly, and is even developing a pickle recipe that ferments the cucumbers (under state law, most fermented products are OK). After much practice, she thinks she's developed a palatable pickle.

Though she loves the fact that Indiana allows vendors like herself to exist, she admits small-time producers must contribute a lot of sweat equity to the project.

"I'm putting a lot of effort into getting this right," she said. "I don't want to be embarrassed with the health department telling me I'm selling something illegal. So there's a lot to think about."

A former caterer, she thinks there are still ways to improve the law. For instance, make some sort of low-cost inspection and certification program available for home vendors. And offer better training in professional-quality kitchen hygiene.

"I don't want to see kitchen police," Farmer said. "I'd rather have people educated."

And speaking of education, it would be nice if county boards of health—the foot soldiers responsible for policing HBVs—were all up to speed on the law. For instance, many counties interpret it differently. Farmer has gone 'round and 'round with the Floyd County health department, which recently informed her that she must furnish them with all the recipes for her products if she wishes to sell them.

"But if you read 1309, there's supposed to be no oversight," Farmer said. "Only if I have misbranding on my jar or a consumer complaint."

Paperwork and capricious local bureaucracy aside, she and her husband are still grateful for the opportunity. Especially considering that pretty much everything she's doing is still entirely illegal in nearby Kentucky, which lacks an HBV law.

"There's still a lot to figure out, but I'm totally supportive of it," Farmer said.•