It's a variation on an old joke, but kind of fitting for this story:

Q: How many workers did the city of Indianapolis need to change its light bulbs?

A: Lots.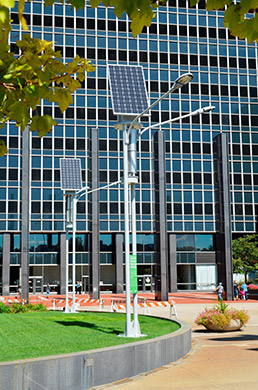 Solar collectors are just one aspect of a combination of initiatives ranging from replacing light bulbs to sealing energy leaks that contractors guarantee will save the city at least $7.5 million over 15 years. (Photo courtesy City of Indianapolis)
As part of the city's Sustainable Facilities Initiative, a program designed to save money and energy, the city changed 10,278 light bulbs at 61 buildings, replacing them with more efficient, lower-cost fluorescent lighting.

Other elements of the initiative included replacing the inefficient heating and cooling system in the City-County Building with an electricity-saving geothermal heat-recovery chiller, and sealing buildings—typically fire stations and buildings in city parks—that leaked air.

Total cost: $18 million, including $8 million for the City-CountyBuilding.

Savings guaranteed by the contractors hired to make the improvements: $1.7 million a year for 15 years, a total savings of at least $7.5 million. That includes $750,000 a year in the City-County Building, where visitors can see a "dashboard system" in the lobby that shows the real-time energy use as a result of the improvements.

"This is a strategy where we're recognizing



that utility prices, like gas prices, are going to continue to climb overall," said John Hazlett, director of the city's Office of Sustainability. "I think this was a long-term strategy to make sure we are protecting ourselves against that volatility."

The Sustainable Facilities Initiative traces to October 2008, when the city launched the Office of Sustainability and decided to look at how city government consumes energy.

"Buildings are about 40 percent of our annual energy use," Hazlett said. "I spent a lot of time looking at utility data and looking across the portfolio of buildings which were the biggest energy drains."

The city identified 71 buildings—either small buildings using excessive amounts of energy or large buildings, like the Marion County Jail, that could be operated more efficiently.

In December 2009, it began audits of those buildings to determine what energy improvements could be made. To do that, it hired three energy service corporations—Indianapolis-based Performance Services Inc., Milwaukee-based Johnson Controls Inc. and Energy Systems Group of Evansville—hoping to make improvements that would recoup the initial investment within 10 years.

Ultimately, the decision was made to work on 61 buildings. Payback periods on the other 10 buildings would take too long, Hazlett said.

High-efficiency lighting has the quickest payback, so the decision was made to switch from T-12 fluorescent lamps to T-8's, metal halide to high-output T-5 fluorescents, and incandescent to compact fluorescent.

Among other improvements:

• A geothermal heat-recovery chiller was installed in the City-County Building to heat water for the air-handling systems that serve the lower floors of city government's headquarters. This heating previously had been done with steam provided by Citizens Thermal Energy's downtown steam loop.

The byproduct of the hot water generation is chilled water, Hazlett said, which is used to supplement the cooling needs for the lower levels of the building. It also helps cool City Market across the street.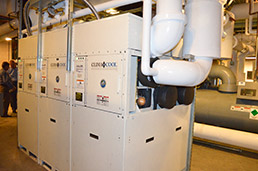 A geothermal system supplies heat to replace the steam that heats most downtown buildings. (Photo courtesy City of Indianapolis)
The chiller uses the heating or cooling energy available in the ground water that must be pumped away from the building to prevent flooding in the underground parking garage as a way to supplement the requirements of the chiller and allow it to not work as hard or consume as much energy as it might normally. The result is a savings on electricity.

• Thirteen parks facilities received upgrades that included building automation controls, insulation and high-efficiency lighting. Christopher Downs, account executive for Johnson Controls Inc., said the most affected facilities were Thatcher Park and Krannert Park on the west side and Indy Island on the southeast side. Improvements included supplemental solar heating of the indoor pools, automated pool covers and, at Thatcher, a high-efficiency boiler to heat the pool water.

"Besides the cost savings, these measures will improve the climate for visitors as well as operations for staff for Indy Parks," Downs said. "For instance, a Web-based control system now allows for remote access to most of the parks' buildings for communication and trouble-shooting."

In addition, the environmental impact will be 1,012 metric tons of carbon dioxide removed from the air annually—equivalent to the annual greenhouse gas emissions of 196 passenger vehicles.

Hazlett said work took a little longer than expected. What officials anticipated would take eight to 12 months actually took about a year and a half—largely because they were working on old buildings with aging pipes. And working in the City-County Building, which is occupied all hours of the day, required a lot of second- and third-shift work.

The overall initiative is now in the commissioning phase across the 61 buildings, meaning the contractors are tweaking the systems that control the equipment as well as measuring and verifying the results.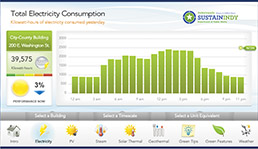 A "dashboard" system in the City-County Building lobby shows real-time energy usage, which declined as a result of the improvements. (Photo courtesy City of Indianapolis)
The contractors will monitor their work for the next 15 years and issue quarterly reports to the city showing the verified savings from the project.

"Every month, we'll be looking at the utility bills and operation of the equipment. Are systems shutting down when they should be?" said Phil Yuska, business development manager for Performance Services, which did the lion's share of the work—about $15 million of the $18 million project—at the City-County Building, Marion County Jail and 13 smaller facilities such as police posts and the Juvenile Detention Center. "Are the pumps running longer than they need to be? So if they get out of range, we'll work with the building authority to get them running right."

What the city is doing is being echoed around Indianapolis in places like the headquarters of The Nature Conservancy, whose new environmentally friendly building at 620 E. Ohio St. has lowered energy use 43 percent, and Keep Indianapolis Beautiful, which has saved $7,000 to $10,000 a year on energy costs since moving into 1029 Fletcher Ave.

"Work like this is really about the triple bottom line: economy, environment and society," said Keep Indianapolis Beautiful President David Forsell. "It demonstrates good values."•