A group of MediaSauce employees has split from the Carmel advertising and marketing firm to form a new company.
MediaSauce's former co-owner, David Cain, 44, left in January to launch Magnitude, a full-service ad agency with a focus on digital media. Cain divested his interest in MediaSauce, and said the split was amicable.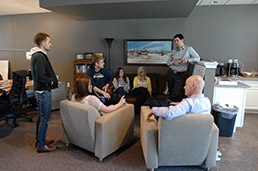 Magnitude staff members brainstorm with founder and CEO David Cain, seated in right foreground. Seven people followed Cain from MediaSauce to help him launch Magnitude. The company now employs 13, with plans for more hiring. (IBJ Photo/ Perry Reichanadter)
Cain said the separation was driven by his desire to focus on being a full-service agency, while MediaSauce specializes in project work in the areas of social media, web development, and online and interactive marketing.
"Within MediaSauce, we had a unit that began to work more on integrated relationships versus project work," said Cain, who joined MediaSauce in 2003 and owned a bit less than half the company when he left. "As we began to do more integrated work, the requests for that kind of service increased."
MediaSauce, which had about 30 employees and more than $20 million in annual capitalized billings last year, will feel little impact from the splinter and is "doing great," said the company's CEO and majority owner, Bryan Gray.  

Cain
"By splitting apart we can both do more business by focusing our energies on what we want," Gray said. "I think each group is doing better individually than we were combined."
Since the split, Magnitude has begun to broaden from online and digital initiatives into a variety of advertising platforms.
Just four months since its founding, it has lined up an impressive list of clients, including the Indiana Pacers, Northwestern University, Tabor Law Firm and Wabash Valley Power Association.
  Seven MediaSauce employees followed Cain to Magnitude. As business ramps up, the company is adding employees, including two last week, and is up to 13. In the first year, Cain expects Magnitude to work with up to 60 clients, either as agency-of-record or to do project work or consulting, and to bring in around $1.5 million in revenue.
"Technically we're a startup, but we have the operations and revenue of a mature company," Cain said.
Magnitude is launching at a time many local and national advertising agencies are downsizing or folding. Locally, well-known firms like Pearson Partners and Hetrick Communications have vanished, victims of a changing and difficult environment.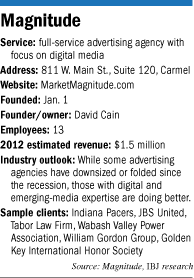 "The economy has hurt, but so have changes in the industry, including a shift away from traditional advertising and marketing and a proliferation of the digital world," said Bruce Bryant, owner of locally based Promotus Advertising and past president of the Indianapolis Ad Club.
Bryant said for a company like Magnitude to survive, it will have to demonstrate it can handle traditional advertising services as well as digital advertising.
"The people at MediaSauce, and now those at Magnitude, are known for their work with new media," Bryant said.
Cain said his company's ability to work with different advertising platforms will help it flourish. "The economy is forcing a need for better messaging, more effective ways and methods to sell, and more efficient ways to market," he said.
One way Cain differentiates his company is by sitting in on clients' sales meetings and going on sales calls with clients.
The company won't start a branding and marketing campaign of its own until next month. Magnitude's launch has been so soft that many in the local advertising industry were unaware of the split with MediaSauce.
Despite the stealth startup, Cain said he hasn't had a problem landing business, mostly through referrals.
The Pacers, for instance, introduced Magnitude to Northwestern University and several other NBA teams.
Cain and his staff, through MediaSauce and now Magnitude, "understand the foundation of our business and worked with us not only to get people interested in the team, but to move the needle on ticket sales," said Pacers Marketing Vice President Rob Laycock.
"Most people here looked at them as a digital marketing company because that's what they'd done," Laycock said. "But they proved they could do impressive work on billboards, TV and other platforms."
If Magnitude realizes Cain's first-year projections, it will become one of the city's 20 biggest ad agencies based on billings.
"We can get as big as we want, but I want to go slow because I don't want to outpace our abilities," Cain said. "It's hard to find good employees that are talented in the areas you need, and we have to make sure we have things in place so everything we do brings value to our customers."•
Please enable JavaScript to view this content.