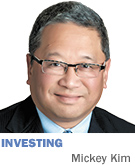 Even a technology Luddite knows Apple has been on an incredible tear as the iPod, iPhone and iPad quickly achieved market dominance.
Apple's spectacular product success has not gone unnoticed by investors. At a recent price of $600 per share, Apple boasts a market value (shares outstanding multiplied by the stock price) just shy of $560 billion, making it by far the most valuable company on the planet. By comparison, the second-largest U.S. market value belongs to Exxon Mobil Corp., at $409 billion.
Apple's ascent has grown even steeper in the past six months despite the Oct. 5 passing of Steve Jobs, the company's founder, visionary and chief product guru. Jobs was Apple, and given the nature of its business—technology that changes at a breakneck pace—his death could have been a devastating blow to the stock.
But it never missed a beat, rising almost 60 percent since then. If you wanted to spend just the increase in market value ($206 billion), you'd have enough to buy every share of both McDonald's and Amazon and still have enough change to buy all of Kroger's stock.
Whether or not you own a cool Apple device or single share of stock, Apple at $600 has important implications.
Apple's $560 billion value, or market capitalization, accounts for about 4.4 percent of the total market cap of the 500 stocks composing the Standard & Poor's 500 Index. Like most of the well-known stock market indexes, the S&P 500 is a capitalization-weighted index. This means the performances of the largest-cap stocks have an outsized impact on the performance of the index.
According to a recent study by The Leuthold Group, Apple's market cap is equal to the combined market caps of the smallest 125 stocks in the S&P 500. In other words, you could trade Apple's stock for all the stock of Ball Corp., Southwest Airlines, Equifax and 122 other companies.
So Apple's recent gains have played a big part in the S&P 500's strong performance. Going forward, it will be tough for the index to do well unless Apple continues to do well.
Many portfolio managers are judged against the performance of the S&P 500. This means if Apple accounts for less than 4.4 percent of their portfolio, they are "underweight" Apple (and overweight career risk). For a technology fund manager benchmarked against the NASDAQ 100, Apple's weight is a whopping 18 percent.
This pressure to own Apple—regardless of valuation—increased exponentially as its share prices tripled in just 2-1/2 years. Apple's recent announcement of its first-ever dividend will force even more portfolio managers into this vise.
I have no idea if Apple is a good buy. However, Leuthold's study pointed out that Apple is only the fifth stock to reach a 4 percent weighting in the S&P 500 since 1990. None of the first four (Microsoft, January 1999; General Electric, December 1999; Cisco Systems, March 2000; Exxon Mobil, April 2008) were able to maintain this status. In fact, no company has been able to stay in this elite club since the inception of the S&P 500 in 1957.
Extrapolating current greatness and buying at the peak of popularity are two of the costliest mistakes an investor can make. In a race for attention, there are now Wall Street analyst predictions of $1,000 for Apple's stock, which would make for a market cap of $1 trillion. Nobody knows for sure, but history suggests Apple hysteria will not last forever.•
__________
Kim is the chief operating officer and chief compliance officer for Kirr Marbach & Co. LLC, an investment adviser based in Columbus, Ind. He can be reached at (812) 376-9444 or mickey@kirrmar.com.
Please enable JavaScript to view this content.