The growing popularity of cloud computing is sending sales skyward for Bluelock, a 6-year-old firm that is turning a profit and garnering national attention.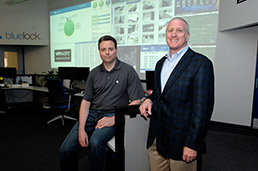 Chief Technology Officer Pat O'Day and CEO Christopher Clapp operate at Bluelock's northwest-side data bunker. More than 100 clients access its servers. (IBJ Photo/ Perry Reichanadter)
The company's revenue rose 30 percent in 2011, to $19 million—a growth spurt that could spur more hiring later this year.
Bluelock CEO Christopher Clapp wouldn't disclose profit, but confirmed the firm is finally in the black. "We had our first profitable quarter in 2011 [and] we were cash-flow-positive in each quarter and for the full year."
Bluelock's success hasn't gone unnoticed. It landed recently in IT research and advisory firm Gartner Group's coveted "leader" quadrant among public cloud infrastructure providers.
The space includes Amazon Web Services. Gartner scored Bluelock in front of noted rivals IBM and AT&T.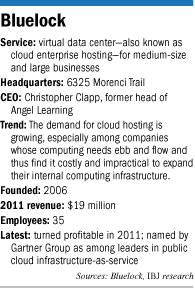 For Clapp, the best news perhaps is the growing diversification of Bluelock's client base.
Tech firms were the first to warm to cloud computing, which in this context involves paying to access Bluelock's servers on-demand. Lately, companies from other sectors are paying for the company's services.
One simple way to think about what Bluelock does is that it operates a bunker full of computer servers that midsize to large enterprises can use rather than, or in conjunction with, their own, in-house IT systems.
"People are starting to get a definition of what the cloud is all about," said Clapp, who might be best known locally as former CEO of Angel Learning. "It's maturing to the point where people are starting to determine how to use it effectively."
Such cloud data centers can be particularly appealing to enterprises that at times need lots of computing power and at others need hardly any. They might want to quickly dial up usage during pre-production and development and testing of a product, for example, then dial back after completing a project.
It's an alternative to spending big bucks buying, powering and maintaining one's own servers, especially when they're used only sporadically at full capacity.
Among Bluelock's 100 or so clients is San Jose-based graphic software giant Adobe, Seattle-based tech company F5 Networks and IBJ Media.
One of its competitive weapons is a product launched last year known as "Portfolio," which helps clients get a better fix on how they can optimize their resource usage.
Bluelock was lauded by Gartner Group for its track record of serving a wide range of cases, "including complex and mission-critical needs."
Perhaps its most notorious client was Lehman Brothers, as the finance firm started to wind down operations after what was the largest Chapter 11 bankruptcy in U.S. history, in 2008.
Bluelock got the contract in 2009 to handle huge volumes of information that had been handled by Lehman's IT infrastructure, which was being sold off. Lehman still was collecting commercial mortgage and other payments and was managing numerous investment portfolios. According to CIO magazine, the IT staff managing Lehman's wind-down had to migrate 30 million files to Bluelock's cloud.
Bluelock Chief Technology Officer Pat O'Day said Bluelock continues to handle the Lehman files.
Bluelock's infrastructure consists of data centers in Indianapolis and Salt Lake City. The Indianapolis facility is concealed in a nondescript building in a northwest-side office park. There are no signs out front announcing what's inside. Not until one is buzzed into the first of two banks of entry doors does one see the company's name on the wall of the foyer.
Once inside, visitors must slide their driver's license underneath what appears to be bulletproof glass. Behind the glass is a video display wall that would do NASA's mission control center proud, with data displays that include server speeds and a read-out of who entered what door and when.
Weather radar is also displayed, although it's unlikely a tornado would do the server rooms harm, as they're surrounded by thick concrete walls and protected by enough backup generators to power a small town.
This had been a data center for another company before Bluelock moved in. O'Day recalls arriving to find mothballed computer equipment dating to the 1970s.
Today, that space is a cavernous, brightly lit room. So far, only a small portion of it houses black cabinets full of blinking computer servers resembling the monoliths of Arthur C. Clark's "2001: A Space Odyssey."
"Operational excellence is a particularly important part of the success of this kind of business, as the systems are quite complex," said Mark Hill, a principal of Collina Ventures, which has invested in Bluelock.
He said O'Day "has been a true visionary, and he has kept us in the forefront of this fast-changing space."
Then there's Clapp, whose former Angel Learning sold to Washington, D.C.-based Blackboard for $100 million a few years ago in what remains one of the city's most heralded tech deals.
Clapp commands a team that now numbers about 35 employees. More are likely to be hired over the next year.
"We have about a half dozen positions open currently and may have more, depending on how the year progresses," O'Day said.
"We also like the size of the potential market. We feel pretty certain that, in 10 years, most server capacity will be provisioned by a service like Bluelock rather than purchased, like today," Hill added.
Gartner Group said among the challenges for Bluelock, however, is its small size relative to other vendors with which it's trying to compete. Its "more limited engineering resources mean that it has little margin for error in execution if it wants to keep its pace of innovation."
Further, while Bluelock "is financially stable, its size and excellence of service make it a prime target for acquisition," Gartner said.
Clapp downplays talk of acquisition, saying such a scenario isn't on his to-do list.
Among owners of Bluelock, besides Hill's Collina Ventures, is O'Day and co-founder John Qualls, who is also senior vice president for business development.•
Please enable JavaScript to view this content.