The struggling electronics chain Best Buy has launched a turnaround strategy that borrows more than a few pages from the playbook of competitor HHGregg.
The Minnesota-based giant with more than 1,100 stores has announced plans for a 40-percent increase in employee training and new incentive programs—short of paying commissions—to emphasize service and drive sales. Locally based HHGregg is known for its knowledgeable career salespeople who earn commission.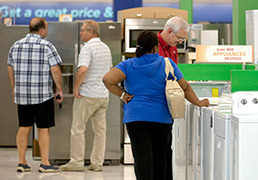 HHGregg associate Phil Bailey pitches the features on a washer at the chain's East 96th Street store. Appliance sales have helped stabilize the chain as margins on TVs dropped. (IBJ Photo/ Perry Reichanadter)
Best Buy is downsizing to 30,000-square-foot stores—a third smaller than its typical superstores—as it expands and leases come up for renewal, and is adding even smaller mobile-only locations. HHGregg's prototype store is also 30,000 square feet.
Best Buy is investing heavily to grow its market share in home appliances, a strategy that has begun to pay off with sales improvements. HHGregg has been emphasizing appliances for years in hopes of making it the chain's category sales leader, surpassing even TVs.
"HHGregg in some respects is where Best Buy wants to steer the ship," said Alan Wolf, senior editor for retail at The Week in Consumer Electronics, or TWICE, magazine.
Best Buy's moves toward a model resembling that of HHGregg suggest the 208-store local chain is in a stronger position than its much-larger rival. But that could change as Best Buy steps up its game and takes aim at some of HHGregg's strengths.
Neither chain is comfortable. Both are losing customers to online retailers like Amazon, and both get more than a third of sales from the TV and home entertainment category, where price competition with the likes of Walmart means margins are super-thin. And consumers so far haven't been impressed enough with new TV technology, including 3D, that offers retailers better margins.
Each chain has its advantages. Best Buy counts the fast-growing computer, mobile phone and tablet category as its rainmaker, generating 40 percent of sales. HHGregg is relatively new to that party, at 11 percent of sales, but sales in the category grew 91 percent in HHGregg's most recent quarter.
Best Buy sells mobile phones from each of the major providers, while HHGregg offers only those with Verizon. Best Buy sells iPads, iPods and iMacs, though HHGregg may soon join the ranks of Apple retailers.
HHGregg, unlike Best Buy, doesn't have the headache of selling movies, music and video games as consumers download more of their entertainment online. Best Buy still gets 13 percent of its business from the fast-disappearing segment.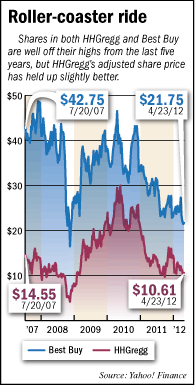 HHGregg executives declined an interview request, citing a quiet period before the chain's earnings report due in late May.
'A changing world'
The moves by Best Buy may resemble the strategy at HHGregg, but that's not intentional, said Daniel Binder, an equity analyst with New York-based Jefferies & Co.
"Their model is changing because they're trying to adapt to a changing world," he said in an interview.
That doesn't mean HHGregg shouldn't be concerned.
"Anything Best Buy does to compete in these core categories is a threat to HHGregg," Binder said.
Even as it struggles, reporting a $1.7 billion loss in its fiscal fourth quarter, Best Buy remains an $8 billion company with a more-than-20-percent market share in consumer electronics.
Wall Street analysts still are not sold on HHGregg's aggressive expansion strategy, particularly as margins shrink and comparable-store sales remain weak.
The chain added 35 stores last year and has said it plans about 25 in fiscal 2013. Meanwhile, Best Buy has announced plans to close 50 stores and eliminate 400 administrative jobs at its headquarters.
Barclays Capital analyst Alan M. Rifkin made a similar argument in a February research note.
"We would like to see HHGregg use its relatively small scale to its advantage instead of executing its aggressive growth as store economics have declined and comp weakness is expected to continue," he wrote.
Analysts would prefer HHGregg invest in growing its appliance segment and building on its website, which it relaunched in August. The site has shown drastic improvement, including showing customers in-stock inventory, but it's still behind Best Buy in terms of selection. At last check, for example, HHGregg was offering 39 Samsung TVs while Best Buy had 94.
Customers shopping at HHGregg.com opt to pick up their purchase in a store about 70 percent of the time, which suggests brick-and-mortar remains important to the shopping experience.
It's also an excellent opportunity for add-on sales, said Wolf, the TWICE editor.
"Once they get people in at HHGregg, they're pretty good at closing the sale," he said.
HHGregg CEO Dennis May said in a February earnings call with analysts that he expects appliances eventually will make up the largest portion of the chain's sales mix. Already, HHGregg gets about 30 percent of sales from appliances, while Best Buy clocks in at 5 percent.
Appliance prices are rising and margins are steady, and a positive outlook doesn't even factor in "real recovery" in the housing market, May noted on the call.
"We think we have a significant opportunity to play a leadership role in the appliance business," he said.
Brighter TV outlook?
The emphasis on appliances doesn't mean HHGregg is giving up on televisions.
May sees hope in new offerings, including 94-inch LED models and so-called OLED TVs that have the thickness of four credit cards and a screen that's 200 percent brighter than an LED TV, and weigh just 16 pounds for a 55-inch model.
Rumors also are flying that Apple will introduce a TV of its own, which could be "exactly what the doctor ordered," May said on the February call.
He described HHGregg as a natural outlet to sell the iTVs if the rumors prove true.
The only problem, as analysts see it: Once Apple announces its plans for the TV, consumers will hold off on TV purchases until it arrives, leaving electronics retailers with a glut of non-Apple televisions.
When a technology is new and not widely understood among consumers, HHGregg tends to excel, Wolf said, thanks to its career sales staff. Plenty of observers blame Circuit City's switch to non-commission associates as a precursor to its bankruptcy.
But Wolf said HHGregg has plenty of room for improvement. He thinks the chain carries too many TVs.
"In the age of the Internet, stocking that kind of array gives you a show-rooming effect," he said. "People kick the tires in your store, then buy it elsewhere. It's become a commoditized game."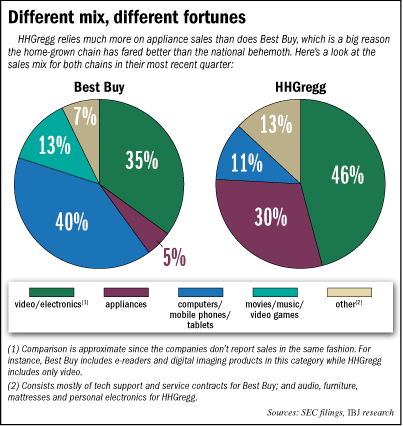 Appliances in focus
Not long ago, in the mid-1990s, appliances, too, were starting to sell like commodities. Consumers shopped for washers, dryers and other appliances mostly on price, manufacturers churned out look-alike models, and margins shrank, said Tim Somheil, editor of the trade journal ApplianceMagazine.com.
The market has improved because of industry consolidation and a determination by surviving players to improve their products and hold the line on pricing. The most important innovation by far: energy efficiency.
Appliances tend to last a long time. And when times are tough, people hold onto them longer, Somheil said. But consumers are warming to the idea of replacing appliances based on "energy-efficiency payback."
"Consumers are still interested in buying premium appliances, but it's a more practical premium appliance," he said. "They'll spend extra for energy efficiency as opposed to other features or styling."
That's not to say the appliance business is booming: Shipments of appliances for use in the United States fell 10 percent through March, compared with a year earlier, according to data from the Association of Home Appliance Manufacturers.
Manufacturers are hoping for improvement in the housing and home remodeling markets, which would give a big boost to appliance sales.
The falling orders overall make sales gains by HHGregg and Best Buy all the more notable. (Analysts say they're primarily taking market share from Sears.)
Maintaining and growing that share is a key initiative for HHGregg: The chain in mid-February hired the former president of Sears Appliances, Douglas Moore, to serve as the company's chief merchandising and marketing officer.•
Please enable JavaScript to view this content.