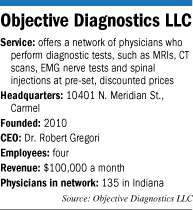 When the same MRI at one facility costs $600 and at another costs $2,200, Dr. Robert Gregori would call that a business opportunity.
Gregori launched Objective Diagnostics LLC in 2010 to build a network of physicians who would perform diagnostic procedures at set, discounted prices.
He had already found traction for the concept among Worker's Compensation insurers, such as JWF Specialty Co., a subsidiary of Evansville-based Old National Insurance.
But now Objective Diagnostics is pitching its network to employer health plans and individuals—particularly those with high deductibles—saying it can save them money, too.
Gregori argues that Objective Diagnostics can bring additional patient volume to physicians—particularly those not employed by a hospital system—at a time many of those doctors are worried the hospital systems will keep all their patients inside their own networks.

Gregori
"For providers, this is a great deal," said Gregori, who for nearly 20 years was a physical medicine and rehabilitation specialist at OrthoIndy, an Indianapolis-based practice of orthopedic physicians.
Gregori had to stop practicing medicine in 2006 because he prescribed himself narcotic painkillers after becoming addicted to them following a knee injury.
But after completing a program run by the Indiana Medical Licensing Board, Gregori regained his medical license and launched his own pain management practice in 2009.
He realized he could gain business by doing pain tests—such as EMG nerve tests and spinal injection tests—for less money than most doctors charge. And the way to charge less was to first examine patients to tailor tests to their specific needs.
For example, he said, a full EMG test of a patient's entire arm costs about $2,000. And since Medicare, Medicaid and many private health insurers will pay that amount, many doctors go ahead and do the full exam.
But by first talking with a patient about his or her pain experience, he can often determine that the EMG test is needed only near the shoulder or the elbow. Such a targeted exam may cost only $800.
Objective Diagnostics has built out a network of physicians who agree to talk with a patient first before doing the diagnostic procedure. Most of them also have agreed to set prices for specific exams, such as an elbow EMG or a shoulder MRI.
Objective doesn't have the cheapest prices around, said Karen Salwowski, a senior Worker's Compensation claims adjuster for JWF Specialty, but they are competitive enough. And she believes Gregori has included only high-quality physicians in Objective's network.
In addition, she said, knowing the price upfront makes a big difference.
"The clients I deal with under Worker's Comp, they're all self-insured [employers]," Salwowski said. "They need to know what dollars are being spent."
She expects the same will be true as Objective markets its pre-priced diagnostics to individual patients with deductibles of several thousand dollars. Such high-deductible health plans have become increasingly common in Indiana.
That consumer focus is something no other diagnostic network she deals with—including the industry behemoth OneCall Medical—has emphasized yet.
"Maybe now we'll get some competitive pricing," Salwowski said.
Currently, public and private health plans reimburse hospital-owned facilities at far higher rates for diagnostic and other ancillary services.
That yawning difference has been blamed by some physician groups for driving the wave of doctors who have become employed by hospitals in recent years.
Many independent physicians and physicial therapists have become worried the hospital-owned physician practices will no longer refer patients to providers outside their hospital networks.
Dr. Mark Reecer, a pain management and rehabilitation specialist in Fort Wayne, shares that concern, although it's not what drove him to join Objective Diagnostics' network.
Objective, he said, offered a good source of Worker's Compensation patients, who tend to be more lucrative than those covered by Medicare or Indianapolis-based Anthem Blue Cross and Blue Shield.
"It's still in the upper half, if I would compare all of the insurances I take," Reecer said of Objective's reimbursement rates. "I have enough confidence in what they're doing. What I expect is the volume of patients."
Gregori said he wants to grow Objective Diagnostics well beyond Indiana, but he's determined to keep it physician-owned. He's now recruiting other physicians to invest in the business.
"We've always had our sights on the national market," he said.•
Please enable JavaScript to view this content.