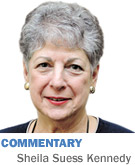 The most frequent charge leveled against Mitt Romney is that the most authentic thing about him is his desire to be president. Now that he's the presumptive GOP nominee, voters are looking for signs of any core convictions.
One such sign is Romney's choice of Robert Bork and Jay Secular as his legal advisers.
Secular is best known as head of Pat Robertson's American Center for Law and Justice.
Bork first became (in)famous during Richard Nixon's "Saturday Night Massacre" as the Justice Department official who fired Special Prosecutor Archibald Cox. Bork's superiors had resigned rather than follow what they considered an illegal order.
It was his failed nomination to the Supreme Court, however, that made him a flash point in the American culture war.
Ever since, there has been a persistent effort to rehabilitate Bork as the victim of an unfairly politicized process. His defenders point to his scholarly credentials, which are impressive, and minimize the radical nature of his opinions, which are far out of the legal mainstream.
That term—"out of the mainstream"—gets abused by right and left alike. It's usually applied to jurists whose legal philosophy falls to the left or right of a perceived midpoint, but still within the relatively broad philosophical sweep of legal scholarship.
Bork is another story entirely.
He has said the Ninth Amendment is meaningless. He has disagreed with the existence of a constitutional right to privacy. He insists government has the right to prevent contraceptive use. He has railed against a "feminized" Supreme Court, and insisted that the 14th Amendment's equal protection clause does not protect women against discrimination.
Bork believes First Amendment free-speech guarantees apply only to explicitly political speech—that government is free to ban nonpolitical "offensive" material. There's much more.
Perhaps the most telling Bork quote? "No activity that society thinks immoral is victimless. Knowledge that an activity is taking place is a harm to those who find it profoundly immoral."
The U.S. Constitution is rooted in the libertarian principle that humans have the right to pursue their own ends—the right to "do their own thing"—as long as they do not thereby harm the person or property of another. People of good will can debate whether a particular activity is harmful, but in our system, if your behavior doesn't affect anyone else, it's none of government's business.
In Bork's world, however, if "society" believes a behavior–-contraceptive use, homosexual sex, smoking, whatever—is immoral, that disapproval constitutes a harm sufficient to justify outlawing it.
These positions are at odds with fundamental American beliefs about limited government.
The obvious question is: Why on earth would Romney choose so extreme and polarizing a figure to be the person he would listen to when choosing Supreme Court nominees?
Why, when he has secured the nomination, would he embrace someone beloved only by the furthest fringes of the lunatic right? I can think of only two possible answers to that question: Either Romney really is an extremist who only played a moderate in Massachusetts; or he is making a final, desperate Faustian bargain in an effort to earn the trust of the suspicious and reactionary GOP base.
Either explanation makes him a fraud. Bork makes him a dangerous fraud.•
__________
Kennedy is a professor of law and public policy at the School of Public and Environmental Affairs at IUPUI. Her column appears every other week. She blogs regularly at www.sheilakennedy.net. She can be reached at skennedy@ibj.com. Send comments on this column to ibjedit@ibj.com.
Please enable JavaScript to view this content.