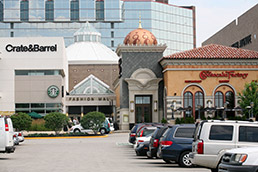 The Fashion Mall at Keystone is the local flagship for Simon Property Group, the world's largest real estate company and the only such firm on the S&P 100 Index. (IBJ File Photo)
Simon Property Group Inc. this year joined the Standard & Poor's 100 Index, a listing of the nation's largest and most established companies including Apple, Coca-Cola and McDonald's.

The Indianapolis-based company is the only real estate company on the list and is now the largest real estate company in the world.

Just how big is Simon?

At a recent enterprise value of $65 billion as calculated by Yahoo Finance, Simon is worth more than Starbucks ($42 billion), Nike ($48 billion) and News Corp. ($55 billion)—three of the most prominent fellow members of the S&P 100.

And the Yahoo Finance figure actually understates the company's enterprise value, a Simon spokesman says, since it excludes unconverted ownership units and debt Simon has issued recently. By Simon's calculation, its enterprise value is $85 billion.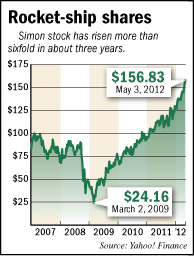 That would put Simon in the neighborhood of Walt Disney Co.

Simon over the years grew its revenue and vast retail industry clout by building and leasing new malls and acquiring rival mall owners, but the company had no choice but to adjust its formulas for growth after it grew into a powerhouse with more than 330 retail properties and 5,500 employees.

The new formula involves aggressive development of outlet malls in the United States and abroad, investments in remodeling to squeeze more value out of its top-performing U.S. properties, and a move to import its successful model overseas starting with a 30-percent stake in a French company that owns 270 shopping centers in 13 countries.

"There's no doubt when you get bigger it becomes harder to grow," said Rich Moore, an analyst for RBC Capital Markets in suburban Cleveland. "However, in Simon's case, there are so many different facets to that business, all of which are growing."

On a roll

Simon has been unstoppable of late: In April, the company reported a 9.7-percent increase in revenue, to $1.12 billion, an 11-percent sales jump for its tenants, along with equally impressive gains in rent rates and occupancy. The largest owner of U.S. malls boosted its quarterly dividend to $1 per share.

The company's shares have responded, rising about 20 percent so far this year, to $157 in recent trading. That's a more-than-600-percent return since the shares bottomed out in March 2009.

Moore sees Simon as particularly well positioned to continue to capitalize on the outlet-mall craze—"the best retail business, period"—with its 70-mall Premium Outlets chain. The outlets business contributes about 30 percent of Simon's income, and the company is adding malls both in the United States and abroad, including several in Brazil.

In March, Simon improved its prospects overseas by taking advantage of economic weakness to acquire a 29-percent stake in Klepierre, Europe's second-largest mall owner, for $2 billion.

Simon
CEO David Simon, who took over as Klepierre's chairman, said on a conference call with Wall Street analysts that Simon Property will add expertise to the French company, which is "damn good on their own."

"It's a great potential platform for us to really have a significant presence there, and create kind of a sister, or fully integrated Simon company over there," said Simon, who took over in 1995 the company founded by his father and uncle, when it had an enterprise value of just $2 billion. "We've never had that opportunity."

Growth platform

In the United States, there's still not enough demand for the development of new regional malls, which makes Simon's prime properties—including Forum Shops at Caesars Palace in Las Vegas, Roosevelt Field Mall in New York, and Fashion Mall at Keystone in Indianapolis—all the more valuable.

But it doesn't stop there: Simon plans to spend $1 billion a year remodeling and expanding its best malls. A revamp at the Fashion Mall is just a small part of that effort. For instance, the company plans to spend a "couple hundred million dollars" in the next few years redeveloping the Del Amo Fashion Center in Torrence, Calif. The mall, built in 1961, clocks in at 3 million square feet, more than four times the size of The Fashion Mall.


The redevelopment opportunities range from adding multifamily and office space to building new lifestyle wings as Simon did in recent years at Greenwood Park and Castleton Square malls. Downsizing by Sears, which has been selling back some of its stores it owns to mall landlords, could open new opportunities for redevelopment.

After the recession, there were obvious moves every real estate company had to make, including shoring up balance sheets and disposing of weak assets.

Moore said David Simon was way ahead on the next step: establishing a "growth platform" for future development.

"I don't see anything in his way at this point," said Moore, who has an outperform rating and a $170 price target on the company's shares. "I think he's going to grow it quite nicely. And that should happen for three or four or five years, not just one."

Growth plan

It's probably not realistic to expect Simon can double in size again absent the acquisition of another big mall operator or two, but even a modest percentage return translates to big dollars for a company of its size, said Richard Feinberg, a Purdue University retailing professor.

He said Simon's focus on foreign properties and outlet centers makes strategic sense since it's too expensive to build traditional enclosed malls.

It also could help insulate the company from dramatic changes to the consumer environment. He doesn't see online shopping as a serious threat; Simon may actually be able to capitalize as it develops social media apps to support its malls.

"Clearly, they're consumer driven, and they face the same fate as everyone who depends on the consumer," Feinberg said. "In the short term, they're in an updraft. Medium term, we're not quite sure. Long term, unless nuclear weapons pop up, they're in great shape."

For retailers, there are a couple of side effects of a stronger Simon, Feinberg said. On the one hand, malls all over the world will become even more homogenous, with the same financially solid chain stores. On the other hand, emerging retailers will be able to grow and expand quickly on the Simon platform.•