An Arizona-based charter school operator serving middle- and high-school students has filed plans to build a two-story school at 22nd and Meridian streets.
Carpe Diem Schools hopes to open the 18,600-square-foot building with nine classrooms, administrative offices and 300 "technology booths" by August, in time for the next school year.
But first the proposal must clear city zoning and design hurdles. A rezoning hearing is scheduled for May 16, and a regional center design review is set for June 14.
As proposed, the building looks more like a warehouse than a school, with pre-cast panels dominating the exterior. Planners have asked for aesthetic changes to give the building urban character.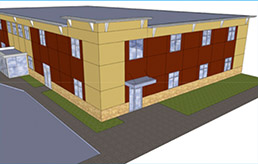 City planners have asked for aesthetic changes to the school building to be constructed at 22nd and Meridian streets. (Image: Carpe Diem Schools)
"Based on the city's feedback, we are in the process of making modifications," Rick Ogston, CEO of Carpe Diem Schools, said in a statement. "We have and want to maintain a positive relationship with the city and will do what's necessary to keep the project progressing."
They still hope to open the school in time for the 2012-2013 school year.
The roughly one-acre site is owned by an affiliate of Sandor Development, which once planned to build a new headquarters on the property. The developer eventually moved to Carmel instead, leaving behind its former headquarters next door, at 2220 N. Meridian St. That building remains vacant.
Charter Schools Development Corp. of Maryland has put the property under contract and plans to build the school under a lease-to-own arrangement with Carpe Diem.
The Carpe Diem Collegiate High School, with a capacity of 273 students, would follow a model developed in Yuma, Ariz., that combines computer-assisted instruction with on-site teachers. It would serve students in grades 6 through 12.
The group also is offering a purely online schooling option statewide.
The Indiana Charter School Board last year approved six Carpe Diem schools, although the company plans to assess results at the Indianapolis location before proceeding with other sites.
Carpe Diem was the first charter operator to win approval from the state board, run by the Department of Education and created by an education reform bill signed by Gov. Mitch Daniels in May 2011.
Please enable JavaScript to view this content.