Nearly two years after federal agents raided furniture maker University Loft Co.'s Hancock County plant, the once-fast-growing firm is seeing business bounce back.
University Loft reported $75 million in annual revenue last year and more than tripled its military business, winning federal contracts worth over $21 million.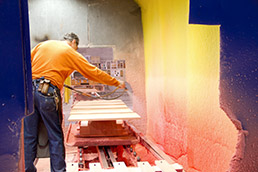 Workers at University Loft's Hancock County facility assemble furniture for universities, military bases and other clients. (Photo courtesy of University Loft)
Now, founder James Jannetides has plans to expand his 210-employee work force by about half.
Still, the road to recovery has been rocky.
"Every day I think I'm going to lose my business," said Jannetides, 46, who started making dorm furniture in his parents' basement as a college student and over the next decade built the company into a multimillion-dollar enterprise.
The bulk of its sales are to 1,200 college and university clients looking to furnish dorms, but the company has expanded its reach over the years. In its heyday, University Loft also made furniture for hotels and had a consumer line available in retail stores.
By 2006, University Loft had a staff of 400 and annual revenue of $100 million. The following year, it moved to a sprawling, $22 million facility in Greenfield, where CEO Jannetides' office is bigger than the home he grew up in.
The space doubles as a showroom and includes a full-service kitchen, a giant soaking tub, a fireplace, five flat-screen TVs, two sitting areas, and of course, a desk.
"It's hard to see where you came from because you still think you're there," Jannetides said. "It's humbling."
The lofty ascent came to an abrupt halt in 2008 when Regions Bank canceled the company's line of credit, creating a cash-flow crunch that forced it to change course. University Loft pulled out of retail stores, abandoned the hemorrhaging hotel-furniture business, and cut its staff by half.
"I had never seen the market retract like that," Jannetides said.
Military contracts helped the company stay afloat through the financial meltdown. It won nearly $6 million in federal projects in 2009, according to USASpending.gov.
But that same year, the firm paid $400,000 to resolve a federal contract-fraud inquiry launched after a California-based competitor accused Loft of selling Malaysian-made goods to the government, a violation of the Trade Agreements Act.
At the time, Jannetides said he was "100 percent confident we are abiding by all laws."
If the company had gone to trial and lost, it would have been ineligible for future government contracts, said attorney David Vornehm, a partner at locally based Drewry Simmons Vornehm LLP, who specializes in public contract law but was not involved in the University Loft case.
The settlement didn't end Loft's woes. In July 2010, federal agents from the Department of Defense, Air Force, Defense Criminal Investigative Service, and Immigration and Customs Enforcement served a sealed search warrant at the Greenfield plant. They spent hours going through the company's files, but no arrests were made.
Jannetides said he is not allowed to comment on the federal raid, but admitted the scrutiny has hurt his company's image.
"Anytime you've got a bunch of agents coming, people think you're guilty until you're proven innocent," he said.
U.S. Attorney's Office spokesman Tim Horty last month said he could not confirm nor deny the existence of an investigation of University Loft.
Vornehm said it isn't unusual for an inquiry to fade out or be unsuccessful.
"It wouldn't be the first time that someone was under suspicion and after the investigation it was determined that they haven't done anything wrong," the attorney said. "But who knows? Maybe [the government] is getting ready to lower the boom on them."
MORE FROM IBJ
For a look at University Loft's history, click here.
That would be devastating for University Loft: The military sector is the company's fastest-growing, Jannetides said.
Federal agencies awarded the company a total of $21.2 million last year, according to the government spending site, up from $6 million in 2010. Last year's big win was a $16.5 million deal to supply wood and steel furniture to the Army Corps of Engineers.
"It's a love-hate relationship," Jannetides said. "Some of the folks in the government hate us."
Contractors often run into problems with the law, but that doesn't keep public agencies from hiring them again, said Jocelyn Johnston, who specializes in government contracts in her role as chairwoman of public administration and policy at American University in Washington, D.C.
Johnston said lack of marketplace competition and the paperwork burden associated with switching contractors often deters changes.
"To believe that all contractors are perfect is a little bit idealistic," she said.
Vornehm said if a company has not been convicted of wrongdoing, it is still eligible to apply for and secure public contracts.
"Clearly, the government looks at this company as qualified to do the work," Vornehm said. "An allegation isn't enough to take them off the list."
University Loft's competitors might not be quite so forgiving. Jannetides said San Antonio-based KLN Furniture has formally protested the Army contract, so Loft only has been able to produce about a third of the order. Executives from KLN and its Furniture by Thurston subsidiary did not return phone calls.
Despite the controversy, Jannetides is optimistic about University Loft's future given its stronghold on campuses—Loft has captured about a third of the college furniture market, he said—and the military growth.
"We've invested a ton of money to be able to handle this business," he said. "We think in the end it will be fine. It's just politics."
University Loft recently spent $2 million to add $8 million of manufacturing equipment in Greenfield, he said, capitalizing on a bankruptcy liquidation.
But money doesn't seem to be tight. On the day IBJ visited the plant, technicians had just installed a $300,000 commercial printer to print the company's industry magazine, College Housing Today, and make business cards and other promotional material.
"That's how we roll here," Jannetides said in his company's first-floor administrative offices, where a rainbow of hundreds of universities' flags hang from the ceiling.
His office overlooks University Loft's 508,000-square-foot facility—a combination of manufacturing space and warehouse—filled with $35 million worth of dorm and military furniture, rolled-up mattresses and computer desk chairs.
The packed warehouse is now quiet, save for the faint sounds of saws and machines in the distance, but when university classes end and busy season begins, it will be a hive of activity.
That explains the "Now hiring" sign on the front of the building that's visible from Interstate 70. Jannetides wants to hire 100 workers this summer.
He attributes his company's growth to creativity, strategic decisions—plotting a "steady course" when the economy was down—and a bit of luck.
Jannetides remains the company's mastermind, coming up with product designs and innovations—think dorm bed that converts to a sturdy study desk—with an enthusiasm that rivals a child on Christmas morning.
The satisfaction he gets from designing products to solve his clients' needs is what keeps Jannetides and his team aloft.
"We focus on what we do, our orders and what we can do for customers," he said. "We've always focused on the positive."•
Please enable JavaScript to view this content.