Purdue University is considering an expansion of its technology park near Indianapolis International Airport as the three-year-old facility nears 85-percent occupancy.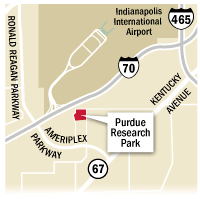 "We are actively exploring expansion options because we don't like being out of inventory," said Joseph Hornett, senior vice president, treasurer and chief operating officer of the Purdue Research Foundation.

"We're close enough that those discussions are under way. It would be hard for me to say when we want to pull the trigger. We've already been bit by the economy once," Hornett said.

The economic downturn hit about the time the building at Purdue Research Park Indianapolis opened in late 2009.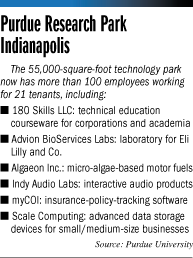 The park had only a handful of tenants and a mostly empty parking lot in the nearly two years that followed. Much of the surrounding land in this western portion of Holladay Properties' AmeriPlex park remains undeveloped.

Purdue, Holladay and the nearby airport "all got smacked with the same board," Hornett said of the economic downturn.

But last fall, interest in the park intensified. There are now 21 tenants, and less than 9,000 square feet available, in the 55,000-square-foot building south of Interstate 70.

One of the latest to move in is myCOI, which makes software to help companies track insurance policies. A real estate firm, for example, could use the software to make sure its tenants are insured, or a logistics company could use it to verify a trucking firm's coverage.

The company started in Marion but sought to be part of the Indianapolis tech community, said CEO Kristen Nunery. She said other tech firms, including those at the park, have been helpful in sharing expertise with upstarts.

Another newer tenant is Ithaca, N.Y.-based Advion BioServices, which moved in last year. The park is just a spin down I-70 from one of Advion's big clients, Eli Lilly and Co. Advion invested $6 million in installing a laboratory and took 22,000 square feet of space.

The other big tenant, and among the park's first, is Scale Computing. It makes data storage devices for small and medium-size businesses, based on the advanced parallel file system found in supercomputers.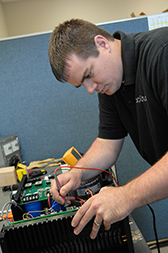 Joe Land, Indy Audio Labs' director of engineering, works on a new product at the four-person firm's office in Purdue Research Park Indianapolis. (IBJ Photo/ Perry Reichanadter)
Scale may be the best-known company at the park. Founded by Rose-Hulman Institute of Technology grad Jeff Ready four years ago, Scale has zoomed into Forbes magazine's ranking of the fastest-growing young companies.

Scale also represents a bit of a coup for the local technology scene in that Ready started the company in the Silicon Valley area and moved its headquarters here. It's also one of relatively few tech firms here making hardware. The Indianapolis tech scene is better known as the capital for B2B marketing software (aka measured marketing).

Scale isn't the only firm that brought some diversity to the local tech sector. So did Purdue park tenant Indy Audio Labs, founded in 2009 by former Klipsch Group engineers Rick Santiago and Ted Moore.

They bought from Klipsch the Aragon and Acurus brands of amps, pre-amps and sound processors and embarked on a plan to take them interactive. Indy Audio Labs was one of the park's first four affiliates, transitioning from a basement office in Santiago's house to occasional use of the facility on weekends.

Now the company's four-person, full-time staff has its own office and in January started shipping product, which is made by a Jeffersonville-based contract manufacturer.

Among Indy Audio Labs' products is an amplifier with built-in Ethernet interface that can be controlled using a mobile device or PC. The company picked up a coveted innovation award at the Consumer Electronics Show in Las Vegas, in January.

Also recently, Indy Audio Labs started exporting products—to China.

"We're more than happy to send them over in cargo containers" rather than the other way around, Santiago said.

Another tenant that's not a household word, but is a rising star in industry circles, is 180 Skills. It develops online skills education courseware for academia and the corporate world.

The Indianapolis company was founded in 2009 by Joe Kitterman, previously CEO of Oxygen Education. Now with about a dozen employees, 180 Skills worked with Edmonds Community College, in Washington state to develop an online course to teach potential Boeing job candidates aircraft assembly skills. Those who pass the online course—the graduation rate has been 90 percent—are guaranteed a job interview with Boeing.

The Edmonds and 180 Skills partnership has been successful in helping Boeing replace its ranks of retiring aerospace workers such that it's received mention on National Public Radio and in the Chronicle of Higher Education.

Kitterman said the Purdue park has been helpful in providing technical resources as well as strategizing for growth. Both he and Santiago have been tapping the brain of John Hanak, statewide director for Purdue Technology Centers.

Some of the park's tenants also say they were drawn to the facility because of its proximity to the airport, just a few minutes away.

Hornett said the long-term plan is to have multiple incubator buildings at the site. But with interest from new clients picking up lately, the quickest and cheapest way to proceed might be to expand from the current building.

That would be more cost-effective to the extent Purdue wouldn't have to build duplicative conference rooms and other features shared by tenants.•