Levitan
Courseload has reloaded—with a little help from its friends.
The Indianapolis-based digital textbook company completed a new round of fundraising in April that its CEO says gives the company the cash it needs to keep landing new university customers in what has become a fast-growing but hyper-competitive field.
Mickey Levitan, CEO of Courseload Inc., secured an undisclosed sum from Emmis Communications Corp., the Indianapolis-based radio and magazine company where he used to work. He also won an investment from the StepStone group of angel investors and leveraged a key relationship with Indiana University to land deals with other top schools.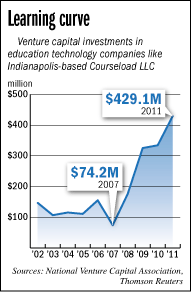 Levitan, the former director of human resources at Emmis, would not disclose exactly how much his company raised in its venture capital round this year, but he said it was more than the $3 million Courseload raised in 2011 in two seed-stage funding rounds.
"The digital revolution is just taking hold on campuses and Courseload has a first-mover advantage," Patrick Walsh, Emmis' chief operating officer, wrote in an e-mail. "Emmis is excited to participate as an early investor in Courseload as they work with educators to scale this incredibly promising business."
Indeed, the prospects are attractive. A 2011 forecast by digital education firm Xplana expects digital textbooks to grow from just 3 percent of the $9 billion market last year to 44 percent by 2017. Some think digital textbooks will capture the majority of the market even earlier.
Gaining momentum
Courseload already is seeing strong growth, as universities are drawn to its message of halving student textbook costs and introducing new tools to help students learn. The number of universities using its software will nearly triple to 75 when school reconvenes in August.
"The combination of focus on costs and more focus on educational outcomes and how technology can help; all those factors are driving this," Levitan said. "The interest in digital course materials is just popping."
Courseload needs all the cash it can get. It expects to bring in less than $1 million in revenue this year, but its fast growth has swelled its payroll to 19 people—and it expects to add 10 more in the next two months.
And it faces a swath of competitors, many of which have raised significantly larger piles of cash.
For example, New York-based Flat World Knowledge Inc. raised $12.5 million to grow its digital textbook business, according to data from the National Venture Capital Association and Thomson Reuters. Boston-based Boundless Learning Inc. raised $9.7 million.
And then there are digital textbook companies backed by giants of the publishing business, such as California-based CourseSmart LLC.
'The time is here'
Still, at least one publishing executive thinks the business model Courseload and its university partners have worked out over the past year provides the missing piece that has so far prevented digital textbooks from scaling up.
"We do feel like the time is here—finally," said Tim Peyton, director of strategic partnerships at Ohio-based McGraw-Hill Learning Solutions, which works with Courseload at several universities. He added, "We're in the process of addressing the business model piece."
The key thing that helped Courseload raise its latest round of financing was a deal hammered out by Indiana University with five publishing companies in September. Since then, three more publishers have joined the effort, said Brad Wheeler, IU's vice president for information technology—including industry giant Pearson.
That agreement requires publishers to sell digital versions of their textbooks for no more than 35 percent of "print list" prices—a common industry benchmark. It also allows students to print the books and retain access to them as long as they are IU students—eliminating some common publisher restrictions.
In exchange, IU guaranteed that 100 percent of students would buy the digital materials.
That guarantee is huge for textbook publishers, which typically sell new books to less than half a college class, as the rest opt for used books or borrowed books, or simply fail to obtain any book at all.
The model, Levitan said, can save students money and at the same time give publishers bigger profit margins. And universities like the tools Courseload has embedded in its software to allow professors to track which students are opening their books and which aren't. Professors also can add explanatory comments—or even links to videos, pictures or audio files—directly to the digital textbooks.
"When 100 percent of students are on the Courseload platform, we have tools like things for collaboration, we have analytics, across all of their course materials—not just a single textbook," Levitan said. "This is a lot richer experience."
One sign of Courseload's traction, Wheeler said, is that a high-profile pilot project Courseload did this spring with McGraw-Hill and five universities—Cornell, Minnesota, Wisconsin, Virginia and the University of California-Berkeley—will grow to include 30 schools come fall. All members of that pilot project are members of the Internet2 network—a faster, second-generation version of the original Internet.
And Wheeler said there are negotiations under way with Internet2 members and textbook publishers to allow any or all of Internet2's 221 university members to simply opt in to the business agreement for using Courseload materials.
"This thing is just about to crack wide open," Wheeler said.
The agreement with IU—as well as Wheeler's enthusiastic advocacy of Courseload's model—helped sell Oscar Moralez, managing director of StepStone Angels. Moralez also liked that Courseload's software—revamped in 2011 using the HTML 5 coding language—now allows textbooks to be viewed on any browser or any tablet computer or smartphone.
"It seemed like a much more robust product for digital textbooks than just digital textbooks," Moralez said.
Early glitches
At least that's how it's supposed to work. Rosemary Harper, an accounting student at Berkeley College, a for-profit school in New Jersey, couldn't get Courseload to work using the Safari browser on her iPad in January.
Berkeley had tried Courseload as a pilot last year and liked it so much that, instead of trying out other companies' products as originally planned, it decided to roll out Courseload immediately to all its online students.
But Harper found that Courseload's software was so new to the school that its help-desk people couldn't solve her problems. She eventually got it to work using the Google Chrome browser, but still found it difficult to scroll down each page of her textbook.
After spending $150 for the Courseload materials in two classes, Harper broke down and spent $350 more to buy the printed texts.
"I've notified my teachers that they have a better chance of seeing God than seeing me use Courseload," Harper wrote in an e-mail.
IU has also found somewhat mixed results from its students who have used Courseload's materials.
In a class of MBA students in the fall of 2011, 51 percent said they would choose digital course materials over a printed textbook. Among undergraduates in telecommunications, psychology and information systems courses that semester, only 45 percent said they would choose the digital textbooks over printed ones.
Those approval rates were lower than in previous semesters. Many IU students said their professors didn't actively use the digital texts, so they resented having to pay for them.
Still, IU's Wheeler thinks the shift to digital textbooks is inevitable. He predicts digital textbooks will be the norm within three years.
"It's hard to imagine that this 'born-digital' generation is going to think schlepping around campus with 20 pounds of books on their back is the way to go."•
Please enable JavaScript to view this content.