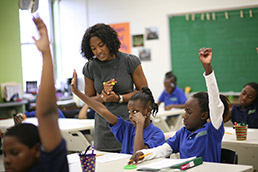 Teacher Amber Hawkins works with students at the KIPP-Indy charter school. (IBJ File Photo)
After a near-death experience, the KIPP Indianapolis College Preparatory School is back on its feet and looking to spawn a mini-district of charter schools.
KIPP-Indy leaders have drawn up plans to launch four additional schools from 2014 to 2020. At full capacity, the five-school network would enroll 2,250 students in grades K through 12.
That would be a ninefold expansion of KIPP's current Indianapolis enrollment of 250 students in grades 5 through 8. The 8-year-old school, at 1740 E. 30th St., is the lone Indiana outpost in the 109-charter-school network run by the San Francisco-based KIPP Foundation.
It also for much of its life did not live up to the strong reputation KIPP schools have nationally. But since school leader Emily Pelino arrived in 2009, KIPP-Indy has reversed an alarming nose dive in student performance and staff stability.

Pelino
Now Pelino will oversee KIPP's planned expansion by taking on the new role of executive director of a KIPP Indianapolis region. Her assistant, Aleesia Johnson, will take over as school leader at the end of the current school year.
"It's humbling to think about, but also incredibly exciting about what impact we could have," said Pelino, 31, who got into education through Teach for America in eastern North Carolina.

KIPP has applied for and is now a finalist in a $1 million charter school grant competition being staged by the Indianapolis-based Mind Trust education reform group. Mind Trust's board is supposed to decide the winner or winners of that competition on June 5.
But KIPP's expansion plans will go forward whether it wins the Mind Trust grant or not, Pelino said.
Having five, seven or even 10 schools in one metro area is common for KIPP around the country, and for several other successful charter schools. So far, that has not occurred in Indianapolis—but it's about to.
Goodwill Industries of Central Indiana launched its third and fourth charter schools last summer. On top of that, several out-of-state charter operators have recently applied with the newly formed Indiana Charter School Board to launch handfuls of schools in Indianapolis.
Arizona-based Carpe Diem Schools, which will open its first school here in August, wants to open five more by 2018.
California-based Rocketship Education envisions eight schools here by 2019. And Phalen Leadership Academies, a new school operator led by Boston native Earl Martin Phalen, envisions five schools in Indianapolis by 2019. Phalen founded and led the Summer Advantage program, which many Indianapolis-area public schools have implemented.
Pelino came to KIPP-Indy as assistant principal in the middle of 2009, along with a new principal, Estee Kelly, and a nearly entirely new teaching staff hired by the school's board.
The new team set about establishing structures and procedures that had been missing before. In 2007, the Indiana Department of Education faulted KIPP for not properly keeping track of federal Title I funds and equipment purchased with it. KIPP later had to return $8,000 in Title I money.
That same year, founding superintendent Omotayo Ola-Niyi dismissed more than half the staff and then was soon herself dismissed by the school's board after the board "identified a number of organizational and leadership deficiencies attributed to the leadership of its CEO," according to a report by Indianapolis Mayor Greg Ballard's staff.
The turnover in the staff was matched by high year-to-year turnover in students. And their performance clearly suffered.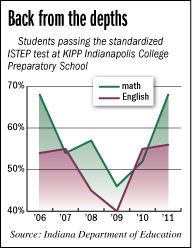 The percentage of KIPP students passing the math portion of the state standardized ISTEP test fell from 68 percent in 2006 to 46 percent in 2009. Pass rates on the English portion fell from 55 percent to just 40 percent.
New staff, a new focus on goals, and tracking measurable progress toward those goals have made the difference, Pelino said. KIPP's pass rates on ISTEP last year returned to 2006 levels.
Even more impressive is that KIPP's students boosted their math scores faster than 72 percent of all public schools in Indiana. Growth on English scores ranked in the 56th percentile statewide.
In the midst of this turnaround, Ballard's office faced a decision whether to renew KIPP's charter. Without a charter, KIPP would not be able to receive public funding and would almost certainly close.
"Our concerns were not only the academic performance, but also the stability of their governing board and their staff," said Beth Bray, director of charter schools in Ballard's office.
Richard Barth, national CEO of the KIPP Foundation, came to Indianapolis in late 2010 to ask Ballard's charter school board for more time. Ballard ultimately decided to give KIPP a two-year extension.
Ballard will decide in early 2013 whether to give KIPP another seven-year charter. Around that same time, KIPP intends to apply for a charter for its second Indianapolis school—an elementary.
KIPP will then seek approval for another middle school, another elementary and, last, a high school.
"We're not at the point where we're ready to say we'll grant KIPP four more charters. At this point we're focused on renewal," Bray said. "We're really excited for them and about the possibility of them growing."•
Please enable JavaScript to view this content.