Spoiler alert: The following commentary is an unconditional rave meshed with a "you must try this" plea. It contains no caveats, no picky focus on overlooked details, no effort to find something, anything, to be negative about in order to maintain some semblance of a critical reputation. Further, it is written with the understanding that reading it might lead you to skip a car payment in order to take the family to this outstanding new eatery. IBJ takes no responsibility for such acts.
Onward.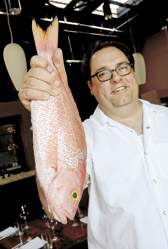 Snapper's delight: The fish is fresh at Late Harvest Kitchen. (IBJ Photo/ Perry Reichanadter)
Given chef/owner Ryan Nelson's background with The Oceanaire Seafood Room, we thought it wise to stay close to the sea on our first visit to Late Harvest Kitchen (8605 River Crossing, 663-8063). We were wise, indeed, to start with the Brandade ($10), in which salt cod and fresh cod, olive oil and cream come out to the table in a bubbling dip. I started by topping the accompanying house brioche with the creamy deliciousness, but found myself soon abandoning the bread in favor of direct hits by the forkful. The dish, deceptively placed on the Small Plates portion of the menu, gave clear indication that, while the food
at Late Harvest is carefully crafted, the kitchen clearly doesn't want anyone leaving hungry.
That feeling was reinforced by the Daily Whole Fish ($28), a complete snapper (sans life force) in a sweet chili glaze. It's filleted tableside, unless you opt to do it yourself while the unfortunate creature stares down your dining companions. The portion was enormous, but every taste seemed carefully created. Halibut ($26) sounded exotic on the menu—with Indian spices, roasted tomatoes, sunflower shoots and cucumber raita—but those additions accented, rather than dominated, the attractively presented fish, bringing out its inherent flavors.
We sided our seafood with a sharable (for a hockey team, let alone a dining pair) plate of Potatoes Minneapolis ($9), a glorious hash brown mound festooned with bacon chunks, sour cream and chives. It, along with a fair amount of the snapper, found its way out the door in a leftover container, bringing great pleasure to a diner at home.
Not that we had any room for dessert, but when the rest of the meal is so satisfying, who can say no to a housemade dessert, even if there's no secret stomach chamber in which to deposit it? The Sticky Toffee Pudding ($8) was well worth the addition. It didn't even matter that we could find room for no more than a few bites of the sizable chunk of bread pudding, which is served in a pond of butterscotchy wonder that would make Willy Wonka drool.
The staff at Late Harvest was professional but not pushy, the decor elegant but not intimidating, and the food, well, I'll just say I'm hoping the about-to-open Ocean Prime that stands between it and East 86th Street won't deter diners from trying one of Indy's best restaurants. Late Harvest shouldn't fall in the shadow of any other restaurant, chain or local.•
—Lou Harry
__________
Third in a month-long series of Keystone Crossing/Clearwater Crossing-area restaurant reviews.
Please enable JavaScript to view this content.