A few years ago, the 1,700-acre Anson project along Interstate 65 in Whitestown looked like a quagmire.

Two homebuilders in a row backed out of the project, demand for retail and office development dried up, and Duke Realty Corp. took write-downs on its non-industrial land holdings. Developers coast to coast were giving up on large mixed-use projects like the $1 billion Anson that relied on land-value assumptions the recession erased.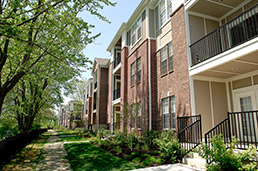 New apartments, including these from locally based Flaherty & Collins Properties, are leasing up quickly at Anson. (IBJ Photo/ Perry Reichanadter)
But locally based Duke retrenched at Anson—focusing on the most promising sections, rearranging some of its site plans, and letting land-purchase contracts expire on about 300 acres where development prospects are likely several years away.

The bet is beginning to pay off.

In the last 12 months, Flaherty & Collins Properties and Gene B. Glick Co. have built 300 apartments in and adjacent to Anson, and builders including Centex and BiltRite Homes have constructed 30 houses.

Duke Realty this month sold a 110-acre parcel to the national builder Pulte Homes, parent company of Centex. Pulte plans to develop the tract north of the project's existing residential area to accommodate another 250 homes. The sale is notable because the property is undeveloped; most residential land transactions of late have involved distressed sales of developed lots.

In the project's commercial portion along State Road 334 (116th Street), construction has begun or is set to begin soon on a 92-room Hampton Inn, a 55,000-square-foot Revel & Underwood-developed self-storage facility, and a 20,000-square-foot Behavior Analysis Center for Autism school.

A McDonald's opened in August, a Flap Jack's restaurant is scheduled to open in July, and Duke is finalizing deals to sell out lots to a casual restaurant and a wireless phone operator. On parcels not owned by Duke, a Cracker Barrel opened in October at Interstate 65 and S.R. 334, and a Love's Travel Stop & Country Store has begun serving truckers at I-65 and State Road 267.

Amazon.com Inc. has completed its expansion from 600,000 square feet to more than 1 million square feet at AllPoints at Anson, and Duke officials are itching to start work on another spec building to keep up with demand for large industrial spaces. (There's room at AllPoints for up to 8.5 million square feet.)

"We want to see the thing finished," said Charlie Podell, Duke's senior vice president for Indiana. "The economy definitely didn't help us, especially on the residential. But we're starting to feel things are coming back."

Waiting for Meijer

There are setbacks, too. ASI Ltd., a maker of building enclosures, abruptly shut its 250-employee operation in January, leaving a 200,000-square-foot vacancy at AllPoints. Duke officials aren't too concerned, since few industrial spaces of more than 30,000 square feet are available in Boone County.

Meanwhile, Meijer plans to wait at least another year before building one of its superstores on a parcel it owns near the south entrance to Anson. The Michigan-based retail chain built only two stores in 2011 and five this year.

Duke executives are hopeful the site will make the privately held chain's new-store list in 2013 since it is one of only 10 pipeline sites Meijer owns.

"They're just waiting for more rooftops themselves," Podell explained, adding that a handful of other retailers are waiting for Meijer.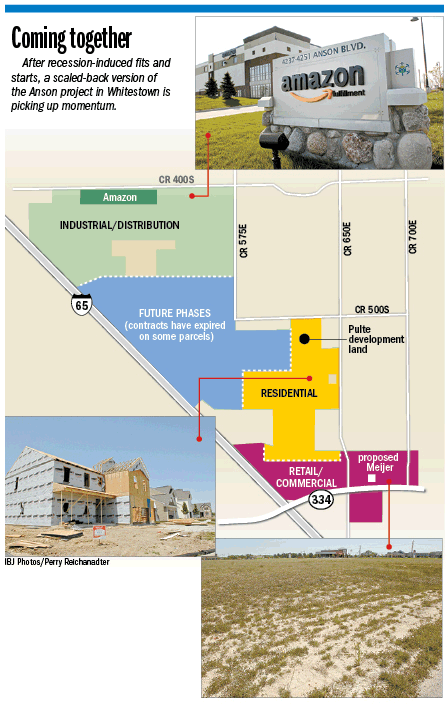 Were it not for bad timing, Anson's retail components would have filled in much more quickly, said John Byrne, a vice president in the local office of Cassidy Turley who is marketing the space.

He's juggling more than a half-dozen deals. Demand drivers include a regional-leading residential growth rate and convenient interstate access to downtown.

"We have [greater] increase of activity at Anson than any other retail node in the city," Byrne said.

Housing recovery

One of the brightest spots at Anson is residential, fueled in part by a strong interest in Zionsville schools. (Anson spans the Zionsville and Lebanon school districts, but all of the residential portions fall within Zionsville schools.)

"From what we're seeing, residential out here is ticking and ready to explode," said Craig Anderson, a Duke vice president who took over management of the Anson project after Tom Dickey left in March to become community development director for the town of Fishers.

Any good news on housing at Anson is a plus after the first builder, KB Home, pulled out of Indiana, and the second, locally based Hansen & Horn, went bankrupt.

Centex is building traditional production homes on lots redrawn to be wider than originally platted, while locally based BiltRite is building custom "rear load" homes with garages on alleys.

More than 500 rental units available to the south of Anson's single-family section are leasing well, and 73 town houses in 12 buildings developed by Ryland Homes have sold out. Duke is exploring the possibility of adding empty-nester or senior housing components, Anderson said.

Outlook improving

It appears Anson so far has been less than a bonanza for Duke, which began work on the project in 2005. The company in 2009 reported a $297 million write-down on raw land and projects under development including Anson, though it did not break out losses by project. The write-down did not include AllPoints at Anson, a joint venture with locally based Browning Investments.

Duke Realty also lost money when it opted not to renew contracts to purchase about 300 acres of farmland in the middle of Anson, where the original plans called for a "town center" with retail and office space accessible via a new I-65 interchange.

The company isn't giving up on eventually developing the property, but couldn't justify the carrying costs of waiting even longer, Anderson said.

Duke still controls hundreds of developable acres, including all of the original residential-targeted land served by Zionsville schools, the AllPoints parcels and the prime northeast corner of I-65 and S.R. 334.

The original plan called for a non-grocery Target store, a movie theater, more retail and restaurant space, and hotels.

That's still a possibility, though Duke also is exploring whether to instead build a 500,000-square-foot office park. It's also a potential location for a proposed Boone County hockey arena, which theoretically could help support a mix of hotels, restaurants and other entertainment attractions.•