The coming of Uncle Bill's Pet Express to a strip mall wouldn't be a big deal in most places, but the retailer's arrival at Binford Boulevard and 71st Street represents a milestone for an area whose commercial revival didn't happen by chance.
The two main retail centers in the area will be at 100-percent occupancy when Uncle Bill's opens in a small space at Avalon Crossing. Binford Area Growth and Revitalization, a super-neighborhood association better known as BRAG, began striving for this milestone in 2005. At that time, Avalon Crossing in the southeast quadrant and what's now a Kroger-anchored plaza in the northwest quadrant were in serious decline.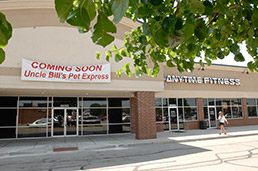 Uncle Bill's Pet Express will fill the last space in a strip mall at Binford Boulevard and East 71st Street, where bringing back retail has been a top priority for residents since 2005. (IBJ Photo/ Perry Reichanadter)
Now that Binford and 71st thrives, BRAG is turning its attention to other retail centers, plus a host of initiatives meant to keep Marion County's northeastern suburbs competitive.
"Old suburbia can disintegrate rapidly if people aren't paying attention to it," said Kas Vargo, president of the BRAG board. An interior designer, she and other board members manage the organization.
BRAG plays a multi-faceted role in an expansive area stretching from Fall Creek north to 82nd Street and from Dean Road east to Sargent Road. BRAG runs a weekly farmer's market that draws 1,200 shoppers. It advocates for a transit plan that includes commuter rail along Binford, and it's expecting the city to spend $1.2 million in federal funds next year on a new walking and biking path along 71st Street.
Now, BRAG's leaders have to find a source of revenue to sustain those initiatives. Unlike urban neighborhoods, the BRAG area isn't saddled with vacant housing, poverty or brownfields, any of which would make it eligible for federal and private grants.
Quite the opposite. According to a 2007-2008 survey, 58 percent of the 9,000 households in the area earn at least $75,000 a year. The BRAG area has more than double the Marion County average of high-income households, according to the group's long-term plan.
BRAG is also home to about 3,000 businesses, and leaders are counting on more financial support from them. As a membership association, BRAG hopes to raise the number of business members, who pay $250, from 100 to 300 this year.
BRAG is holding out a forthcoming business directory and networking events as incentives. The board also hired a part-time development director, Joe Pickard, to help recruit members and sponsors. He and a part-time marketing employee assist the board.
If successful, BRAG's modest income would grow from $78,545 last year to about $200,000 this year, Treasurer Amy Myers said. (Individuals, sponsors and the farmer's market are also sources of income.)
BRAG takes credit for drawing attention to the area's retail-friendly demographics, but that hasn't been enough to turn around every nearby strip mall.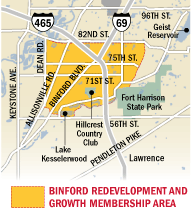 Vargo said members are concerned about the number of retail vacancies at Shadeland Avenue and 75th Street, which is near Community Hospital North and one of the largest apartment complexes in the city.
The decline of a strip mall at Binford and 62nd Street has put the future of the farmer's market in doubt. The market uses its space free of charge, but it could lose that privilege when the building, which went into foreclosure and is now owned by a bank, changes hands, Vargo said. BRAG wants to help find a buyer who would remain friendly to the market.
Veteran real estate broker Steve Zinkan appreciates BRAG's work in beautification and crime prevention, but he doesn't think a neighborhood group can influence retailers' decisions.
"Economic development will occur or not occur due to the marketplace," said Zinkan, who is in charge of leasing part of the strip mall at Binford and 62nd Street. "Unfortunately, today, retailing is in a Darwinian environment."
Zinkan's firm has increased occupancy in the aged strip mall by bringing in service businesses, including a paper shredder and employment firm.
Zinkan believes the presence of the farmer's market discourages certain types of businesses, such as tattoo parlors or nightclubs, but he said it has no influence on the stream of rental income that will ultimately attract a buyer.
Zinkan, who lives in the BRAG area, has noticed another group following in its footsteps. Millersville at Fall Creek Valley Inc. hopes to revive retail at 56th Street and Emerson Way, but he doubts the group will have an effect.
"In my 40 years in this business, I've yet to see a neighborhood group successfully influence a retailer," he said.
That may be true, but BRAG was instrumental in supporting the small businesses that occupied Avalon Crossing before and after its rebirth, said Tiffany Oliver, a leasing representative at Landmark Properties. Landmark bought the strip center in 2003, tore it down, and rebuilt it.
The success of existing businesses helps fill vacancies, Oliver said. "It's a testament to the health of the center."
BRAG's major victory was Kroger's decision to build a store at Binford and 71st. The store, which opened in January 2009, was the result of years of effort by the property owner, but BRAG did influence the quality of the buildout, said Bill Taft, executive director of Indianapolis Local Initiatives Support Corp, or LISC.
LISC provided the technical support that allowed BRAG to create its long-term plans.
"When people believe a neighborhood is turning around, they're likely to invest," Taft said. "The way [BRAG] changed the way people believe their neighborhood is headed is really smart."•
Please enable JavaScript to view this content.