A budgie is a budgie—nothing really exciting about that. But a flock of budgies flying around your head in an enclosed area? Next to an aviary where lorikeets perch on your head as you serve them nectar? And another where Helmeted Guinea Fowl walk across your path as a White-cheeked Turaco flies above?
Well, those add up to a fun and well-executed upgrade to the Indianapolis Zoo.
The former petting area (your kids may know it as the zoo's "smelly part") is now home to "Flights of Fancy: A Brilliance of Birds," featuring a flamingo-filled outdoor area with barely a barrier, the aforementioned walk-through aviaries, a bird-themed playground for kids under 5, and an area designed to attract local birds. Adirondack chairs encourage parental lounging and a new Nursing Mom's Nest—a separate building with privacy areas for when it's feeding time for the humans—is a progressive step forward.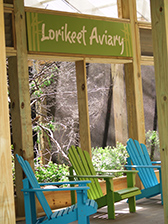 Birds fly above and around visitors at the new Indianapolis Zoo aviaries. (IBJ Photo/ Julie Kirkendoll)
The entire area is mercifully short of technological distractions—a few flip-boards offer questions and answers about the feathered folk—letting the attention fall on the living activity above and around visitors. The one nod to high-tech play is a 4-D theater where, in the opening 12-minute offering, young animated explorers Dora and Diego take about 50 people at a time on a wind-blown, banana-smelling, bubble-blowing film trip to the tropical rain forest. The robotic butterfly plot device in this one came across as a bit of a stretch, but I gleefully shouted at the screen when instructed and learned that butterflies can't get airborne in cold climates.
And, yes, the entire area smells much better than it used to. I don't think I'll miss the goats.
__________
If you saw the Phoenix Theatre's "Pure Prine," you know what theatrical magic Director/Creator Bryan Fonseca and Music Director Tim Brickley can make with a collection of seemingly unconnected songs. Here, in collaboration with the University of Indianapolis' Center for Aging and Community, Fonseca and Brickley (and returning cast members Tim Grimm and Jan Lucas) construct a similar dialogue-free musical, "Forever Sung," out of pre-existing songs. The result, while significantly better than similar efforts by the former American Cabaret Theatre (I still have nightmares about its "Painting the Universe: How the Humanities Shape Our World" review), doesn't quite reach the heights of the Prine show.
Part of the blame lies in how nice everyone is in "Forever Sung." "Pure Prine" had characters at odds with one another. Here, some generational conflict raised in Act 1 is quickly resolved before intermission, draining the show of forward motion and leaving nothing but good feelings among the parties. Pleasant, but not dramatic.
Another challenge is simply having too much material to choose from. With songwriters including Lennon and McCartney, Seals and Crofts, Simon and Garfunkel, Taylor Swift, and Joni Mitchell, there are an abundance of visions and styles here, and they don't all pull together into a coherent whole.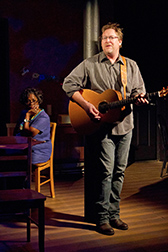 Tim Grimm, right, helps anchor "Forever Sung," a musical exploration of aging at the Phoenix Theatre. (Photo Courtesy of Zach Rosing)
"Forever Sung" is still filled with pleasures. Standing out in a strong cast is Heather Styka, a youthful Chicago singer/songwriter who handles most of the more contemporary tunes. And Jan Lucas is compelling throughout. With Sherri Brown Webster, she deftly blends Joni Mitchell's "Chinese Café" with "Unchained Melody," offers a beautifully subtle take on Kate Wolf's "Across the Great Divide," makes a case for Krista Detor's "I'm Still Here" as a to-be-discovered classic, and listens truthfully as the other characters share their song stories.
And you'd be hard-pressed not to find at least a tear in the eye at some point, whether it's during "Old Friends/Bookends" or a gender-swapped version of Cat Stevens' "Father and Son." Laughs are abundant, too, with Pete Seeger's "My Get Up and Go (Has Got Up and Went)" and a twisted Bob Dylan parody.
__________
Over the past two weeks, I've reported on "Oedipus Rex" and "Oedipus at Colonus," conceived and performed by No Exit Performance and Paper Strangers on the grounds of the Indianapolis Museum of Art. Well, I've now gone the distance, completing the trilogy with the cast of "Antigone," the third play in Sophocles' cycle. And I'm glad I stuck with it.
This take on "Antigone" has the strongest pedigree of the three, having been performed here a few years back. Seeing it for the first time, I can see how it influenced the other two productions in tone and look. But "Antigone" has few of their flaws. The ill-conceived Chorus is minimized and young actors don't try to play well beyond their years. Gone are the extraneous plot elements that seemed designed to make an already interesting play relevant. Still here—to stronger effect—is the presence of the dead, played by silent actors in masks, manipulating the living in order to lead them to their fates.
Here, too, is the smart use of the IMA landscape, allowing actors a context impossible in a traditional theater. A messy fight to the death in the fountain is just one of many strong images in director Georgeanna Smith's production, but she leaves the most memorable for last: Creon, alone with his memories, and the dead standing in the oak-tree-lined allee, frozen until the last of the audience members is out of sight. Beautiful, haunting, and just right.•
__________
This column appears weekly. Send information on upcoming arts and entertainment events to lharry@ibj.com.
Please enable JavaScript to view this content.