Fort Wayne-based Medical Informatics Engineering Inc. expects to quadruple the number of people it employs in Indianapolis over the next year or two and wants to establish an office here.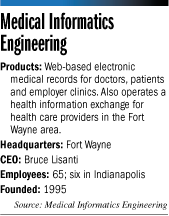 The maker of Web-based electronic medical record systems and personal health records has grown its staff nearly 50 percent the past three years as doctors, patients and even employers push to use electronic medical records to improve care and save money.
That industry-wide growth has made competition for employees fierce, so MIE wants to strengthen its recruiting hand by fishing in a new pond.
"We definitely see the opportunity in Indianapolis. It gives us access to a new talent pool," said Jeff Donnell, MIE's vice president of marketing who also serves as president of NoMoreClipboard.com, an MIE subsidiary that offers Web-based personal health record systems.
Donnell, who works remotely from the south side of Indianapolis, added that MIE's headquarters would always remain in Fort Wayne. But its current office, which employs 58 workers, is nearing capacity, providing one more reason for expanding in Indianapolis.
Donnell expects to have new space identified, most likely in downtown Indianapolis, by year's end. By then, he expects MIE's six Indianapolis-area employees to have doubled to 12, then to as many as 25 over the following year or so.
MIE isn't looking for space enough to house all those employees—which will include a mix of software developers, marketing and business development staff—but wants to have space for a few offices and periodic meetings among staff and with out-of-town clients.
"Clearly, getting in and out of Indianapolis is a lot simpler than getting in and out of Fort Wayne," Donnell said.
Companies throughout the health care information technology industry have been growing rapidly ever since the 2009 stimulus bill promised more than $30 billion to doctors and hospitals to ramp up their use of electronic medical-record systems.
In addition, hospitals, doctors and insurance companies have been pouring money into computer systems to switch billing processes from a system of codes known as ICD-9 to a much more complex system called ICD-10.
Last, the fear among hospital systems that their reimbursements will be stagnant for years to come is leading them to seek out IT solutions that can help them become more efficient.
Those trends have caused investors to pour money into health IT companies, including a $22 million investment into Indianapolis-based Healthx Inc., announced in January, by Frontier Capital. For all of 2011, health IT companies drew $633 million in venture capital, a 22-percent increase in total capital, according to Dow Jones Venture Source.
MIE has been growing under its own power but has shown increasing success landing big-name clients. After providing electronic health records for employee clinics at Indianapolis-based Dow AgroSciences LLC and Indianapolis-based Eli Lilly and Co., MIE has developed a specialty of sorts in on-site employer clinics.
MIE now supplies the electronic records in employee clinics at Florida-based Walt Disney Co., California-based Chevron Corp., the Lawrence Livermore National Laboratories in California and employers in 20 foreign countries.
"We're talking to Fortune 500 companies all over the world," Donnell said. "We're able to compete really effectively, because we have the clinical EMR you'd find in the doctor's office, and then we have NoMoreClipboard [for employees], and then we've developed a whole suite of occupational health models. We've put all that together on one integrated, web-based platform."
Donnell declined to disclose MIE's revenue. But it's tiny for the EMR industry.
Kansas City-based Cerner Corp. had nearly $1.9 billion in revenue last year, followed by Wisconsin-based Epic Systems Corp. with $825 million and Chicago-based AllScripts Healthcare Solutions Inc. with more than $700 million.
MIE is one of 72 health IT companies in Indiana, according to a 2011 report by Indianapolis-based BioCrossroads, a life sciences development group. Those companies employed 2,500 people in 2010 and had combined revenue of $202 million.
And one-third of that total revenue was claimed by Westfield-based MaxIT, a health IT consulting firm, which now has 900 employees.
But Brian Stemme, a project director at BioCrossroads, thinks small companies like MIE can still be very competitive.
"The fact that the hospitals here have cooperated in doing things like the Indiana Health Information Exchange and the Indiana Network for Patient Care, I think that provides a background here for making it reasonably easy for developing these platforms," Stemme said.
"You'll see a lot of products that are focused on business. I think that's an advantage, because in the long run, that's who's going to pay the bills."•
Please enable JavaScript to view this content.