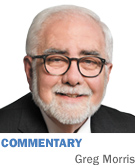 I'm going to make a bold prediction. I see a day in the not-so-distant future when Indiana will come out of the dark ages and loosen our arcane alcohol laws. It has to happen. The wants and needs of the consumer will eventually trump the self-protectionist lobbying interests of various segments of the liquor industry.
I've spent a fair amount of time vacationing in southwestern Florida over the past several years. The alcohol laws there are a lot more consumer-friendly. I've gotten a taste of what liberties can and should be afforded to Hoosiers. In Florida, you can buy cold beer or wine at the grocery store. You can't do that in Indiana, but you should be able to. You can buy beer, wine or spirits (cold or warm) at many retail locations seven days a week. Yes, that includes Sunday. You can't do that in Indiana, but you should be able to. You can order wine directly from your favorite winery in Napa Valley and have it delivered to your home in Florida. You can't do that in Indiana, but you should be able to.
I can already see the responses to this column from the naysayers. "If Morris likes Florida so much, why doesn't he move there?" "We don't need any of that stuff here in Indiana."
Sorry to disappoint you, but I'm not moving to Florida (not anytime soon). I plan to stay here and tell anyone who will listen that Hoosiers deserve common-sense alcohol deregulation enacted soon. It's way past time to get this done.
Sunday retail alcohol sales have been a hot topic in Indiana. The reasons against Sunday liquor sales are familiar, and I submit they are old and tired. Of course, there are folks who don't think anyone should drink alcohol anytime, but especially on Sunday. But the strongest objections to Sunday retail sales come from the package liquor industry. They don't want to open on Sunday, and as a result they don't want you to be able to buy anywhere else, either.
The argument is that, if we allow Sunday liquor sales at Costco, Sam's Club, Kroger and the like, hundreds of small businesses will go under. The package liquor stores will have to open on Sunday to compete with the other retailers. This will mean they will have to pay for extra staffing, electricity and other expenses, and this will doom their business to fail. The contention is that there will be no increase in alcohol sales. Instead, the current six days of sales will be spread out over seven days.
I don't buy it. What's best for the consumer? Not laws designed to make sure the package liquor industry doesn't have to open on Sunday by preventing other retailers from selling alcohol on Sunday. It makes no sense.
One of the last states in the nation to bite the bullet and allow Sunday retail alcohol sales is Connecticut. The first Sunday under the new law was May 20. However, legislators got weak knees in the final negotiations. There are still a lot of unnecessary restrictions, and Sunday sales are allowed only from 10 a.m. to 5 p.m. Good lobbyists prevail again.
In any case, the change in Connecticut got a lot of media attention, including a story in The New York Times that pointed out, "Connecticut and Indiana had been the only states with such broad restrictions." Well, I guess that leaves Indiana with the broadest restrictions. We're the last state in the nation to use common sense and get with the program.
So, I say congratulations to the Indiana lobbyists who've been fighting Sunday retail alcohol sales on behalf of the package liquor stores. You did your job better than lobbyists in any other state. Huge bonuses are in order all around.
But now the time has come for Hoosier lawmakers to send the lobbyists on their way and enact laws that deregulate the entire industry. Say yes to Sunday retail alcohol sales. Say yes to cold beer and wine in retail outlets like grocery stores. Say yes to allow residents to order wine from out of state. And don't water the laws down with a lot of senseless compromises just to get it done. The compromise has already happened—we held out long enough to be the very last state to do what should have been done years ago.•
__________
Morris is publisher of IBJ. His column appears every other week. To comment on this column, send e-mail to gmorris@ibj.com.
Please enable JavaScript to view this content.