The former controller at Fair Finance is testifying at Indianapolis financier Tim Durham's fraud trial as a star witness for the federal government in exchange for immunity from prosecution.
Doug DeRose held the purse strings at Fair Finance during the years Tim Durham and two partners are accused of operating the Ohio company as a Ponzi scheme that bilked 5,000 mostly modest-income Ohio residents out of more than $200 million.
In his role as Fair's controller from 2003 to 2009, DeRose signed off on dozens of wire transfers ordered by Durham and his partners.
DeRose, in testimony Monday and Tuesday in U.S. District Court, described the repeated requests he fielded to transfer Fair funds to the company's owners in Indianapolis. The cash left Fair as so-called "related-party loans" almost as quickly as new investor money arrived, and despite the fact that cash-flow was tight.
But when Fair's investors were due interest or requested to cash out their investment certificates—or when vendors demanded payments—Durham ordered Fair's employees to stall, DeRose said.
By 2009, about 70 percent of Fair's assets were related-party loans, and they weren't generating interest income.
Fair's focus for years had been buying streams of income from consumer debt including those involving buyer's clubs, time shares and gym memberships, and the government says few investors knew about the drastic change in Fair's business model.
Federal Prosecutor Henry Van Dyck, who handled the government's questioning of DeRose, on Tuesday morning asked him to discuss a Fair training manual and reports from its own secret shoppers showing investors were told Fair's business model remained the same.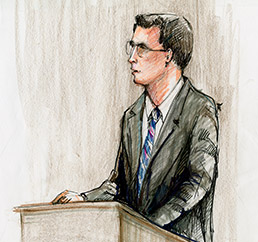 Federal prosecutor Henry Van Dyck questioned Doug DeRose on Monday and Tuesday. (IBJ sketch / Tina Hansford)
In reality, insiders were taking out money as fast as it arrived, in varying dollar amounts, according to e-mails introduced by the prosecution and DeRose's testimony. One transfer request from a Durham assistant asked for $784,000, wired directly to a title company for a real estate purchase by co-defendant Jim Cochran. A $30,000 withdrawal was considered a "little one." Often, the requests didn't offer any explanation on whether the money had any business purpose.
DeRose, who worked from Fair's home office in Akron, Ohio, and reported to co-defendant Rick Snow in Indianapolis, said he and an assistant controller objected to the constant stream of withdrawals from the company, but had little choice since "boss man" Durham made the calls.
Durham would justify withdrawals of several thousand dollars by pointing to a strong flow of new investor dollars.
A request for $120,000 in July 2009, when Fair already was struggling to keep up with its interest payments and expenses, left DeRose almost speechless. His e-mail response: "Wow."
"I was floored at that point when we were obviously strapped for cash and needed it," DeRose explained in testimony Monday.
Prosecutors told defense attorneys about the government's deal with DeRose shortly before he took the stand.
"I'm not surprised the government has cooperating witnesses—it's not uncommon and totally up to them," said Durham attorney John Tompkins. "We can't go out and promise people anything."
DeRose on Monday said there wasn't a "run" on Fair Finance by investors, a claim the defense is expected to make as it argues the financial crisis caused the problems at Fair.
DeRose pointed to reinvestment rates: In 2007, 85 percent of Fair investors renewed their certificates. The number dipped to 80 percent in 2008, but bounced back to more than 84 percent in 2009.
In one instance described in a series of e-mails, DeRose pleaded with Durham to allow him to pay out $120,000 to the estate of an investor who had died, plus $40,000 in interest payments and $22,000 to a vendor.
Durham's response via e-mail, as DeRose read aloud in court: "Hold the bank check until next week, and we need $85,000 at Obsidian."
Obsidian Enterprises, Durham's leveraged buyout firm, wound up owing Fair about $29 million. Durham and Cochran's DC Investments owed Fair even more: $44 million.
By early 2009, Fair was paying its interest payments and cashout requests from old investors with new investor money, DeRose said.
Despite the strains, Durham on Jan. 21, 2009, ordered a transfer of $45,000 to his buyout firm, explaining that "every company (within Obsidian) is running on vapor."
In an e-mail sent on May 27, 2009, DeRose estimated that Fair would close the day with just $7,000 in its bank account.
Fair Finance already was scrambling to cover interest payments; customers wanting to cash out their investments posed an even more serious problem.
One investor in June 2009 asked to cash out $300,000. Even though Fair owed investors more than $200 million, the relatively small amount caused a crisis.
"I guess the 300k people want their money," Durham wrote in an e-mail on June 29, 2009. "Clearly we don't have it. I think we have to tell them we thought they were staying and we need a few days to process it. At this juncture I think we are going to half [sic] to implement the 60 day hold on at least 25k and over. And maybe lower. Their cash out kills us for the month."
But less than a month later, on July 14, Durham asked for and got another $20,000 transfered to a holding company he and Cochran owned, DeRose said in testimony Tuesday.
At the same time Fair was making it more difficult to cash out, it waived its longstanding maximum investment levels. Durham was asked in an e-mail whether it was OK for an investor to add another $100,000 to his $200,000 investment.
"Take it, and whatever term he wants," Durham replied, according to an e-mail DeRose read aloud in court.
In November 2009, Durham in an e-mail ordered DeRose to "really crank down on disbursements" and only send interest payments until the company could get an authorization from the state of Ohio to sell more certificates. He suggested excuses Fair employees should share with frustrated investors, including blaming problems with bank transfers.
By that point, the FBI had begun its investigation into Durham's involvement in Fair. And regulators and investors also made note of an IBJ story on Fair's related-party loans. The state denied Fair's application to sell another $250 million in investment certificates.
For all of IBJ's coverage of Fair Finance and Durham, click here.
Please enable JavaScript to view this content.