Lauth Group Inc. is leading what it expects will be a wave of new tenants for The Congressional, an 181,000-square-foot Carmel office building that was on a downward slide before the developer bought it last December.
Lauth moved its headquarters to the building at 116th Street and Pennsylvania Parkway about six weeks ago, occupying more than 14,500 square feet. Last week it announced three new tenants: Shepherd Insurance LLC, which leased almost 19,000 square feet; the consulting firm Thoughtburst, filling 3,300 square feet; and The Strategy Forums, an executive development firm that has agreed to lease almost 1,700 square feet.
Shepherd and Thoughtburst moved into The Congressional at the end of May, and The Strategy Forums should be there by the end of the month.
Together with Lauth they represent the first signs of new life for a building that was less than 30 percent occupied when Lauth bought it for $7.1 million from Nationwide Mutual Insurance Co. Though occupancy has climbed back to 46 percent, it will slide back down to 32 percent when Audiovox vacates about 28,000 square feet later this summer.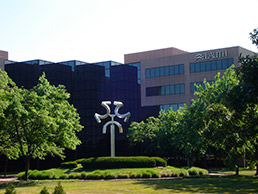 Lauth is hoping to breathe new life into The Congressional. (Photo courtesy of Lauth)
But Lauth is not focused on Audiovox's departure, which it knew was coming. Instead it's focusing on what it sees as The Congressional's strong upside potential.
The developer plans to spend more than $2 million to renovate its expansive 3,600-square-foot lobby, remodel restrooms, upgrade its 12-acre grounds, replace the roof and upgrade mechanical systems, said company President Michael Jones.
Jones said the first wave of improvements to the five-story building should be finished later this summer, in time for an open house that Lauth intends to turn into a fundraiser for a local charity.
Lauth's bet on the building is a safe one, Jones said, because of The Congressional's location right off U.S. 31 and its 40,000-square-foot floor size. That's about twice as large as other multi-tenant buildings in the market.
With two entire floors for lease, the building already is attracting the attention of large users. The top two floors have been empty since the building's anchor tenant, the mortgage division of HSBC Bank, moved out near the beginning of the national real estate crisis. Around the same time, another large tenant, Ingersoll Rand, vacated the entire third floor and part of the second.
The departures in the midst of a tanking market spelled trouble for the building, which had been owned since it was developed in 1986 by REI Real Estate Services. REI deeded the property to lender Nationwide last year. Nationwide then hired Cassidy Turley to sell the building.
Darrin Boyd, managing director and principal of Cassidy Turley, agrees that The Congressional represents a great turnaround opportunity for Lauth. "It's a very nice Class A building that had a lot of deferred maintenance and high vacancy."
The asking rent of $18.50 a square foot is right in line with the market, Boyd said. The sale price of about $40 a square foot indicates the building has a strong upside. Boyd was recently involved in the sale of a similar building, though one filled with tenants and without the deferred maintenance, for around $90 a square foot.
Lauth is managing and leasing The Congressional. Also involved in leasing are John Vandenbark and Rick Trimpe of CBRE.
Please enable JavaScript to view this content.