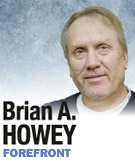 Chalk this up to partisan teamwork, but the fact that U.S. Sen. Dan Coats hit the campaign trail with Republican Senate nominee Richard Mourdock earlier this month raised some eyebrows.

Coats is obviously doing whatever he can to boost Mourdock's chances in the fall against Democrat U.S. Rep. Joe Donnelly. GOP control of the U.S. Senate may hinge on his victory. Mourdock is going to need every Republican vote he can get, and it might not be as easy as his stunning 61-percent-to-39-percent win over U.S. Sen. Dick Lugar in the May 8 primary.

The Howey/DePauw Indiana Battleground Poll revealed in its March 26-27 survey that 57 percent of Lugar supporters have an unfavorable view of Mourdock, and only 12 percent had a positive view.

That 39-percent Election Night number is significant in the Coats context because it was the same number by which he won the 2010 Republican primary, coming in a five-man field. The obvious difference was the Tea Party goal of keeping the 2012 primary to Lugar and one challenger.

Thus, it's safe to say the "establishment" Republican Party in Indiana is, well, 39 percent.

Coats isn't up for re-election until 2016, so he has about 2-1/2 years to bone up on his Tea Party cred. It may be a prerequisite to another term, but that depends on one thing, and that is Mourdock's actually defeating Donnelly this fall.

If Donnelly wins—and three polls, including my Howey/DePauw survey in March, have the general election race tied—the Lugar defeat will go down in history as one of the biggest blunders in GOP history. In that March survey, Lugar was leading Donnelly 50 percent to 29 percent and would have been an overwhelming favorite. If Mourdock loses, Indiana will join the ranks of Delaware and Nevada where Republicans kicked away a Senate seat to a Democrat thanks to Tea Party nominees.

Mourdock defeated Lugar because, while his own fundraising was underwhelming, a national trident of forces—Club For Growth, the National Rifle Association and FreedomWorks—dumped about $4 million against Lugar. The senator's allies cried foul, but in the mind of Chris Chocola, the former Indiana congressman who now heads Club For Growth, the $1.8 million he bundled and spent on Mourdock's behalf essentially leveled the playing field.

"We always like to see candidates raise money for themselves," Chocola said. "We don't mind being a very large contributor, but we don't want to be their finance committee. And so we watched it very closely. The reality is, it's hard to raise money in a state against a six-term senator. The Republican establishment was not going to help Mourdock. A lot of folks from the grassroots standpoint are not large financial donors. They contribute their time and efforts. He had a legitimate challenge to raise money, particularly in state. We decided to get involved because, with our help, we saw he could win."

Could Mourdock have won without Club For Growth?

"I think we played a significant role in the outcome," Chocola said. "When candidates thank us for our support, we say we couldn't have won if you hadn't run. Without the candidate, we can't do anything."

And then my most interesting question for Chocola: Does Coats have anything to worry about?

"Well, it's too early to tell," Chocola said. "All this stuff is objective. All this is based on how well they perform as elected officials and how they vote. So two things have to be in place. They have to support a pro-growth agenda. There has to be a better alternative. It's too early to tell with Dan Coats where he'll be in that run."

So, with the Lugar defeat—the first sitting Indiana senator in the television age to not only face a credible challenge, but lose—all eyes will be on how Coats votes, and whether there comes a more ideologically pure alternative.

Pure, unless the purified Mourdock loses, and establishment Hoosier Republicans regain their footing.•

__________

Howey is a third-generation Hoosier journalist who publishes Howey Politics Indiana. Send comments on this column to ibjedit@ibj.com.