Managing a not-for-profit became too much for Amy and Nasser Hanna.
Fishers-based Cancer-Free Lungs, which they launched in 2004 as Lungs for Life, has donated about $250,000 to support research and lectured to tens of thousands of students about the risks of smoking.
But the two-person operation, supported by a core group of a half-dozen volunteers, decided last year it was ready to shut down.

Annala
"With work, our family and, of course, the economy, it just became too hard," Amy Hanna said.
Then Little Red Door Cancer Agency intervened.
The organization, which provides supplies and services to cancer patients, noticed some overlap in the two groups' missions. In recent years, Little Red Door has focused more on cancer prevention, much like the classroom presentations Cancer-Free Lungs did.
So Little Red Door, with net assets of about $3.1 million—about 40 times more than Cancer-Free Lungs in 2010, absorbed the smaller agency's school-visit program. And as part of the agreement, Amy Hanna will take a position on Little Red Door's board.
Ellen Annala, president and CEO of the United Way of Central Indiana, said she expects to see more consolidation of not-for-profits in the next few years as groups collaborate to overcome ongoing economic hardships.
"I thought we would see more of this when the recession first hit," Annala said. "We really didn't until this past year."
Organizations were able to tap unused financial resources at the onset of the recession. But as the economy continued to lag and donations dwindled, those financial pools dried.
"A lot of the organizations that are smaller, especially, get into cash flow challenges," Annala said. "And so they're looking at different ways to be able to make it."
In Cancer-Free Lungs' case, surviving meant sacrificing one of its missions— raising money for cancer research—so the not-for-profit could see its educational outreach effort continue under the leadership of a larger, better-funded agency.
"My husband and I, kind of being a one-man, one-woman show, couldn't do what we wanted for it," Hanna said.
Under Little Red Door, Cancer-Free Lungs' educational program will have more financial resources and more volunteer and paid staff to help improve the program.
The classroom-visit program is already changing. Rather than having staff and volunteers drive hours at a time throughout Indiana, the program will focus more on central Indiana, where Little Red Door has found an especially high need for the service.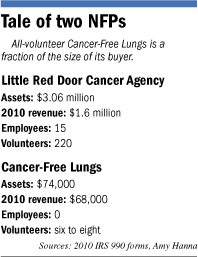 Little Red Door will benefit as well.
With the service it inherited from Cancer-Free Lungs, Little Red Door has a base to build upon a recently revamped strategy that emphasizes cancer prevention, said Fred Duncan, Little Red Door's director and CEO.
"We want to help feed people who are hungry, but we'd also like to teach people to fish," Duncan said.
Historically, the group has focused on helping adults who have cancer, but with the inclusion of the Cancer-Free Lungs program, the group will reach out to children in hopes of their never getting the disease.
And there will be financial perks for Little Red Door.
The group, which received almost $1.5 million in contributions and grants in 2010, could inherit donors who collectively gave $60,000 to $80,000 a year to Cancer-Free Lungs.
More significant than a larger donor base, Annala said, is the reduction in operating costs.
"It's not always a duplication of service," she said. "A lot of the duplication is on the administrative side. Every nonprofit that starts in central Indiana has more than [it] needs. Every one of them has a bookkeeper, a director and administrative costs."
Even bigger agencies are streamlining their operations to preserve precious resources.
The United Way, for example, has pooled information technology services for its Indianapolis, Cincinnati and Louisville regions. While the savings were marginal, Annala said, they allowed the agencies to afford software upgrades they otherwise did not have the budgets for.•
 
Please enable JavaScript to view this content.