Defense attorneys in the federal fraud trial of Tim Durham, Jim Cochran and Rick Snow rested their cases Tuesday morning after calling just one witness and introducing a handful of exhibits.
The defense presentations lasted less than two hours and did not include testimony from Durham or his co-defendants. The U.S. Attorney's Office, in contrast, offered six days of testimony and thousands of pages of documents as it tried to convince jurors that the defendants ran Ohio-based Fair Finance as a Ponzi scheme, defrauding investors of more than $200 million.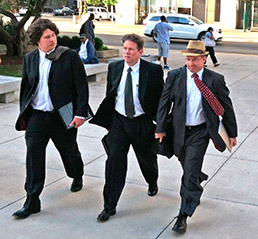 Tim Durham, center, arrived for court Tuesday flanked by lawyer John Tompkins and son Tim Jr. (IBJ Photo/Cory Schouten)
Final arguments are scheduled for Tuesday afternoon in U.S. District Court, and the case is set to go to the jury Wednesday morning.
The defense lineup Tuesday: Durham attorney John Tompkins called an accountant who once performed a valuation analysis for a Durham company; Cochran attorney Bill Dazey submitted a collection of e-mails and documents including copies of Fair investment certificates owned by Cochran's mother and brother-in-law; and Snow attorney Jeffrey Baldwin simply rested without calling any witnesses or introducing any evidence.
Throughout the trial, Baldwin has presented his client, who served as Fair's chief financial officer, as an employee simply following orders from Durham and Cochran.
Dazey on Tuesday gave a brief opening statement, which he had deferred at the start of the trial. He introduced several documents into evidence, including investment certificates held by Cochran family members and e-mails between Durham and Cochran as they were purchasing Fair in 2002.
The idea was to show that Cochran didn't have any idea how badly Fair would end, Dazey said.
But he told jurors he had no plans to "insult your intelligence" by calling witnesses to read key passages in the documents, a reference to the prosecution's approach.
"The end of the story is a terrible loss and suffering for Fair Finance," Dazey said. "I'd ask you to consider the players here didn't know the end of the story as events took place."
The lone witness for the defense was Christopher Hitschfeld of Somerset CPAs, who in a previous position for locally based Goelzer Investment Management performed a valuation and fairness analysis of Durham's Obsidian Enterprises as the company went private in 2005.
Responding to questions from Tompkins, who called him as a witness, Hirschfeld described the valuation method he used. He said it's standard procedure to value companies based on a formula that discounts the value of their future cash flows.
On cross examination, Assistant U.S. Attorney Nicholas Surmacz entered Hirschfeld's report into evidence and hammered home just how inaccurate its projections turned out. The report had predicted a profitable turnaround that never materialized for several chronically underperforming Obsidian subsidiaries, including a rubber reclaiming business and a luxury coach bus operator.
Hitschfeld said he relied on information from the defendants in preparing his valuation and did not assess Fair Finance or the insider loans that prosecutors charge gutted the company. He added that the valuation had a short shelf life of not more than a few months and that Durham and his co-defendants should not have continued relying on it years later.
Defense attorneys have said the defendants made mistakes as they tried to save Fair during the 2008 global financial crisis but that ultimately they did nothing criminal.
The prosecution rested its case on Monday after taking testimony from victims of the alleged scheme, accountants and former employees and colleagues of Durham, Cochran and Snow. The government also introduced internal e-mails and played
recordings of wiretapped phone calls
between the defendants. The trial began June 11.
Durham, Cochran and Snow are facing 10 counts of wire fraud, one count of securities fraud, and one count of conspiracy to commit wire fraud and securities fraud. If convicted, they face decades in prison and steep fines.
To catch up on IBJ's coverage of Fair Finance and Tim Durham, click here.
Please enable JavaScript to view this content.