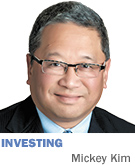 In preparing for a talk with a group of college-age interns about investing and personal finance, I asked myself what I would have liked to have known at their age. I think our educational system needs to do a much better job of equipping students to make wise financial decisions.
A typical financial plan is a quantitative model driven by variables such as expectations for future earnings, portfolio returns, inflation and tax rates. We all crave certainty, but have absolutely no control over many of the variables. When inputs into the model don't come to fruition, this inevitably leads to frustration. Unchecked, this disenchantment can lead to abandoning having a plan at all. Don't let it.
Certified financial planner Carl Richards, author of "The Behavior Gap—Simple Ways to Stop Doing Dumb Things With Money," describes the act of planning for your financial future as all about dealing with the tension between living for today and saving for tomorrow.
He suggests putting a framework around the financial planning process by asking four questions:
• How much can you reasonably save?
• What rate of return will you earn?
• How much do you need?
• When will you need it?
Richards says while these questions sound simple, they're not easy to answer.
The media has conditioned us to think of the rate of return as the only variable that matters. While we can influence our expected return through asset allocation (stocks versus bonds, for example), the actual results are beyond our control. That's why we feel anxious during increasingly frequent bouts of market stress.
Not to fret: We have much more control over the other three—equally important—financial "levers" that we can pull. For instance, we can control our goals as far as when we want to retire and how much we'll need to support the lifestyle we desire.
More important, we can increase the amount we save/invest now. As Richards says, how much you save and when has a huge impact relative to the rate of return. For instance, a 1-percent difference in the return on your investment (which you have no control over) pales in comparison to the result of saving an extra $100 a month (something you do have control over).
I know saving/investing more and sooner seems like overly simplistic advice. Richards says there are two reasons we choose complex solutions when we say we want simplicity: First, we convince ourselves the solution to an important problem has to be complex. Second, simple solutions often require us to change our behavior.
According to Richards, simplicity is the ultimate form of sophistication. He says our attraction to complexity distorts the way we approach our financial goals. The simple options that have the greatest impact on financial success, like saving/investing more and sooner, require discipline, patience and hard work. Moreover, they require us to apply those basic fundamentals over and over for years.
Like value investing, it's the furthest thing from glamorous or sexy. As Richards says, it's much easier to entertain ourselves with the fantasy of finding an investment that will make us rich overnight. And it makes for much more interesting cocktail-party conversation. However, as those who bought the Facebook IPO can attest, in the end, the fantasy will fail you.
In my next column, I'll tell you how you can let what Albert Einstein called the "greatest mathematical discovery of all time" work for you.•
__________
Kim is chief operating officer and chief compliance officer for Kirr Marbach & Co. LLC, an investment adviser based in Columbus, Ind. He can be reached at (812) 376-9444 or mickey@kirrmar.com.
 
Please enable JavaScript to view this content.