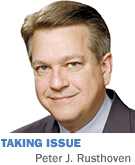 The Constitution requires that every president swear to "faithfully execute" the office. It then repeats the adverb, mandating that the president "take Care that the Laws be faithfully executed."
In our current president's view, faithfulness to his oath and duty does not encompass immigration law he dislikes. Congress has not passed the Dream Act, which would permit citizenship for illegals brought here as children, who then attend college or serve in our military. So Obama says he will not enforce (in constitutional locution, "execute") existing law as to those who meet Dream Act criteria.
Unlike many in my party, I favor the act. I believe if you are brought here as a child, avoid trouble and get a college degree or serve in our all-volunteer armed forces, you should get a chance to stay. This motivates beneficial behavior by people already here, through no fault of their own. In my view, this outweighs marginal additional incentive for future illegal immigration.
Sen. Dick Lugar agrees—earning an accusation by his GOP challenger of supporting "amnesty." Another who agrees is Sen. Marco Rubio, R-Fla., sponsor of the current Dream Act—whom Lugar's primary foe, once he won, brought to Indiana to campaign for him.
Merits aside, even the president's political motives, standing alone, would not be all that troubling (and it's not clear he's got the politics right). The Dream Act polls well among Hispanic voters. No surprise there. Rubio's taking the lead was undermining anticipated political benefits, among a key group, on an issue Democrats consider theirs.
So Obama moved to grab the issue back, while putting Mitt Romney on the spot and distracting from economic issues on which the president is faltering badly.
The accuracy of his political calculus is uncertain. Fellow junkies should read the analysis by Real Clear Politics' Sean Trende, who argues the decision hurts the president more in critical large states (Pennsylvania, Ohio) than it may help in smaller ones (Arizona, Nevada).
But whoever's right on political impact, this author feigns no outrage that presidents seeking re-election are aware of and—within the limits of the law—take into account political consequences of their decisions. Of course they do.
The crucial phrase, though, is "within the limits of the law." On that front, Obama's pronouncement should disturb everyone.
Presidents are not supposed to pick and choose which laws they enforce. Yes, one must set priorities in a world of limited resources. But the president's proclaiming he will not enforce law with which he disagrees is far different.
This was not a mid-level Justice Department official deciding to focus more on organized crime than antitrust enforcement. There's precedent for administrations making that kind of judgment, and the judiciary is not the only branch thinking about the Constitution.
No, this was the president himself saying he would not enforce a law of unquestioned validity because he believed ignoring it was "the right thing to do."
That is explicit flouting of the law by the person sworn faithfully to execute it, who proclaims his own judgments of right and wrong superior. In that context, the president's political motives make the disregard of his oath more egregious.
In Nixon days, the mainstream media's sacred texts were, "Ours is a government of laws, not men" and "No man is above the law." On Obama, the silence from the same media pulpits is deafening.•
__________
Rusthoven, an Indianapolis attorney and graduate of Harvard College and Harvard Law School, was associate counsel to President Reagan. Send comments on this column to ibjedit@ibj.com.
 
Please enable JavaScript to view this content.