A collaboration with Indiana University will help keep Indianapolis Opera afloat for another season, but the company is still in search of a business model that will put it on solid footing.
"I would say it's all up for grabs right now," Executive Director John Pickett said.
Through cost-cutting and emergency fundraising, the state's only professional opera company has managed to stay in business while peers nationwide folded in the wake of the recession. One of the most recent was Opera Cleveland, which went dormant last fall.
Indianapolis Opera will be in the black with its $2.25 million budget when the fiscal year ends June 30, Pickett said. That's after dipping deeper into a small endowment that's worth less than $1 million, furloughs for its eight full-time staff, and a salary deferral for Pickett.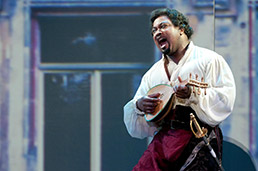 Kevin Short sang the role of Mephistopheles in Indianapolis Opera's May production of "Faust." IO is still in business, while many companies in other cities have folded. (IBJ file photo)
The fact that the future remains uncertain begs the question, how long can Indianapolis sustain professional opera?
"We feel a city that's trying to make the moves Indianapolis is needs a full cultural portfolio," Pickett said.
Tweaks to the 2012-2013 season will further cut costs, and Indianapolis Opera's total budget will drop to a little more than $2 million.
After years of discussion, Indianapolis Opera will bring an IU Opera Theatre production to Clowes Memorial Hall in March. IU will stage "Aknahten" by Philip Glass, and the collaboration will save IO about $150,000 in production costs, Pickett said.
Because it uses dozens of singers, an orchestra and sets, opera is one of the most expensive performing arts. A full-scale production costs IO $300,000 to $350,000. In past seasons, IO cut the number of full-scale productions and introduced stripped-down single-act and concert shows.
Next season, IO will produce just two operas, one at the Basile Opera Center, which is a former Greek Orthodox church, and one at Clowes. For "Aknahten," IO will serve as presenter, paying for the hall rental, travel and housing costs of more than 100 student singers, orchestra players and stagehands.
"The last couple [of] years has really taken its toll on the industry, and so collaboration … really is the way a lot of companies are going these days," said Tim Stebbins, director of the IU Opera and Ballet Theatre.
IU has worked with professional companies in Atlanta and Minnesota, but this will be its first time in Indianapolis.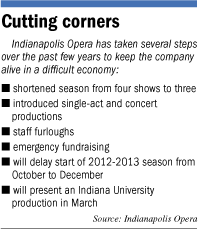 Pickett said working with IU isn't just a money-saving move. The university has one of the country's top-ranked opera programs, and it will bring local audiences a different experience by staging work by a living composer.
Indianapolis Opera can't count on an IU production every season, however, so the board continues to discuss business models that would prove sustainable long term, Pickett said. One possibility is a condensed, festival-style season.
For now, IO has decided to delay the start of its 2012-2013 season from October to December. Pickett hopes that will allow more time for marketing and collecting revenue—before shows hit the stage. The first production is the one-act "Amahl and the Night Visitors," at the Basile Opera Center. IO's only grand opera will be "The Flying Dutchman" at Clowes in May.
The delay in announcing next season contributed to a cash crunch this spring, just as IO was preparing to stage "Faust," Pickett said. A plea to core supporters raised about $100,000 in two weeks. Some donors gave more, while others simply wrote their checks earlier than normal.
The opera's expenses weren't out of line with revenue forecasts, Pickett said, but about $250,000 in revenue will be in the form of grants that are paid in June, after the last show.
A large factor in the opera's balanced budget is a heavier draw on the small endowment, which rose from 5 percent of the average value to 7.5 percent, he said.
Arts organizations across the country continue to struggle financially, said Dave Lawrence, president of the Indianapolis Arts Council, which distributes state and local grant money.
IO has made deeper cuts than some groups, but it's ending 2012 with a balanced budget, and it continues to receive arts council grants, Lawrence noted.
"So they're doing something right."•
Please enable JavaScript to view this content.