When Gov. Mitch Daniels leaves his Indiana Statehouse office in January and moves into the presidential quarters at Purdue University's Hovde Hall, expect him to bring the same playbook he used over the past eight years.

So say a handful of friends, advisers and colleagues—some speaking on the record and some privately—who have worked closely with Daniels during his time as governor.

The hallmarks of that playbook: Do more with less, measure and reward performance, find creative ways to tap new pools of money, and use a mix of warm folksy charm and bloodless political maneuvering to win over—or roll over—resistant stakeholders.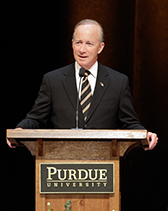 Gov. Mitch Daniels, who will become president of Purdue University in January, said the school should be a leader in developing a new model for higher education. (Associated Press photo)
Daniels has already been studying Purdue's real estate assets to see if there are efficiencies, or cash, to be wrung out of them—similar to how he sold off many of the state's airplanes and cars and leased the Indiana Toll Road.

For students, Daniels wants to use digital technology to make Purdue more affordable and to make sure those that enroll at Purdue finish. He may also reduce the number of credit hours required for a degree.

And Daniels wants to boost Purdue's research prowess to the stratospheric level of private universities like Stanford or the Massachusetts Institute of Technology—all while Purdue's traditional sources of revenue are being pinched.

"His presidency will set us apart as an institution of higher learning that is open to big ideas and bold thinking," Keith Krach, chairman of the Purdue board of trustees, said just before he introduced Daniels as Purdue's next president on June 21.

Of course, Daniels' record as a change agent isn't nearly as popular among educators as it is among business executives like Krach. So what Daniels will actually do will hinge on what he can convince Purdue's 15,000 employees—especially its faculty—to go along with.

On top of that, Daniels' decision to trim $180 million out of state funding for universities over the past three years, as well as the confrontational stance toward universities taken by his Commission for Higher Education, have won him few friends on the campuses of the state's public universities.

"He's going to have some things to live down," said state Sen. Vi Simpson, D-Ellettsville, also noting that Daniels—who dissolved the state workers' union on his first day in office—doesn't have a good reputation among public employees.

But Simpson also expressed confidence that Daniels can successfully adapt to his new "political with a small p" role.

"He is a very quick study," she said. "He's a very smart man."

Daniels emphasized that he has few set plans for Purdue—other than to listen and learn.

"The next six months for me will be occupied with lots of listening and very little talking," Daniels said. "For now, I am all questions and few if any answers."

Successful fundraiser

Much like when he became governor in 2005, Daniels' immediate challenge at Purdue is a financial one.

State support for universities wasn't keeping pace with inflation even before Daniels cut funding. That steady decline forced Purdue, like its peers, to raise student tuition 145 percent over the past 10 years, even after aggressive tuition hikes the previous decade, too.

Purdue's trustees acknowledge this is not sustainable.

Yet opportunities for new revenue are not abundant. Federal funding for research is likely to stagnate or decline as the U.S. government deals with its own fiscal challenges.

To fill these gaps, Purdue's previous presidents have emphasized industry funding and private fundraising. And Daniels—who was a highly successful fundraiser as a politician—is likely to be good at both.
Simpson
But fundraising alone probably won't be enough at a time Daniels and others have been pushing universities to help double Indiana's percentage of adults with postsecondary degrees.

"The challenge facing higher education is to educate a larger swath of the population than ever before and do it with less resources," said Dan Elsener, president of Marian University in Indianapolis. "It's time for creativity and entrepreneurship."

Trying to tackle that challenge is a key reason Daniels is taking the job at Purdue, according to Neil Pickett, who worked alongside him at the Hudson Institute think tank, at Eli Lilly and Co., and as senior policy adviser during the governor's first term.

"He thinks he has the skills—and I think he has the skills—to drive this change and execute it," said Pickett, who is now director of policy and planning at the Indiana University Health hospital system.

Pickett expects Daniels to experiment with digital technology to reduce Purdue's costs on campus and possibly to bring in more revenue by reaching students around the country and around the world.

Such efforts have, in fact, started under outgoing President France Cordova. And Daniels already loudly endorsed the accelerated online training offered by Western Governors University—which Daniels made Indiana's eighth state university.

Others expect him to embrace the demands his Commission for Higher Education have placed on universities: Increase graduation rates and graduate more students for less money per degree.

"College completion is going to be an important goal for him. I think he sees it as wasteful for someone to start and then not to finish," said Sen. Luke Kenley, R-Noblesville, who plays a large role every other year in approving funding for Indiana's public universities.

That will be the case especially at Purdue's three satellite campuses in Fort Wayne, Calumet and Westville, Kenley added. "He'll be pretty intolerant of a lack of completion at the university."

Building understanding

Daniels' lack of an academic career and a doctoral degree will be a challenge for him leading Purdue's 2,400-person faculty, but Pickett thinks he'll be up to the task.

"Mitch Daniels is a smart enough man to know what he's getting into and to have a plan for engaging the faculty and understanding their role in the success of the enterprise," Pickett said.

Daniels seemed to start executing that plan right away.

"I'll have to earn the honor of this appointment through strenuous work to build the understanding, alliances and personal relationships—especially with faculty—required for a successful presidency," he said June 21.

Daniels showed that ability right from the start in his governorship. For example, he kept the push for construction of Lucas Oil Stadium and an expanded Indiana Convention Center alive by persuading counties surrounding Indianapolis to raise their sales taxes and send extra revenue to the stadium project.

That unprecedented arrangement gave county officials the political cover to raise taxes for their own purposes while also helping to pay for something outside their borders.

Of course, Daniels also could be hard-edged with his opponents. The governor justified many of his early reforms by denouncing as inept the previous administrations of Gov. Frank O'Bannon and Gov. Joe Kernan, his two predecessors. Also, Daniels once accused Rep. Pat Bauer, D-South Bend, of "car bombing" his political agenda.

Daniels has aggressively reduced the number of state workers during his time as governor, and people who know him expect something similar at Purdue—particularly among the university's ranks of administrators. They say he'll focus on directing a higher percentage of Purdue's budget to students.

Kenley
Those efforts might actually win Daniels allies among Purdue faculty, who tend to think Purdue has too many administrators, said David Williams, a professor of veterinary medicine who is vice chairman of Purdue's faculty senate. But, Williams added, faculty are worried Daniels won't limit budget cuts to the administrative ranks.

"He's not nicknamed 'The Blade' for nothing," said Williams, referring to the moniker Daniels earned during his time as budget director for President George W. Bush. "What I hope he does, and what I expect him to do, is to come in and find new streams of revenue."

New revenue—especially if spent to recruit professors or fund research—would win Daniels a lot of friends in the faculty. That's essentially how former Purdue President Martin Jischke—who was greeted warily as a radical change agent—came to be the most popular Purdue president in recent times.

"You could sell all the dorms at Purdue to Marriott," brainstormed Pete Kissinger, a Purdue chemistry professor and serial entrepreneur. "And then Purdue could raise a big pile of cash upfront that could be spent on my research project."

But not all Purdue faculty are impressed. Daniels' career in politics and business means his experiences have been a world apart from those of the professors, and that's a problem, said Paul Robinson, a biomedical engineering professor who is chairman of the faculty senate.

"The notion that because someone does a good job in one field, it means they can do great things across many, has been tested and found wanting many times," Robinson told the Purdue Exponent in early June, when Daniels was only rumored to be a candidate.

Kenley, the state senator, said Daniels will surprise Purdue's faculty—in both welcome and not-so-welcome ways.

"I think he will surprise them about working with them at getting to that vision. I think he's more open-minded in how you get to the goal than people realize," Kenley said. But when conflicts arise, Kenley added, "He's going to say to them, 'Show me that what you're doing is more valuable than what I'm proposing.'"•