Until recently, the choices were equally unappealing: Spend workdays in the same cubicle farm alongside the same colleagues or forgo the corporate environment for solitary workspace at home or the neighborhood coffee shop.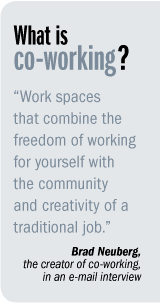 Now, so-called "co-working" sites are gaining popularity as an alternative.
The shared office spaces are designed to give entrepreneurs, free-lancers and consultants the tools they need to get the job done as well as the chance to interact with other professionals—sans cubicle.
Indianapolis already is home to two such facilities, and three more are slated to open by the end of the year. Most of them have membership fees, and some cater to a certain field. The details might differ, but the concept clearly is catching on as technology changes the traditional workplace dynamic.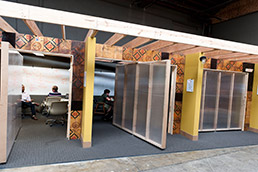 Many co-working spaces, such as The Speak Easy, pictured below, offer private conference rooms for members to work in a group, invite colleagues over for meetings, or have appointments with clients. (IBJ photo/ Eric Learned)
"When you interact with people that way—that's where innovative thoughts happen," said Samantha Julka, a recent graduate of IUPUI's visual communications master's program who wrote her thesis on how office design affects social interactions in the workplace.
Although co-working is a fairly new concept in Indianapolis, an estimated 1,100 facilities exist around the world, according to a 2011 study conducted by Deskmag, an online magazine about co-working. More than 900 people—36 percent from the United States—took the survey.
The concept's roots lie with Brad Neuberg, a California engineer and consultant who was looking for a way to work independently but still enjoy the camaraderie of an office setting.
"Why not have both?" he said in an e-mail interview.
So Neuberg and some partners opened the first co-working space in San Francisco in 2006.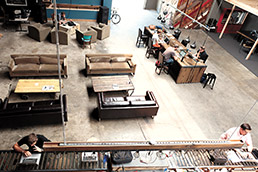 Members of The Speak Easy, a co-working facility in SoBro, use the space on June 27. The main work space in the warehouse encourages technology professionals to collaborate with one another. (IBJ photo/ Eric Learned)
That facility, called Hat Factory, closed in 2010, but Deskmag says the number of co-working spaces doubles each year. Now they've made it to midsize cities such as Indianapolis.
"We're just starting to see the value in them and recognize what they actually are," said Molly Chavers, executive director of IndyHub, an organization for young professionals that sponsored a temporary co-working space downtown during the week leading up to Super Bowl XLVI.
'The perfect solution'
Technological advances have made it possible—and common—for many people to work pretty much anywhere. In a 2011 study, MBO Partners Inc., a Virginia-based business service provider for independent consultants, estimated that 16 million Americans work on their own.

Still, Julka said her research suggests face-to-face interaction can produce better results.
"Communication has become more efficient and direct, but not as effective as it could be," she said.
Sharing office space could fix this dilemma.
"[Co-working] is the perfect solution for the perfect time," said Felena Hanson, founder of Hera Hub, a co-working facility based in San Diego.
But it hasn't always been the perfect time in Indianapolis.
About four years ago, when William Waldren was working for Simon Property Group Inc., he tried to launch a co-working facility here after observing others working in coffee shops.
"They weren't just surfing the Internet anymore," he said. "They were running businesses."
The trend was slow to catch on in Indianapolis, though, and Waldren wasn't able to find funding. He moved back to his hometown Milwaukee, where he was able to raise over half a million dollars in about a year. His new co-working space there—Hudson Business Lounge—is set to open at the end of August.
Now Indianapolis is catching up.
At least two local co-working spaces, the Speak Easy in SoBro and Service Center for Culture and Community at Lafayette Square, opened in the last year. And more are set to open this year: Indy CoZ in Castleton, the Hinge Bureau at Fountain Square and The Platform at City Market.
Software developer Brad Fritz is part of a group of local independent workers that schedules co-working days through the social network Meetup. Nine of them visited Indy CoZ in late June for a tour, lunch and working time.
Fritz said their meetings, which have been at places such as the Indianapolis Museum of Art and the now-closed Virginia Kay's Doughnuts, are casual. But he thinks many members would gravitate toward a co-working space that balances productivity and socialization.
To ensure he creates a space his customers are satisfied with, Indy CoZ owner Frank Howard will have a test run. He is opening his facility to as many as 50 users free of charge during July in exchange for feedback.
"I don't want to put a lot of money into things that people don't really want," he said.
'Kind of bohemian'
The local co-working facilities differ in atmosphere and amenities.
"[Co-working] is still in its infancy, and it's still kind of bohemian," said Waldren, the Milwaukee entrepreneur.
SoBro's Speak Easy, operating since January, has embraced an unconventional ambiance. During a recent visit, a tipped-over file cabinet served as a makeshift coffee table, Paul Simon's "Graceland" played softly in the background, and—as always—beer was available on tap.
It works for David Cornelius, a website developer at New York-based Apartment Therapy Media who spends about one day a week at the Speak Easy. He usually sets up his laptop on a communal table in the converted warehouse, but when he and three co-workers met recently, they used its loft for a more private discussion.
All members of the Speak Easy are involved with technology in some way. Other co-working spaces also target specific professionals. Service Center, for example, appeals to those involved in the arts, and the Platform will focus on neighborhood development.
However, some co-workers are turned off by this exclusivity.
"One of the things that frustrated me early on was that I wasn't a member of the first group" of members at the Speak Easy, said Fritz, who eventually was accepted.
And Julka wonders if co-working at a place that attracts many different professions would be more beneficial.
"You might have even more wild ideas come out of those randomly stimulated conversations," she said.
IndyCoZ, which doesn't restrict memberships to a certain profession, has a more corporate feel. It includes a coffee bar, a large auditorium, smaller offices and round-table conference rooms with flat-screen TVs for presentations.
"I want people to be able to feel like they've obviously been productive and enjoyed the company of the people here," Howard said.
Wait and see
But will independent workers in Indianapolis flock to these co-working spaces?
Ellyn Traub—president of High Performance Leadership Inc., a company that coaches executives on effective management—certainly plans on it. She signed up for Indy CoZ's MVP month and said she will consider a membership if it's a good experience.
New to the co-working Meetup group, Traub likes the opportunities a co-working space gives her: a chance to talk out ideas with others, host training meetings and recruit clients.
"That's one reason you're here," she said, "to get more exposure."
Like Traub, Andy Reinke, president of export management company Foreign Targets Inc., mostly works from home.
"Some people like to work in their house, but it can get distracting," Reinke said. "It can also get too quiet."
So he occasionally moves his office to Henry's Coffee Bistro on East Street. He enjoys getting out of the house, but said coffeehouses don't necessarily provide privacy or a quiet environment.
"I always joke and say I'm in a construction zone," Reinke said.
He had never heard of co-working, but said it is an option he would consider, depending on prices.
Many independent workers, such as Reinke, are still unfamiliar with co-working. But maybe not for long, since Hera Hub and Hudson both plan to offer franchises. Owners Hanson and Waldren each hope to open 200 locations across the nation within 10 years.
"I think this is something that's really new and innovative to Indianapolis," said Todd VonDeylen, manager of Hinge Bureau. "I can't wait to see how it works out."•
Please enable JavaScript to view this content.