The incoming CEO of The Center for the Performing Arts turned a $500,000 deficit into a $300,000 surplus at her current organization in Tennessee. That was a big selling point with the committee that selected her last month for the job here.

Moskalenko
Tania Castroverde Moskalenko said she hasn't had the chance to dissect the 18-month-old Carmel center's budget, which is almost seven times larger than that of the Germantown Performing Arts Center near Memphis, Tenn., where she has served as executive director since 2005.

But she said one thing is already clear: More diverse funding sources are a must.

That will mean reaching out to more private donors—corporations, foundations and individuals—so the group doesn't rely as much on government support.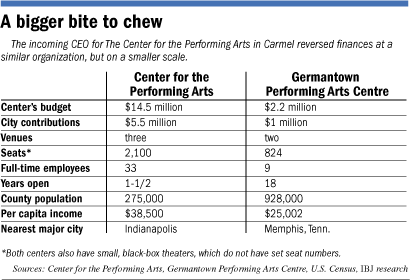 "You have to build trust in your community," she said, "and all the stakeholders have to feel like they're a part. All the different constituents have to feel like they're welcome here, like they're a part of this."

Moskalenko, who starts Aug. 13, will earn $200,000 annually under a three-year contract. She'll replace Steven Libman, who left the center in July 2011 after the inaugural half-season.

The center boasts that it has sold more than $1 million in ticket subscriptions in advance of the 2012-2013 season, which has drawn such big names as LeAnn Rimes and B.B. King to the 1,600-seat main theater, the Palladium. But the $175 million, three-venue arts center—to the chagrin of some Carmel residents—has received millions of dollars from the city to keep its budget balanced.

Interim CEO Frank Basile, who sits on the board and was part of the 20-member search committee, said Moskalenko's background in dance and her record of financial success made her a strong candidate.

"We did look for a balance of someone who had an artistic background, a passion for the arts, but at the same time, someone who had a good business sense," Basile said.

Financial challenges

Moskalenko, 50, will be in charge of an organization whose budget has been under a public magnifying lens.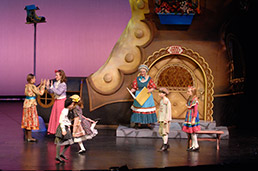 Actors with the Booth Tarkington Civic Theatre perform a parody of "There was an Old Woman who Lived in a Shoe" during a matinee at The Center for the Performing Arts. (IBJ photo/ Perry Reichanadter)
The performing arts center is awaiting a decision from the city of Carmel on whether it will provide more than $840,000—an infusion that would allow the organization to cover its bills through the rest of the calendar year.

That funding would come after the city gave the center $5.5 million last fall, which accounted for more than one-third of its $14.5 million budget for the fiscal year ending June 30.

After Basile took over as CEO, the center eliminated five of 47 staff positions and stepped up scrutiny of expenses.
None of the changes are a cure-all, Basile said.

"Any organization of this type will never be profitable," Basile said. "Otherwise, Eli Lilly would build performing arts centers, AT&T and so on. It'll always require some type of support. Hopefully, more of it will come from developed income—fundraising, corporate sponsorships, foundation grants and individual giving."

Private cash gifts and pledges amounted to $2.4 million for the fiscal year.

The center's business model always has called for reducing the amount of government subsidies it receives, he said, but officials never intended to completely wean it from them.

"This is a government facility. This was built to serve the citizens here, to support the resident companies that operate [here]. It's a couple million dollars just to keep the building open."

Germantown's revival

Seeking funding from a greater variety of sources—people, companies, foundations and government—fostered the turnaround in Germantown, Moskalenko said.

"It's having a healthy mix of all those that's going to allow the organization to remain sustainable for the future," she said.

A decade ago, the Germantown Performing Arts Center was dumping money into shows no one wanted to see and draining its budget on frivolous advertising. Residents, meanwhile, complained the organization was getting too much money from the city of Germantown.

"The programming was not tailored to our community, and the cost of the programming was way out of reach for our audience," said Bill Watkins, treasurer of the center's board. "It was just a multitude of problems at the time."

So in 2005, the organization pulled Moskalenko away from a job at a performing arts center in Memphis and gave her the task of correcting the dysfunction.

"We went through the entire budget, a detailed budget, with a microscope, and we were looking at where we could economize," she said. "And we found things that, certainly at the time, weren't required to keep on the books."

One area ripe for trimming was marketing.

Moskalenko is a major proponent of marketing—she believes it's the second-most-important expense behind the artists and performances—but the Germantown center was doing it poorly.

"We curtailed that, but we made smarter choices with where we put our dollars," she said.

Part of the new strategy involved branding the center.

"We were spending less on marketing and advertising, but after we reworked the entire marketing strategy, even though we were spending less money, we were getting a better return on our investment."

By the end of her first year, the center had stopped bleeding money. Then it was on to building a surplus by finding more revenue streams besides ticket sales and government assistance.

The city of Germantown still supports the performing arts center, providing $1 million of its $2.2 million average annual budget. The city covers all the overhead while private funding goes into programming.

Moskalenko said she didn't cut from performances or artists to get the budget under control. And she said she won't in Carmel, either.

"If you say, 'OK, we have 60 performances a year, but now we're going to cut half of that' … now you have in essence cut the flow of revenue into your organization because that is what we do," she said. "And once you start cutting what you do, that is like a domino effect."

That philosophy has gone over well with resident artists at Carmel's performing arts center.

Gregory Hancock, artistic director of the Gregory Hancock Dance Theatre, said Moskalenko's background in fine arts—she has a degree in theater and dance—is just as important as her business experience.

"You have to have both," he said.•