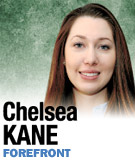 The election of Gov. Mitch Daniels as 12th president of Purdue University has been met with both enthusiasm and rancor. Despite my affinity for my alma mater, Indiana University, I could not be happier for the students, faculty and staff of Purdue. Purdue is getting a class-act leader with the experience and vision to lead the Boilermaker community forward.
Among the criticisms of Daniels' election is that he is un- or under-qualified. The Indianapolis Star ran an article headlined, "Gov. Mitch Daniels pick called a coup for Purdue, but qualifications questioned." Sources in the piece questioned whether the governor has the "academic qualifications to lead Indiana's second-largest public university."
A survey conducted by the university senate before the vote found that most respondents (students, faculty and staff at Purdue University) thought it was "essential" for the incoming president to have a strong academic background and credentials equivalent to those of a tenured professor.
Daniels does not possess these credentials. However, he is not new to administration and possesses all the necessary skills to be successful in the position and to make Purdue even more successful as a result.
His lack of academic credentials hardly precludes him from being an excellent successor to President France Córdova. It is laughable that a man with an Ivy League education, law degree, leadership experience in both the public and private sectors, and one of the most successful governorships in the nation as of late might be considered incapable of managing the administration of a university.
He is more than qualified, perhaps just not qualified per the status quo.
It is important to note however, that a transition from politics and public service to higher education is not without precedent. Former Secretary of Defense Robert Gates (who attended graduate school at Indiana University) was president of Texas A&M University and is currently chancellor of the College of William and Mary.
Daniels' business and political background should serve him well as he enters the academic sphere, arguably one of the most political of environments. The brutal politics of academia are not to be ignored. The campus of the American university is hardly immune from the slings and arrows of politics. In fact, I would argue that the university is one of the most polarizing environments to be found.
The university setting is unlike any other domain, and perhaps that was the concern of those polled, wondering if a politician could possibly be equipped for the unique challenges of the university setting. However, Daniels' impressive educational, professional and political background make him an exceptional candidate for a position as demanding as that of university chancellor.
Attacks accused Daniels of being dispassionate about education because of budget cuts made in higher education under his administration. Such budget cuts are unfortunate but hardly indicate a lack of support for higher education. The cuts simply reflect the economic and political climate as well as the priorities of our Legislature, and we can debate the priorities and quality of the Legislature at another time.
The governor has shown great dedication to higher education, emphasizing the importance of college education and working to increase access for Hoosiers. He has stated on numerous occasions his commitment to increasing the number of Indiana college graduates. His work in bringing Western Governors University here is evidence of this commitment.
Purdue should consider itself lucky to have a man like Mitch Daniels at the helm. Daniels will bring a creative, innovative spirit, and a thoughtful pragmatism to the challenges and opportunities that face Purdue. I am a proud Indiana University graduate and Hoosier for life, but I can honestly say, just this once, I am excited for Purdue.•
__________
Kane is a doctoral student in clinical psychology at the University of Indianapolis and a past president of the College Republicans at Indiana University. Send comments on this column to ibjedit@ibj.com.
Please enable JavaScript to view this content.